RecruitHer (Women in Tech): A Recruitment Drive to Hire Women in Tech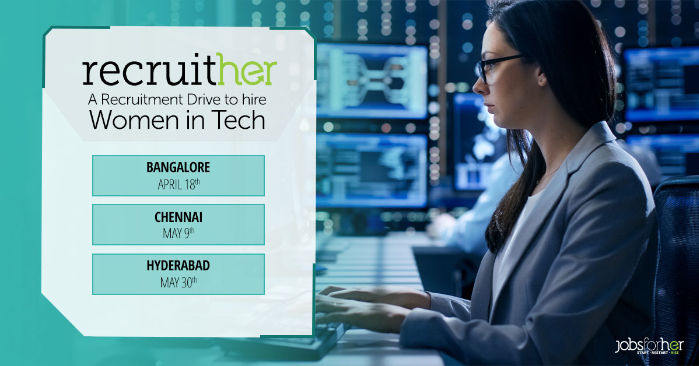 18th April, 2020 to 30th May, 2020

|

10:00am to 03:00pm

|

Other
JobsForHer has lined up recruitment drives for women in tech - a face-to-face line up of events with companies and women professionals in tech space across the country. RecruitHer is a unique opportunity to tap into a filtered and shortlisted candidate pool.
About the Event:
RecruitHer, a one-of-a-kind recruitment drive to connect 4-5 companies with women in the tech space, will have over 100 shortlisted women professionals with a technology background in one place, to connect and engage with top companies of India Inc.
Here is an opportunity for you to:
Showcase your company as an employer of choice for women in tech

Engage & communicate with women professionals in tech

A unique opportunity to network and recruit from a shortlisted talent pool
Your company's journey with RecruitHer:
Sign up to be an employer of choice at RecruitHer and our marketing team will get in touch with you to understand the skill set you want to hire

Your company will feature on promotional material on the JobsForHer website, on social media campaigns through content marketing, and targeted mailers that will be sent out to our database of over 1.7 million+ women professionals

We will provide access to a filtered candidate pool prior to the event and your company will then directly meet with the shortlisted candidates at the venue
If your company wants to hire qualified women in tech at this exclusive face-to-face event, E: simran@jobsforher.com today and we will connect with you.
Be at RecruitHer
Connect. Engage. Recruit at RecruitHer
Date and City:
Bangalore - April 18th
Chennai - May 9th
Hyderabad - May 30th
RecruitHer is curated by JobsForHer, a platform that enables women to accelerate their careers by connecting them to jobs, community, mentoring, reskilling, inspiration, and networking opportunities. We have 1.7 million (and growing) women professionals dedicated to growing in their career paths, who use our platform.