The Day that Was – AccelHERate 2019
Priya Desai
in
Back to Work, Restarter Stories, Career Development, Expert Advice, Women-friendly Companies, Events, Working Women, AccelHERate
|
11 Mar 2019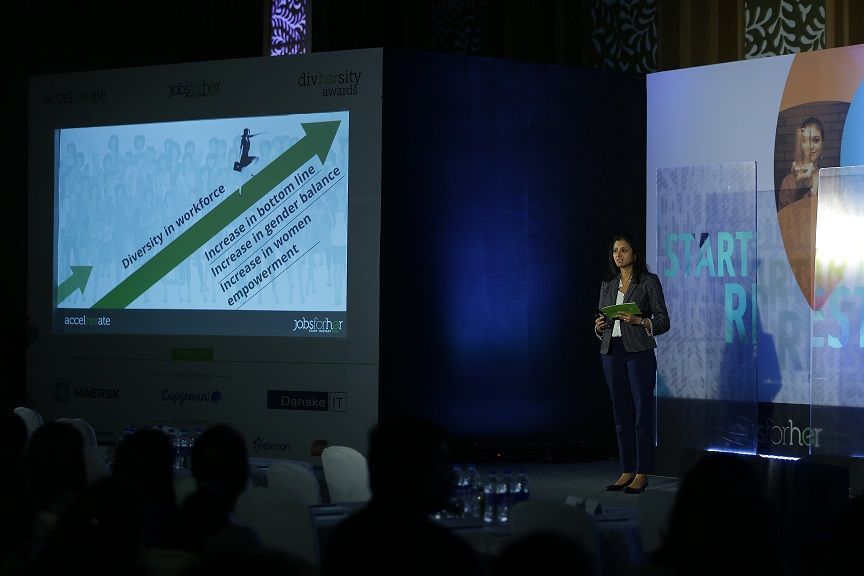 1st March 2019. A momentous day for corporate India, as 400+ companies participated in AccelHERate – India's biggest B2B conference for companies committed to accelerating women's careers, presented by JobsForHer.
The day dawned bright and promising in Bangalore. Now in its second edition, AccelHERate kicked off with a packed conference that showcased vibrant keynote speeches, panel discussions and fireside chats.
Redefining Power with Purpose
\
The opening keynote set the tone for the day, with Pankajam Sridevi – Group General Manager, Operations and Services, ANZ giving a rousing speech on what it really means to be a woman at the top in corporate India. She spoke about the many stereotypes she unabashedly dismantled on her journey to where she is today, and of the numerous glass ceilings she worked hard to shatter along the way.
Pankajam is a true example of redefining power with purpose.
Companies Enabling Women to Start. Restart. Rise.
The first panel discussion picked up where Pankajam left off, with companies discussing what they were doing to enable women to rise in the workplace. Panel moderator Shveta Verma asked the other panellists whether digitisation would affect or deter gender parity in the workplace, particularly in India.
M.R. Srinivas Prasad, CEO of Philips spoke about how Philips was going the extra mile to consciously address this possibility, by hiring at women-only colleges, for example.
Philips in India was also striving towards having 30 to 40% women on its Artificial Intelligence teams, in recognition of the fact that gender parity was absolutely essential particularly in an increasingly digitised and automated workplace.
Chandradip Dass, Senior Vice President R&D and Managing Director, India at NextGen Healthcare talked about how at NextGen, AI was being used to assess things like the social determinants of health, to predict when patients should come in for a check up, for instance. While AI has made such marvellous things possible in the realm of healthcare, it was even more important to prioritise gender balance, to ensure that a service as basic as healthcare includes everyone.
And NextGen is doing just that, by starting and ending its work day earlier, to coincide with school timings for working parents.
Office working hours end as early as 3:30pm so that parents can pick up their children from school and have a work-life balance – something that's increasingly a priority for many employees, as research has shown time and again.
Read more about work-life balance and how it's changing the workplace
Navneet Kapoor, Chief Transformation Officer at AP Moller-Maersk made an important point this discussion, that empathy will be key to the proliferation of AI.
While past processes will become irrelevant with AI and digitisation, the real opportunity is that it is disruptive and cannot be ignored. So the real question is, how should companies design and prepare for the AI boom so that it doesn't take on a life of its own?
Alok Nanda, CEO - GE India Technology Centre and CTO - GE South Asia spoke about how GE looked at data to help them design their gender diversity programme.
The data was actually surprising in some ways, with male employees using the option of flexibility at work more than female employees.
They also observed that women were dropping out of the workplace at almost every level in the organisation, and not just at the mid-management level (as is often commonly assumed) when marriage and motherhood become priorities.
The data was hugely helpful in designing policies to improve gender diversity in GE's workforce. Managers are given data to help them make decisions tailored to their teams' needs. An important flip side to data-driven decision-making, however, is that if the data is biased, one is more likely to get a biased solution, which could in fact be more biased than before, because concepts based on AI build on past learnings and experiences.
It is thus so important to keep in mind that the proliferation of machine learning and AI in the workplace can adversely impact gender diversity.
The panel also discussed the danger of setting hiring targets that inadvertently go against the grain of gender diversity at its root. Targets can easily become "quotas" which need to be filled, which often leads to candidates with the most merit being overlooked. So companies also need to be careful that they don't introduce new biases in their efforts to remove gender bias from the workplace.
At the end of the day, it's about men and women working together to make the workplace better for women.
Read more on why companies should consider hiring MEN as a diversity strategy
Tech-Up Women
The Fireside Chat also saw a very interesting discussion between Neha Bagaria, Founder and CEO of JobsForHer, Saptorsi Hore, COO at ThoughtWorks and Bhavna Kumar, Senior Director - Technology at Visa. It was rightly highlighted that personal internal biases must be recognised before striving, or even attempting to strive for organisational gender diversity.
Companies like Visa are going the extra mile by rolling out cross functionalities in their Ready to Return Programme which they co-designed with JobsForHer. For instance, women employees get first hand experience on what it takes to run your own business.
Read: What does it take for women to restart their careers as entrepreneurs?
It is well known that gender bias does exist in the technology industry. This was corroborated at the Fireside Chat, where Saptorsi said that there were less women in core technology roles like full stack development, and more women in technical project management type of roles.
Bhavna also highlighted that "work-life balance" has a very different connotation today, and that work should empower every employee, man or woman, to make decisions for themselves based on their priorities.
Neha brought the conversation full circle when she said that there were many other sectors like manufacturing, automobiles, hardware and the semi-conductor industries, for instance, that also have fewer women in their workforces, much like technology. A lot of these industries are perceived as the kinds of jobs with long working hours and very little work-life balance. This perception also holds true for SMEs and start ups. So the first thing that needs fixing is the talent pipeline itself in these industries – ensuring there are more women candidates in the talent pool. This in itself is a long-term process that will not happen overnight.
The second, is that women in these industries need to become role models, so these industries become viable career options for women to consider.
Kicking Some Glass
As gender balance becomes more mainstream, not just in India but across the world, and as power shifts enable more women to crack new ceilings and reach new heights, this panel focussed on empowering women to become leaders in the workforce.
Panellists discussed how it was no longer a ladder-like ascent for women, but more a lattice-like ascent when it came to career climbs for women.
There was unanimous agreement that women employees need to be empowered to demand for what they want and need, to grow and nurture their careers. And, on the other hand, leaders and organisations need to enable career growth for women, at every level, by listening to them.
This panel was a great showcase of female corporate leaders who have walked the talk, and who are now giving back to other women who are looking for role models.
Championing Diversity, Promoting Inclusion
How do companies promote and encourage diversity and inclusion?
How does a company create a diversity program, support initiatives and measure their success?
How important are C-Suite executives in setting the tone for a diverse workplace?
These were just some of the questions posed to round table participants. Yasmeen Shaikh - Senior Director, Human Resources India – NextGen agreed that there were tangible and intangible benefits that definitely made a strong business case for diversity in the workplace. She highlighted how diversity was a low hanging fruit that went a long way in minimising reputational and financial risk for companies, as well as helping to increase market share. A more inclusive work culture also improved attrition and fostered a sense of belonging within the company.
Srikanth Suvvaru - Vice President, Head of Candidate Attraction and Engagement – RBS stressed the importance of having a truly representational workforce, for a bank that services customers from every strata of society. For RBS, diversity was not just a priority but a business imperative, in order to offer the best products and services – in addition to just being the right thing to do!
Cheryl George - Technical Marketing Engineer – Netapp talked about how diversity and inclusion have become a business imperative. Cheryl also said that while diversity was important, it did not make sense to just hire diverse people and yet not truly include them. For example, taking into consideration the fact that some people may not speak English as fluently as others – it's important to keep such things in mind when sensitising employees to what D&I really means, beyond just hiring more women.
Vanitha Venkatesh - Senior Manager – Intuit shared how Intuit Again, the company's returnee programme had been truly revolutionary because they also sensitise recruiters and train women before they go for interviews.
Arati Anilkumar - VP – Corporate Services, CGI India – CGI talked about how CGI's diversity strategy covers representation, inclusion and outreach, and how they recognise that men and women sharing the same table is very much a mindset shift in our society and in the workplace. The company mentors women constantly, and provides sensitisation to its employees as well.
Dr Yogesh Kumar Bhatt - Vice President & Director - Manipal ProLearn outlined how they went about designing a Women Leadership Programme based on 4 key soft skills that women needed to improve on:
A career identity despite taking a break

Social skills

Business acumen

Leadership
Manipal ProLearn decided to look at the problem through this lens because the focus had so far been only on hard skills.
Sathya Ramaganapathy - Head, Corporate Business - Jigsaw Academy talked about how there was a need for data skills and knowledge, and therefore in turn a lot of interest in upskilling and reskilling. In the next version of society – Society 5.0, as she called it – everything was going to be interconnected and many jobs would no longer exist, or would be restructured. Keeping this mind, reskilling and upskilling become even more imperative to truly move the needle on diversity in the workplace.
The Most Innovative DivHERsity Hiring Practices
In this panel discussion, Subhashini Sriram, Senior Director Human Resources at Unisys said that before beginning to design a diversity strategy, they first asked themselves how prepared Unisys was, as an organisation, for diversity?
Read: How diverse and inclusive is your organisation?
This kind of looking in the mirror, goes a long way in designing innovative diversity policies and programmes. It takes into account where the starting point is, before setting unrealistic goals.
Unisys also instituted a diversity council, intentionally appointing a male technology head as the leader of this council. This person was a very well respected member of the organisation, and was someone that people looked up to. It didn't matter that he was a man – the organisation understood that men and women needed to work together and play to each other's strengths.
JobsForHer has worked hard to build a balanced workforce in India. We've come a long way in just 4 years, having worked with 5000+ companies to bring more women into the workforce.
Is your company ready to help women accelerate their careers?
Click here to learn how we can help you!