RestartHer 2017: When 3000+ Women Walked In to Meet Companies, After a Sabbatical
Neha Bagaria - Founder & CEO, JobsForHer
in
Back to Work, Founder's Blog
|
18 Nov 2017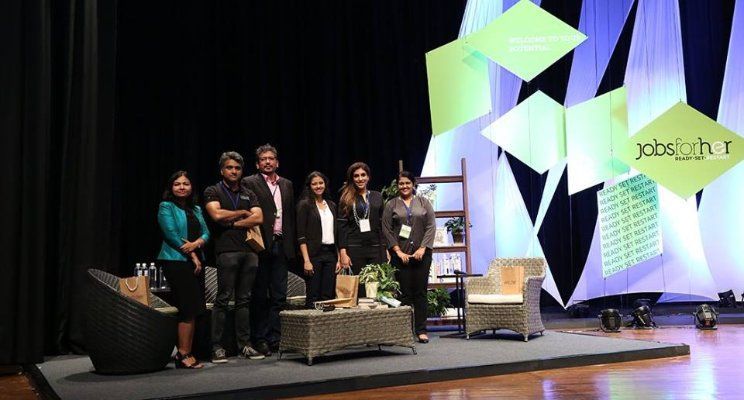 On 16th September, India Inc. took a big step towards bringing women back to the workforce.
3000+ women walked into the doors of RestartHer, looking for a launchpad to begin their career journeys once again; and companies like Accenture, Epsilon, Facebook, Diageo, Dell, Coca-Cola, EY GDS, Myntra, and many others took the time to engage with this recharged talent pool of women restarters.
Here's a glimpse into everything that the day entailed:
Conference
Global innovators, game-changers, and influencers from corporate India's eminent companies brought together diverse points of view on how bringing back women can boost their bottom lines, and addressed challenges that restarters face while returning to work.
Among our esteemed panelists were Girish Sharma, Talent Supply Chain Lead, Accenture; Ashish Sinha, Country Head, Epsilon; Jaya Virwani, Head of D&I, EY GDS; and Vaishali Kasture, MD & India Country Head, Experian, among others.
Career Fair
The RestartHer career fair saw a generous mix of family-friendly behemoths, flourishing start-ups, and our reskilling partners showcase their opportunities and initiatives to enable women to return to work.
Among the companies present were Accenture, Epsilon, Facebook, Diageo, Dell, Caterpillar, Coca-Cola, EY GDS, Manipal, Myntra, Thomson Reuters and more.
Reskilling Workshops
There were several career experts and corporates that conducted reskilling workshops ranging from resume-writing and confidence-building to content writing and digital marketing to provide women with the skills and confidence they require to restart.
Speed Mentorship
Several industry veterans and career experts mentored women returnees in our speed mentorship zone to share advice and tips on what they should prepare and look out for when returning to work. Mentors included Karthik Purushottam, India Talent Acquisition Lead, Paypal; Pooja Gupta, Head - Portfolio HR, Kalaari Capital; Dr. Alka Pinto, Head, Tesco Bengaluru Academy; Renuka Rajagopal, Sr Director, VMware and Anita Alexendar, Functional Leader, GE Digital.
JobsForHer offers companies of all sizes with branding, engagement and recruitment solutions. Sign up at our Employer Zone here, and get in touch with kirthi@jobsforher.com to find out more.