Overcoming Challenges Mothers Face at Work
Meethu Abraham
in
Back to Work, Career Development, Women-friendly Companies, Working Women
|
28 May 2018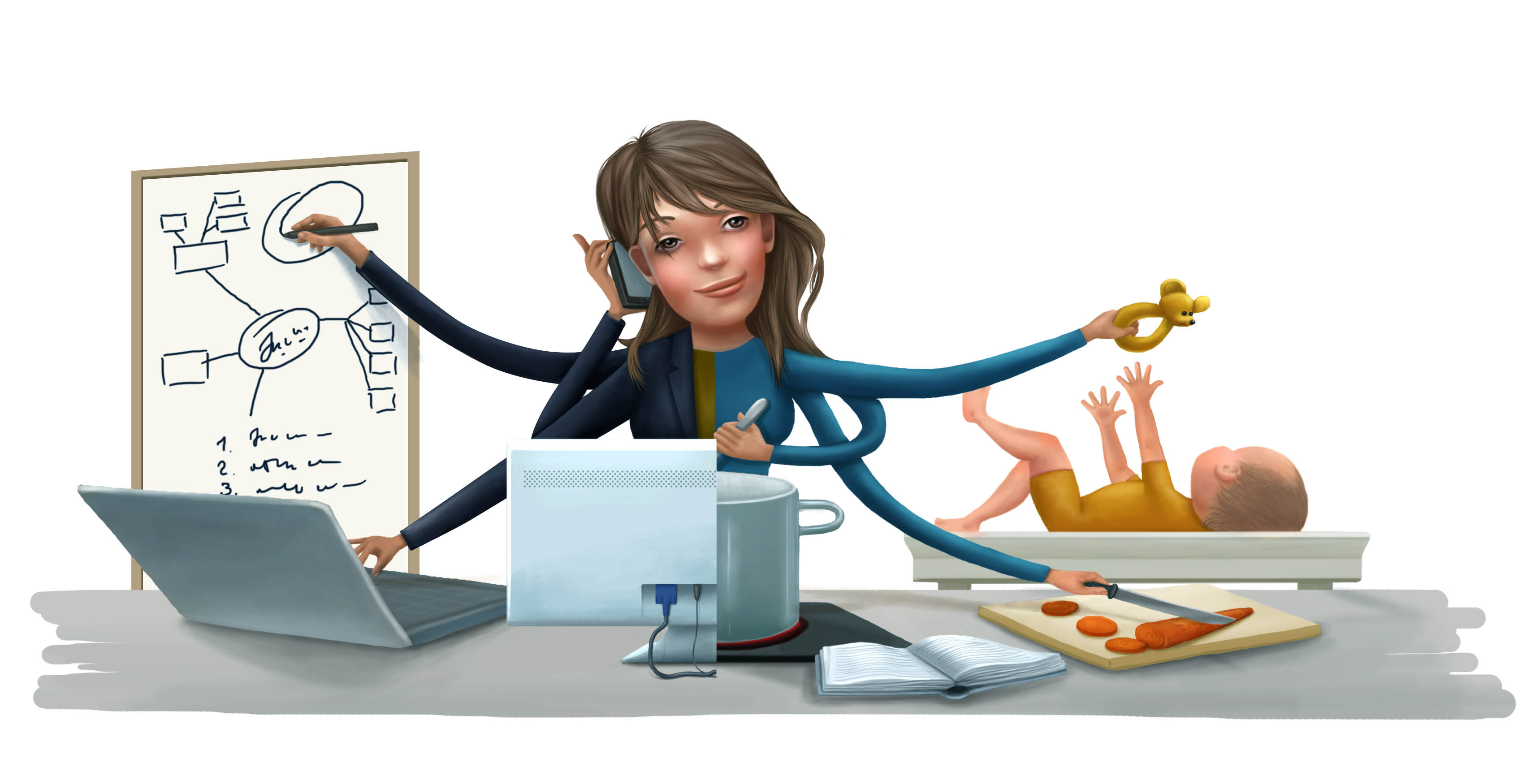 Why aren't there more than 27% Indian women currently in the labor force?1 Most Indian women rein in career plans to spend more time caring for children and family with not just a non-stop barrage of tasks but a constant requirement to feed the family, week in and week out.
What's more, Indian mothers on a career break become inherently less ambitious with all the trappings of two and a half full-time jobs2 and a "maternal wall"3 – the barrier built by discrimination against working mothers, making it one of the toughest jobs in the world.
In the TweetForHer chat, 'Overcoming Challenges Mothers Face at Work', moderated by JobsForHer, there were insightful conversations with a lineup of panelists on the lack of access to affordable childcare in companies, flexible work timings, and extended maternity leave that can have a cumulative disadvantage on returning mums and the diversity programs that can support and retain them in the workplace.
According to Harvard Business Review,4 forty-three percent of highly qualified professional women with children leave the workforce at some point in their careers. So how can companies and organisations make change happen? Even social norms about acceptable work and behavior dictate their ability to seek employment. Moreover, there's a dire shortage of infrastructure such as childcare facilities that would enable women's participation in the workforce. If India can increase women's labour force participation by 10 percentage points (68 million more women) by 2025, India could increase its GDP 16%.5
Companies are in a transitional phase with returning mums in the workplace. In fact, the role of companies in nurturing gender diversity and rethinking the old-fashioned notion of core 'office' hours certainly calls for scrutiny. Because after women manage to convince their families to allow them to work, they often encounter yet another obstacle: companies that don't want to hire them.

The answer lies at least partly in a rebalancing of the situation – with deliberate policies in workplaces to support returning mums and opportunities to move into leadership positions.

How are organisations addressing post maternity attrition and retention?
In a survey conducted by JobsForHer, women cited lack of access to reliable childcare as the top challenge for returning to the workplace. Currently, JobsForHer works with more than 2500 companies6 to widen their access to female talent and build an ecosystem that makes it easy for women to return to work.
Why are childcare facilities not integrated into corporate spaces to support employees in their roles as parents and professionals? It would be unrealistic to assume that women will have the same expectations from employers post child-birth.
As returning to work is an emotionally tough time for mothers, CA Technologies has a "childcare center that mothers can leverage for babies as young as 6 weeks onwards", said Sunanda Chak, Country Head (Sr. Director), Marketing & Business Strategy.

The Maternity Benefit Act7 mandated by the government for Child Care Benefit is paving the way for improved child care benefits. Companies are bucking the trend to enable returning mums to have a robust child care system given their demands and schedule while reducing attrition among women employees.

"As flexible work policies are important, companies are also realizing that there are no one-size-fits-all solutions, therefore the HR Team ensures they provide customized support such as skills-building, role and need match", stated Tina Vinod, Diversity & Inclusion Lead, ThoughtWorks.
As most of India's workforce work outside of the 9 am – 5 pm schedule, MindseedEducation help returning mothers and companies with 8 am – 8 pm daycare, which is a step in the right direction.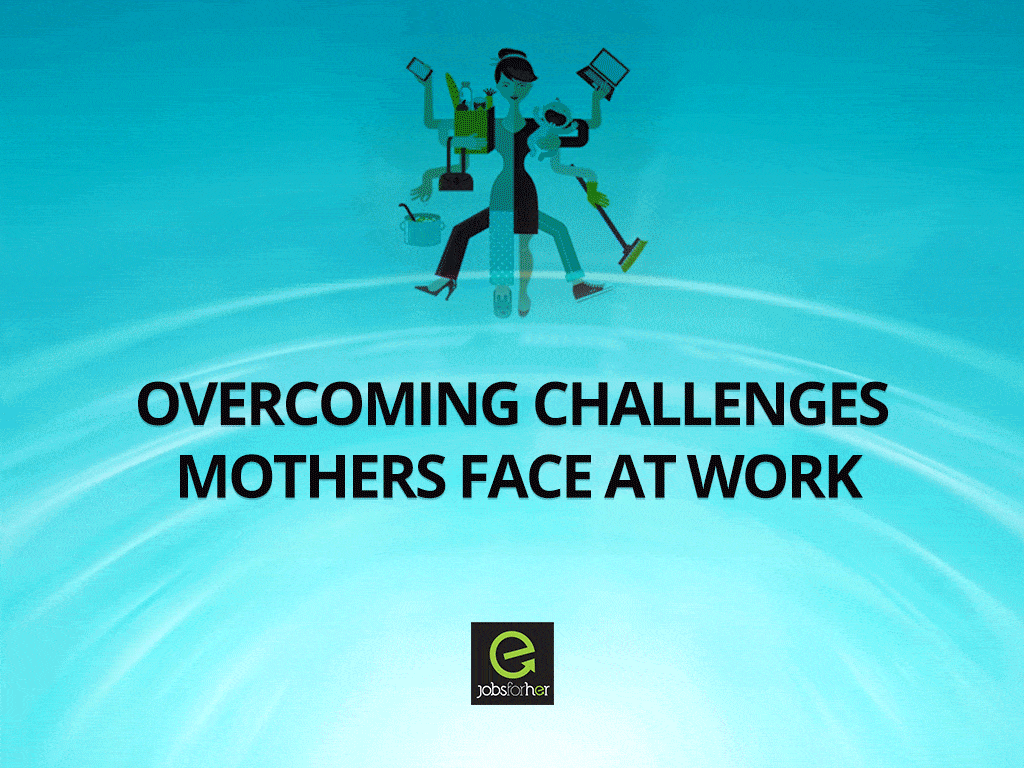 What have you done as an ecosystem to help mums return to work?
"More than policies, it's the culture that we have in the organisation which is more inclusive and caring towards new mothers that keeps the attrition in control", emphasised Upasana Nishchal, AVP Talent Management, Evalueserve

"The organisation's fabric has to make it easy by taking a structured approach. At Cushman Wakefield, we offer flexible working hours especially for working mothers as their pattern of working varies from the rest of the workforce", said Deepali Bhardwaj, Head HR, Cushman Wakefield.
By making diversity & inclusion a business imperative and by including a challenging new variable in the mix (returning mothers), companies are building balance for women in the workplace.
At KidsStopPress, they emphasise on the quality time that moms can contribute through work-from-home options, flexible time slots, and a friendly environment where work is more enjoyable after maternity leave8.

An interesting survey indicates that "when women formally ask for flexibility, they suffer in performance reviews, and that a section of the male employees acquire the benefits of a lighter schedule without asking for it, just taking it"9, highlighted Nisha Susan, Co-Founder, The Ladies Finger.
"At Clearly Blue, an all-women company, there are no biases at work. As most of us are working moms, we understand each other's needs and challenges", said Niveditha Navin, Content Strategist, Clearly Blue

By making a choice to restart their careers, mothers are looking for evolving workplaces10 with family-friendly policies and benefits that accommodate the demands of the modern Indian family.

What do mothers bring to the table? Do you think their contribution makes a difference to companies' bottom lines?
Women on a break are considered a high-risk proposition, with a disconnect between skills and technology. The implications for gender opportunity further get a bad rap when women have a second or third child, adding to their disadvantage.
"As a working mother, I feel I'm more dedicated and sincere at my workplace. Because when I'm stepping out of home leaving a child back, I want to do more meaningful work and make a contribution to the outside world and for my career too!", asserted Vidhi Ahuja, Head-Internal Communication, Canara HSBC Life

Motherhood can be a liberating and daunting experience, however, the extended break can also cost women 43%11 of earning potential. If women participated in the economy at par with men, India could increase GDP by up to 60%, or $2.9 trillion, by 2025. At present, women contribute a mere 17% to the country's GDP, well below the global average of 37%.12

As mothers, they are lateral thinkers13 equipped with resilience, patience, diplomacy, and creativity of the highest order. Not to mention, mums are super-efficient, have exceptional time-management skills, and are fine-tuned negotiators who can be highly-skilled and talented recruits.

"This is backed by research that states gender balance results in higher ROI, profitability, empathetic teams, and high governance standards", pointed Ketika Kapoor, CoFounder, ProEves.

How are women on your different platforms walking the tightrope balancing work & home? What has worked for them and what has not?
As Partner & CMO at Women's Web, Anju Jayaram believes that "Each individual's story and life issues are different… some start their own business, some start part-time, or opt for flexi-time. Others who have a support system go back full time."
Restarting your career is not easy, but getting equipped for it is.14 Have an open conversation with your employer about your expectations about returning to work with flexible timings and inclusive policies to ease the transition.
Vidhi Ahuja, Head-Internal Communication, Canara HSBC Life pointed out that "It is important to create an ecosystem for yourself back home. Trust people, delegate more, set the right expectations…"

"We need to continue to work on shifting mindsets for the woman, her family, and the organizations. This will happen through continuous dialogues", reinforced Upasana Nishchal, AVP Talent Management, Evalueserve.

"The ability to balance work and life and to seamlessly integrate both is the key. Flexibility is always what a mom aspires to receive from a workplace", highlighted Mansi Zaveri, Founder& CEO, Kidsstoppress
Although women's lives remain our core focus, flexibility is the future of the workplace. The mark of real change for returning mums will be when they can't apply to companies if they don't have a gap in their resume, if they've taken a career break.
Find those women through JobsForHer. We're bringing them ALL back to work, in India.
Look us up here: https://www.jobsforher.com/employer/
References:
[1] Labor Force Participation Rate, The World Bank Group, November 2017
[2] Being a Mother is Equivalent to 2.5 Full-Time Jobs, Olivia Petter, Independent, 16 March 2018
[3] Moms Are Punished in the Workplace, Even When We Own The Business, Amy Nelson, The Washington Post, January 29
[4] Off-Ramps and On-Ramps: Keeping Talented Women on the Road to Success, Sylvia Ann Hewlett & Carolyn Buck Luce, Harvard Business Review, March 2005
[5] The Power of Parity: Advancing Women's Equality in India, McKinsey Global Institute, November 2015
[6] These Indian Startups Are Making it Easier For Mother to Return to Work After Maternity Leave, Sindhuja Balaji, Forbes, May 18, 2018
[7] Maternity Benefit (Amendment) Act, LiveLaw News Network, 2016
[8] A New Mom's Guide to Returning to Work Post Maternity Leave, Vaishnavi Venkatraman, KidsStopPress, Nov 16, 2016
[9] Do Part Time Jobs for Women Offer Work-Life Balance Or Are They Actually Career-Killers?, Ila Ananya, The Ladies Finger, January 20, 2017
[10] 5 Workplace Fixes That Can Help Women Restart Their Careers, JobsForHer, 18 June 2015
[11] Here's How Women Can Resume Career After a Break, Nilanjana Chakraborty, Economic Times, Jan 22, 2018
[12] How Advancing Women's Equality can Add $12 Trillion to Global Growth, McKinsey Global Institute, September 2015
[13] Five Reasons Why Mothers are an Asset in the Workplace, Lola Okolosie, The Guardian, 13 August 2014
[14] Day 1 of my Career Restart & What it Taught me About Time Management, Schonali Rebello, JobsForHer, 3 March, 2017