How JobsForHer Is Driving The Conversation On Making Gender Diversity Work!
Priya Desai
in
Women-friendly Companies, Events, AccelHERate
|
04 Apr 2018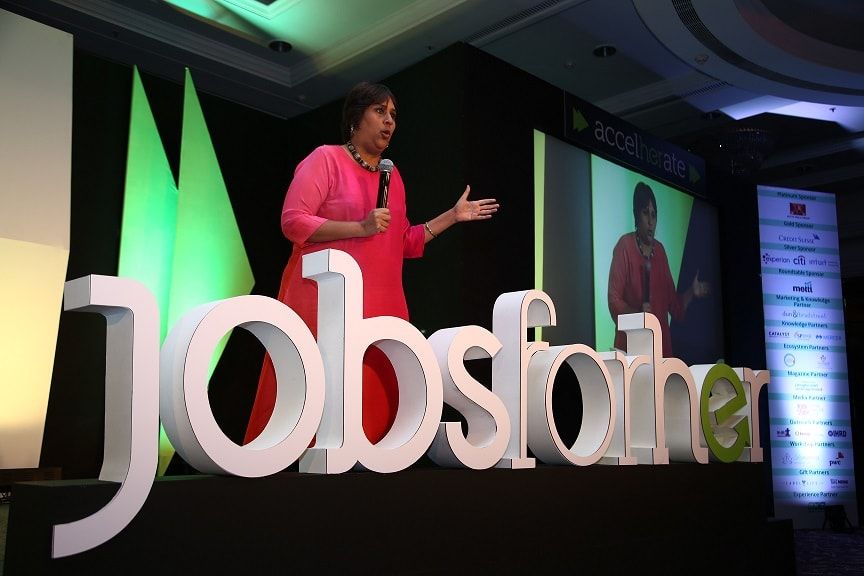 In the run up to AccelHERate - India's BIGGEST B2B conference for companies committed to increasing female participation in the Indian workforce - in Mumbai last week, we hosted a series of Tweetchats with thought leaders across industries. The conversations were rich with ideas and thoughts on what India really needs to do, to bring more women back to work.
Building Workplaces that Work for Women
There are many barriers that make it harder for women to scale the career ladder. Lavina Das, Head - HR (West India & Africa) Taj Hotels Palaces Resorts Safaris, a panelist on the first Tweetchat pointed to the specific barriers of the hospitality industry, which by its very nature runs 24/7, 365 days a year. Hospitality requires great personal commitment and there are few opportunities for women in senior management positions in this industry.
Lavina also pointed out that legacy issues manifest in workplace role models and attitudes, which in turn reinforce these stereotypes. Work culture in hospitality automatically puts women at a disadvantage, because most aspire to a reasonable balance between work and family responsibilities. What's more, men are hired in hospitality at double the rate due to higher numbers of candidates available in the talent market, while on the other hand attrition of women is higher than men.
Rajiv Jayaraman, CEO of Knolscape believes men play an equal role in bringing more women back to work, and that it has to start from the top.
It is definitely time for more men to step up to the plate, and lead the way in increasing female participation in the workforce.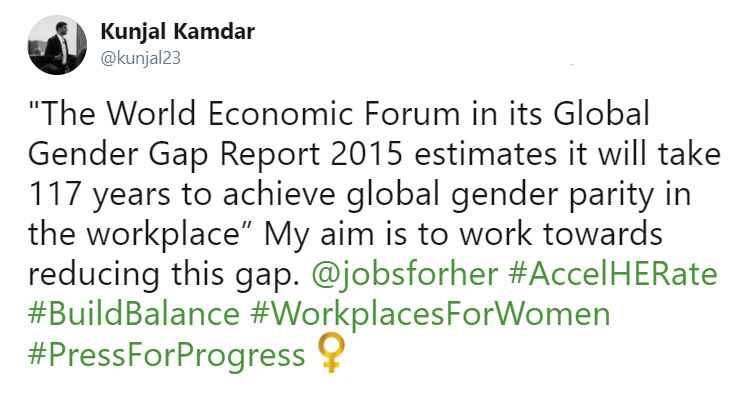 While large enterprises have opened their doors to women returnees in recent years, it is also time for SMEs to join the movement. An important advantage of this talent pool for smaller businesses, is that women returnees are usually available at no notice period, and are raring to go because they have something to prove.
How Is Corporate India Paving The Way For Women?
The conversation around diversity has been gaining momentum over the years. Many companies have designed customised returnee programmes for women coming back from career breaks.

We have come a long way from when there was absolutely no recognition of the fact that women were missing in India's workforce.
Ruchi Bhatia, a 40 under 40 HR Leader went on to point out that many companies across the board have institutionalised "bring her back" programmes, such as Unilever, IBM, Axis Bank, Phillips, Google and Godrej to name a few.
It is also important to note that the balance needs to shift at home as well as at work, if women are to come back to work in larger numbers. Barkha Dutt, the keynote speaker at AccelHERate reinforced this in her speech too, saying that women should not have to do it all and that marketing this idea is misleading.

And this is where the conversation needs to shift from women-friendly policies to family-friendly ones. Men should be incentivised to take paternity leave by their employers, and longer periods of leave at that. Suruchi Wagh, Founder & CPO of jombay.com highlighted this point by saying that women who really want to return to work, do so against all odds but a strong support system just makes it easier for them.

Childcare at workplaces is another important game changer, in the mission to bring more women back to work. This is essential particularly in the early years of childhood, and is a small step that helps women continue working.
Reskilling is another initiative that many companies are recognising as a critical need for the talent pool of women returnees. Courses on specialised skills go a long way in preparing women to return to work from career breaks, and JobsForHer is partnering with many companies to curate such courses, as well as assessment tests that help women evaluate what they need, and expert services in areas like resume writing and career counselling.
How can companies prevent women from leaving the workforce?
The first step that companies can take to stop women from quitting their jobs because of marriage, motherhood or eldercare, is to have an open and honest conversation on what they need, to keep working.
Workplaces policies and culture should also not penalise a woman for taking a career break, as Sahana Chattopdhyay, Founder & Director, Proteeti rightly pointed out.in the Tweetchat. Women should not be stigmatised for utilising flexibility or work-from-home, and organisations must address the wage gap and lack of career advancement opportunities for women.
Sahana also reiterated the need for family-friendly policies that enable fathers to take breaks too, since having a child is a dual responsibility.
The reality is though, that it may not be possible to plug the leaky pipeline completely. But there are steps that companies can take to prevent women from quitting the workforce, as highlighted in this Tweetchat. Retaining employees is a whole different challenge, as Achyut Menon, MD, Options Executive Search Firm reinforced when he tweeted that companies need to change the way they hire entirely.
An important caveat raised in this debate, was that women should not be judged for taking career breaks. Some do take time off willingly, but the larger social construct in India does demonstrate that it is the norm for women to stop working.
All in all, this series of Tweetchats leading up to AccelHERate were lively, thoughtful, and the beginning of a new discussion around gender diversity in the workplace in India.
If you'd like to be a part of future JobsForHer TweetChats on what needs to change in our workplaces, or get involved in bringing more women back to work, write to simran@jobsforher.com today!