Financial Chronicle - More Women Means More Profit: Studies
Vinutha
in
In The News
|
16 Apr 2019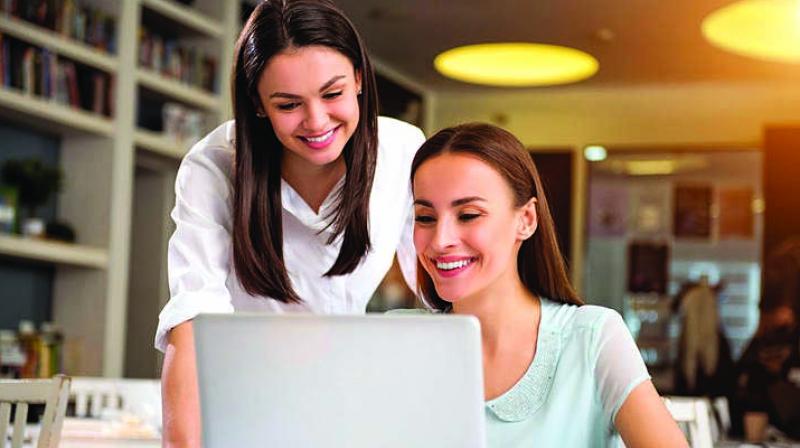 More Women Means More Profit: Studies
Behind every successful man there is a woman, is an old adage that no one really cares about.
But recent studies have shown that companies with more women on their board saw a 42 per cent higher return on sales, turned capital into profit 66 per cent more successfully, and that female-friendly, gender-diverse companies outperformed their competition by 53 per cent.
Research has also projected that India's GDP would rise by $700 billion by bringing the next 68 million women into the country's workforce by 2025. However, in spite of such great opportunity available for women to participate in the workforce, there is a leaky talent pipeline where 30 per cent of the people recruited at the entry level are women, only 10 per cent and 1 per cent make it to management and CEO levels, respectively, as per a bunch of diversity experts participated in a national conference on gender parity, AccelHERate 2019, held in Bengaluru late last week.
Interestingly, women account for 70 per cent of the entire Chinese workforce while their representation is only 30 per cent in India. More than 50 million Indian women of working age are educated but not employed, said a recent McKinsey report.
The India Skills Report (2019) found that participation of Indian women in the workforce had dropped from 32 per cent to 25 per cent between 2016 and 2018. A World Bank study also found that 20 million Indian women quit their jobs between 2004 and 2012. Many of them never return because of the lack of access to quality childcare.
The event brought together a diverse group of key stakeholders like HR leaders, diversity and inclusion experts, talent acquisition heads, employer branding leaders as well as business heads, CEOs and senior women leaders, who took a pledge to take concrete steps to accelerate gender parity, to help women achieve their potential, and called for gender-balanced leadership by developing more inclusive and flexible workplaces.
"We realise that there is need to prioritise inclusivity, accountability and to create opportunities for women to be recruited, retained and promoted in the Indian workforce," said Neha Bagaria, Founder and CEO, JobsForHer, the organiser of the event.
Publication : Financial Chronicle
Headline : More women means more profit: Studies
Published Date : 08/03/2019
Original Article