"Almost 40% of our directors and above, are women coming back from a break."
Priya Desai
in
Women-friendly Companies, Events, HeForHer, Videos, RestartHer 2017
|
19 Jan 2018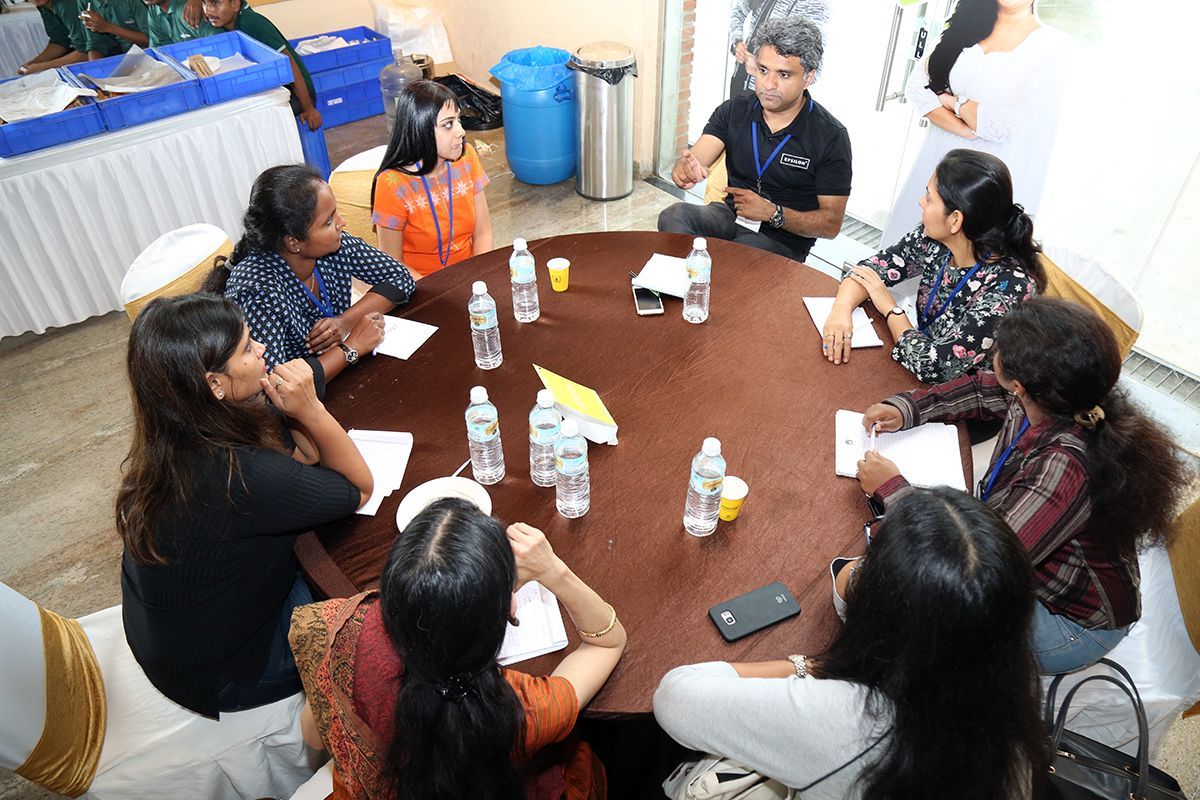 With us at the MLR Convention Centre in Whitefield, Bangalore where RestartHer happened in September 2017, was Ashish Sinha from Epsilon. Here is what he had to say about diversity and being at RestartHer.
Very quickly, Ashish, would you like to tell our women what it is that you handle at Epsilon?
Sure! I'm the Country Head, so I run the P&L for the business. We have some great capabilities around digital marketing and the job is to build a great capability and deliver to our clients.
As one of our esteemed panelists at RestartHer, could you give us a glimpse of what you spoke about at the conference? How was the energy in the auditorium?
Let me start with the second one, because the energy was just electric. It's so good to see so many women wanting to come back to work, and the great thing is it means that these are people that really want to come back so you'd be stupid not to hire them.
And two is, my sense is that they really want to prove themselves, so they'd probably work harder than any of your existing team members.
The conversation for me was that it's very important for the company, but you need support from the leaders. You have to get not just women but male leaders to drive this. There's no easy way but I think that's the trick - to get the male leaders to believe that this is the right thing to do.
Have you had a chance to speak to any of the second career women here?
I have, I've met a lot of them. The good thing is that I've had some practice!
Almost 40% of our directors and above, which is our senior roles, are women coming back from a break.
So, I get to meet them every day in the office. They're some of my most energetic and highest performing people. My worry always is, I think people expect magical answers and a lot of the time I don't have magical answers. The answer to a lot of questions is - hang in there. You'll find something.
We know Epsilon is driving the 50-50 diversity campaign and we love that companies are opening their doors and minds to women. Do you think that there's still something lacking in the diversity space, that companies need to step up for, and make that change?
I think many companies realise that we need more diversity, so I don't think that's in question any more.
I think there is still a lack of tools and techniques that allow us to bring women very seamlessly. We talk about hiring 5 to 10 women coming back from breaks, but that's just the beginning of the journey. There is a journey that has to be taken inside the company, all the way from on boarding, all the way to really understanding the role, to performance management and we need to make sure that there's assistance there. We tend to forget that there's stuff to do inside the office once someone joins.
What does Epsilon and corporate India have in store for women returnees?
Wow, lots of opportunities! The economy's going to grow really fast, jobs are going to be in abundance, skills are going to be lacking, what better world to be in than now!
I think women coming back from breaks feel a loss of confidence, and you shouldn't. You should be proud of who you are. Many people who come to interviews with me say, "I took a break" and then they spend half an hour explaining why they took a break. You don't have to explain that to me! I know you took a break, let's talk about the value you're going to drive for me and what you're going to give me when you join our company.
So I think it's exciting times! India is really opening up, there's still going to be challenges and bumps in the road, but I tell women to just be patient. You are so good at it any way! It should come naturally.
What was the energy that you woke up to this morning, when you knew you were coming here for RestartHer?
I'm passionate about this so I felt really good! There was a bit of a worry because my wife was on an offsite, she's also a woman who came back from a break and she's working. She gave me a list of things to do - I had to feed the dog at this time, make sure my kid does x, y and z - so I was a little nervous because if my kid wanted something a little different from the list, what would I do!?
But jokes apart, I was raring to go.
In fact I was worried that I was under prepared because I wasn't doing too much reading, I wasn't thinking about all the cool things I was going to say. But it felt good and natural to come here today.
Can you tell us a bit about what your wife's journey was like, coming off a break?
My wife used to work for a large media house. As usual, the three things that unfortunately derail women's careers - marriage, mobility or maternity - my wife Shubra had our kids, we decided together that she should spend 3 to 4 years at home. I think my wife really wanted to get back, and I think the view I wish a lot of women keep in mind is, you cannot be a great mother unless you have a good professional life. It may be a bad hypothesis but I think you can't just be at home thinking about your kids, because they're going to leave you in 5 to 10 years and you'll be lonely then! So make sure you're skilling yourself, keeping your networks going... my wife did a Master's degree while she was thinking of coming back and she got a degree in education. So she basically learned new things and she got into teaching. Now she teaches high school, she wants to grow that career even more. In fact she's on an offsite right now with school leaders, I'm sure she's having a great time and it shows the ambition and passion they have to make a difference. I had to look after the kids, I'm trying my best! But I don't think I can be as good as my wife.
What is the real effect of diversity on a company's bottom line?
It's sometimes difficult to translate diversity numbers to your financial numbers. I think it'll be a little futile.
Two things have happened - one, that there is enough empirical evidence done by universities, by Harvard and McKinsey, showing that if you have more women on your board, the chances of you outperforming the stock market is higher. There are tremendous studies like that that prove that you're making a difference. If you're doing well, people are going to buy your shares. And if you share price goes up, something good is happening, and if it's happening more for places with more women, there's a direct correlation.
Two is, I'm surrounded by very senior leaders who are women. I see them, they do some of the toughest jobs I give them. They take on challenges and make such a difference to my daily activities and our own leadership activities that it would be very difficult to not think that it's touching the numbers.
So I don't have a great answer in terms of how it is directly impacting the bottom line, I know at the bottom of my heart though, that it is making an impact.
Is your company ready to diversify? Write to stephen@jobsforher.com TODAY to learn how JobsForHer can help!
Also learn more about AccelHERate - JobsForHer's flagship B2B event for companies committed to increasing female participation in the workforce.