About Us
ThoughtWorks is a community of passionate, purposeful individuals revolutionizing software design and delivery while advocating for positive social change. At our core, we're still geeky software engineers who love solving big, interesting problems with people we like. We're not perfect. But we are continually striving to become the very best client partner, employer, and people that we can be.
Mission: Our mission is to better humanity through software and help drive the creation of a socially and economically just world. We bring together the most capable, driven and passionate people - we call them 'ThoughtWorkers' - to:
Run a sustainable business.

Champion software excellence and revolutionize the IT industry.

Advocate passionately for social and economic justice.
Nurturing Inclusivity at ThoughtWorks: We are intolerant of intolerance. Every day we strive to ensure ThoughtWorks is a welcoming place for people across a spectrum of abilities, age, appearance, ethnicity, gender, race, religion, sexual orientation and gender identity. It's not lip service. We're radically transparent about our hiring and training initiatives.
The Anita Borg Institute has named ThoughtWorks to their list of

Top Companies for Women Technologists

, twice. ThoughtWorks has also been featured among the

Top 100 Best Companies for Women in India

by

Avtar

.

We believe that consistent effort is what can create an inclusive work environment. Over the years, we have recognized certain aspects of the work environment that go a long way in encouraging women to continue being a part of the IT community. These include everything from giving women unbiased opportunities to learn and grow, to crafting adequate support systems at work, to helping women integrate their work and personal life seamlessly, and then some.

We, at ThoughtWorks India, have been experimenting with, and bettering initiatives crafted for women in the tech community to help us engage and work with a more diverse and inclusive community of technologists. We have designed

award-winning

campaigns such as

#TalkTechToHer

, to create better careers paths and opportunities for senior women technologists and encourage them to take up long-term technology roles that align with their career goals.

Our back-to-work program

Vapasi

, provides a platform for women developers on their career breaks to restart their careers through hands-on training sessions.

ThoughtWorkers

speak and write openly

about inclusivity.
Culture
Our culture is very intentional. We hire for it, nurture it, check on it, and if something isn't working, we fix it. Here's what you'll find in every ThoughtWorks office around the world:
Building software is a social activity done by teams of brilliant and motivated people, not a mechanistic process. You'll work on holistic, cross-functional teams focused on delivering business value early and greater business impact overall.

We genuinely strive to hire nice, honest, smart people. During the interview, you'll find we focus more on aptitude, attitude, integrity and not whether or not you have the perfect CV.
Come by an office, meet us and see it for yourself.
Get Started: Whether you know exactly what role you're looking for, or you're not quite sure but ThoughtWorks seems like a pretty cool place to work, talk to us! Our recruiters are happy to answer your questions and even connect you with other ThoughtWorkers in roles like the one you're considering.
Explore our open jobs here on JobsForHer to browse by region and apply.
You can also drop by any of our India offices to participate in various technology events, workshops and bootcamps. Check out our upcoming events here.
Events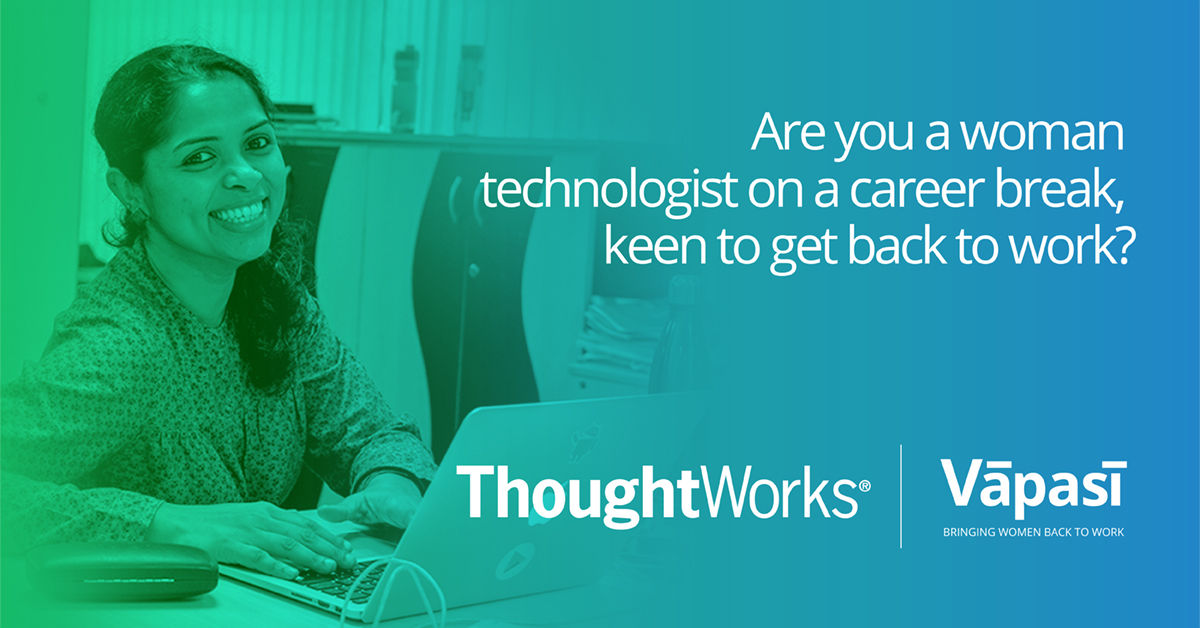 Upcoming Vapasi Bootcamps
Vapasi is a #TalkTechToHer initiative from ThoughtWorks to enable experienced women technologists who are currently on a career break a...
location_on Pune,Bangalore,Coimbatore,Pune
View more details
Industry
IT-Software/Software Services
Videos
Why ThoughtWorks? | ThoughtWorks Careers - Europe
A core part of your experience as an entry-level consultant in any of our global offices is spending five weeks at ThoughtWorks University in India, with ThoughtWorkers from all over the world, discovering the values, practices and principles that have ma