About Us
GlaxoSmithKline Pharmaceuticals Limited is a science-led global healthcare company with a purpose to help people do more, feel better, live longer. Leveraging science to enhance the quality of life, the company has an extensive product portfolio that includes prescription medicines and vaccines.
Who we are
Our medicines and vaccines touch the lives of millions of people and our goal is to be one of the world's most innovative, best performing and trusted healthcare companies.People are at the heart of everything we do. We strive to bring high quality, high performing healthcare products to those who need them
What we do
We aim to bring differentiated, high-quality and needed healthcare products to as many people as possible,
with our global businesses, scientific and technical know-how and talented people.
We are driven by our global purpose and leverage our legacy of over 90 years in India to help transform people's health.
We are the leaders in anti-infectives and dermatology in the pharmaceuticals industry and in vaccines too we are the leaders in the private segment.
How we do it
Everyone at GSK focuses on 3 priorities – Innovation, Performance, Trust
Our values and expectations are at the heart of everything we do and form an important part of our culture. We will continue to focus on our people, our culture and be driven by our values to help people do more, feel better and live longer.
Culture
Our Values
Our core values are patient focus, integrity, respect for people and transparency. We expect our employees to share our values and put them at the heart of every decision they make.
Our commitment to our employees' health and wellbeing
We have a range of dedicated employee health and wellbeing programmes and support services that enable employees to understand.
# Employee Engagement:
P4P : P4P offers a core set of preventive healthcare services to our employees and their benefits-eligible dependants at little to no cost. These services include immunisations, cancer screenings, preventive exams, prenatal care and tobacco cessation.
Optum: An employee assistance programme,a global service providing free of cost, 24x7 counseling services to individual employees and their family members to help employees manage personal and work-based issues affecting performance.
# Our Commitment to the society:
Pulse: The PULSE Volunteer Partnership is a skills-based volunteering initiative. Through PULSE, eligible employees are matched to a non-profit organisation for three or six months full-time, contributing their skills to solve healthcare challenges at home and abroad.
Orange Day: We launched Orange Day to give all our employees one paid day off each year to volunteer for a good cause.Employees across all locations have supported a wide range of charities and projects including work in local schools, work with differently abled, with abandoned elderly and with vulnerable children. We organise group volunteering opportunities for Orange Day based on interests of our employees and the need of the communities.
Follow us on our Social Media Channels:
Women friendly policies
Maternity Leave

Our maternity policy is in line with the Act wherein a women employee is granted 26 weeks of paid leave, employees has the flexibility of availing these leave before their expected date of delivery. We look at each case individually and if required we support our employees in the need of any health emergency by granting additional leave or some dedicated parenting sessions
Paternity Leave

We believe that a father plays an equal role in bring up a child in the early days, hence we at GSK provide 21 days of paid paternity leave to our male employees this leave can be availed within the 6 months of the birth of the baby
Child-care Facilities

Supporting our women employees in achieving their professional aspiration GSK recently partnered with one of India's largest & most trusted preschool & day care providers. Along with Crèche facility we also conduct live sessions on subjects like parenting, Child physical safety, etc
Sexual harassment Policy

As equal opportunity employer, GSK aims to provide a work environment that is free of sexual harassment whether physical, verbal or psychological and free of gender-based discrimination. Continuous awareness among all the employees is created through mandatory E-learning modules which covers important provisions of the Act and Do's and Don'ts for the employees.
Transportation Facilities

We have specific policies targeted at women in the field. We ensure that women do not work late hours and in the rare cases that they do stay back after office hours, they are provided transportation facilities. Our women in field force are provided accommodation limits that are double their male counterparts to ensure safe and easily accessible accommodation while on travel for internal or external meetings.
Flexi Option

GSK offers flexible work timings and work from home option basis the individual roles. Helping employees maintaining healthy work life balance we have declared off on 1st and 3rd Saturday of the month and half day working for rest of the Saturdays for our field employees
Amenities for Women

# Wellness rooms available at the offices # Free vaccinations for the employees as well as their dependents # Medical support provided beyond the defined policies basis the criticality of the situation # Our entire sales force is equipped with i-pads which ensures that they take care of administrative processes and can access their e-mails and records during waiting periods between their doctor calls.
Gender Inclusion

We run gender sanitization workshops across the organization which is critical for the Inclusion agenda.Our field managers ensure that work distribution within the team is done in a manner that women feel safe when required to do late night doctor visits.
Industry
Pharma/Biotech/Clinical Research
Testimonials

"GSK is truly committed to its core values and these really tie up with my personal values as well. This is the main factor why I have cherished working for GSK for over a decade. GSK empowers its employees to think differently but at the same time nurtures them to do the right thing every time. This organisational expectation helps me to strive for differentiation but also act with integrity.

Ketaki George
Associate Marketing Head – Centre of Excellence

I support new asset registration and product lifecycle management of imported portfolio. I had done my internship with GSK during my pharmacy undergraduate days and since then had wanted to work with the company since I connected with its values and patient focus. I get an opportunity to learn and work with varied portfolio of GSK covering pharmaceuticals, biopharmaceuticals, vaccines and cosmetics, which is every regulatory professional's dream. Every day, I stretch myself to do my best together with my team and colleagues to facilitate the introduction of new innovative products to the Indian patients as quickly as possible.

Deepti Nair
Senior Manager, Regulatory Affairs

"I joined GSK as a fresh graduate. It is very gratifying to be a part of such a great team, which not only brings modern touch to medicines but also connects with the life of patients with innovative brands. My key responsibility is to ensure that our medicines are accessible to more patients. I actively engage with healthcare professionals and share the science behind our medicines through multiple touch points, both in person and through use of technology. I feel pride to be a part of a company that not only believes in quality and innovation but also has a clear direction in terms of security, dignity and welfare of its female employees. I look forward to my continued career growth with GSK."

Sayali Patil
Medical Business Associate

Each day is exciting for me, because I feel I contribute towards patient care and safety. GSK encourages transparent, open relationships and a lot of companies have followed suit. We are now focusing on what's important – to bring science and innovative products to the people of India.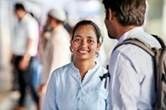 Ranjana Pandey
Medical Business Associate
Videos
GSK Pharmaceuticals India - MD shares quick wins for a successful career
Offices
Mumbai / Navi Mumbai
Headquarters
location_on
GlaxoSmithkline Pharmaceuticals India Ltd,
252, Dr Annie Besant Rd, Worli Shivaji Nagar, Worli, Mumbai, Maharashtra 400030, India, Mumbai, Maharashtra