You can Begin Again with Intuit Again!
Schonali Rebello
in
Women-friendly Companies
|
06 Apr 2017

Eleven years ago Intuit decided to come to India. Two years later, they decided to expand into international markets, including India, China, Russia, and Brazil. They are now a robust team of 500 employees in Bangalore, who have understood the value and expertise that women on a career break can add to their mix. This is what inspired Intuit Again last year, and what guaranteed its success, and what
This is what inspired Intuit Again last year, what guaranteed its success, and what has made it a program that they will always champion to bring women back to work.
| There are now only 2 job roles left to fill at Intuit since they began their drive with us, so APPLY HERE if you're ready to restart!
Intuit Again is an initiative to inspire and provide an opportunity to women technologists who took a break in their careers, and now aspire to come back to work. This platform not only gives women on a career break a chance to work at one of 'India's Top Ten Great Places' and Fortune magazine's 'Top 100 Companies To Work For' but also provides technical and other training to sharpen their professional skills.
Introduced in 2015 as an initiative to tap into a vast pool of talent, Intuit Again received hundreds of CVs from women who wanted to ramp up their skills to a level that could help them succeed in the ever-evolving IT landscape. The results were humbling and inspiring, as we were privileged to witness 20 women stepping up and literally transforming in front of us.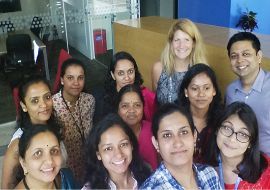 At Intuit Inc., they create business and financial management solutions that simplify the business of life for small businesses, consumers and accounting professionals the world over. Flagship products and services include QuickBooks©, TurboTax© and Mint.com, which make it easier to manage small businesses and payroll processing; tax preparation and filing; and personal finance respectively. ProSeries© and Lacerte© are Intuit's leading tax preparation offerings for professional accountants. Over time their products have evolved from desktop to the cloud, and today, Intuit's expanding portfolio serves customers in Canada, the United Kingdom, Australia, Singapore and India, offering localized, desktop and online versions of their applications.
They believe in innovation and are committed to building awesome products that delight customers. Their focus on customer driven innovation and principles of 'Design for Delight' distinctively connect with the theme of Front-end Engineering and User-Interface Design.
Ramani Gorti - a restarter through Intuit Again, who had 6 years of full-time experience and 4 years of part-time experience in technology, from multiple organizations in multiple roles as a Developer, Tech Lead, QA Engineer and a Mentor, before her break, shares her experiences...
How was your 6 months internship experience at Intuit?
The Intuit Again program was a boon for me. I had multiple breaks in my career and I completely lost my confidence that I could get to work in technology again. The Intuit Again program helped us by giving us a 6-month internship where we worked on various technologies by consistently being part of the project. During these six months, we got to know about Intuit's culture, new tools & technologies, Intuit products and Intuit's rich customer base. Adding to this we had sessions from senior leaders - like Intuit India VP/MD, BU heads, Architects and HR heads, all as part of the program, which really boosted our confidence.
How would you like to describe the 1st day of the program and what came after?
The first day of the program was awesome. Everything was perfectly planned. We were given our machines, user accounts, and a complete charter for the week. It was fantabulous!!!
We were supported by a mentor and a buddy as part of the program who really helped us to quickly learn new technologies, using these learnings practically in the project and to gel with the team.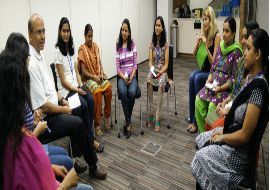 Throughout the journey, I had excellent support from my manager, who not only boosted my confidence but also gave me good direction. He gave me excellent opportunities to prove myself. We had One-on-One sessions with monthly check-ins and defined milestones. My special moment was when I was appreciated by the team and received a Spotlight award from my manager. Frankly speaking, Intuit provides special moments quite often.
Frankly speaking, Intuit provides special moments quite often. One more special moment was when the IDC VP/MD, Vijay Anand, himself invited us to the Intuit family.
Intuit Annual Program (#IntuitLifeLIVE) was itself a great special moment for me and my family. I was very inspired by CEO Brad Smith's address to India employees when he visited India; that was a special and memorable moment.
Like Ramani, there are so many more women at Intuit who restarted through Intuit Again, and now they're calling YOU to join their ranks!
They understand everything you're going through when coming off of a career break and have made sure that the parameters of their internship program are sensitive to that.

So, if you're ready to dip your toe in the waters of your career once more, the entire ocean of Intuit is waiting for you to begin... again.

If you're looking to start your career, or for new and exciting roles to showcase the skills you've gained along your professional and personal journey, you can find them at www.JobsForHer.com. Create your profile, upload your resume and start job-hunting today!