Women For Women - The 3rd Showcase of the JobsForHer Ambassadors
Kaajal Ahuja
in
Back to Work, Career Development
|
06 Jan 2017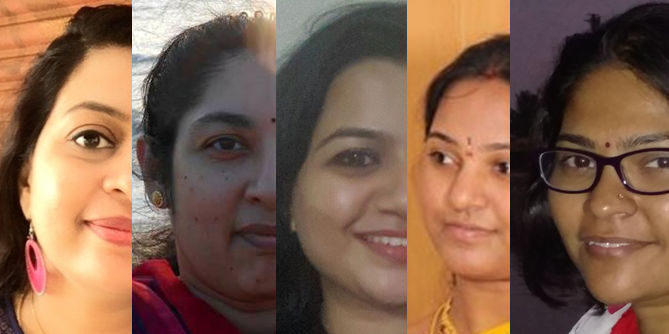 The JFH Ambassador Tribe is growing, and HOW.
We are floored by their spirit, their diverse range of confidence levels (and what happens to them as one by one, they find the job for which they've been hunting, and embark on the career of their dreams!), and their overwhelming selflessness in helping other women rise from the despondency they're in if they're thinking about restarting their careers, but don't know how.
The infectious energy and drive of the group is the kind that brings a spring to their step and zeal to their job hunt, which matters so much, especially when one's headed towards a Second Career.
And let me tell you from first-hand experience that there is no stopping a woman who is determined to rise… AGAIN!
A fleeting look at their individual journeys and you'll know this for yourself.
While each of us has individual reasons for restarting, here's what drives our Ambassadors…
Shanti is actively looking to restart her corporate career in order to support her family financially. While daily needs and expenses are increasing exponentially, she says, the income is usually a defined, limited component.
A graduate from BITS Pilani, Rajasthan, Shanti holds a dual degree in M.Sc. (Hons) Mathematics with B.E (Hons) Chemical. She started her career in 2005 through a campus selection with CTS Chennai and was with them for almost 2 years. The company then obliged her request to be transferred to Hyderabad on account of marriage.
Moving higher on her career graph, she then moved to HSBC in 2008. Time seemed to fly and before she knew it, Shanti conceived in 2011. On account of premature twins, and all that their early arrival entailed, she had to shift the spotlight on to their health, as premature babies have far lesser resistance, and hence require far greater attention than normal babies do.
But in her time away, Shanti started an online business of women's merchandise to keep herself motivated.
Geetha Pradeep, a freelance content writer from Kochi, Kerala, is sometimes up at nights pursuing her passion! A profession she took up by chance, only to realize that it indeed was a
passion. She loves what she does particularly because she does it from the comfort of her home. And it has been a journey of self-discovery, from being an IT Trainer to a Content Writer.
From being a Project Lead to an Entrepreneur, Geetha has enjoyed every role to the core. While she took a break to welcome her son into the world, and so she could enjoy every bit of motherhood, she rejected the few offers that came her way in the years ahead so that she never missed any part of his growing up. And, as she realized that he needed more of her time as he grew, she started looking for freelancing opportunities.
''A good friend then offered me a writing job on a trial basis, and I gladly took up as it was a freelance opportunity. There started my love for writing! I wanted to swim deeper into the ocean and hence started taking up assignments on a regular basis over the next 2 years. It then struck me that I need to pursue this seriously. I ventured out and started taking projects on my own, rather than depending on someone else. I am now learning from every moment of my life; reading and writing on various topics. This is also when I came across the JFH Ambassadors, and I am so glad that I joined this amazing group of super-talented women, with whom I can share experiences to help benefit someone else.''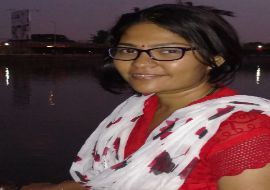 Being a JFH Ambassador enables Rajeshwari S to connect with the feelings of the women on the group and the emotions behind them. She loves the way the Ambassadors help each other face hurdles and find new ways to move ahead in life.
Having worked as a Senior Systems Analyst, Rajeshwari has impressive names like LG Soft India, Motorola, Kyocera, & IISC Bangalore, on her resume.
While she is keen on restarting her career as a Corporate Counsellor, she has begun actualizing her strengths and maximizing her potential towards the profession of Counselling and Training. Not only is she focusing on skill building, but is also adding several certifications that contribute toward her becoming a Corporate Counsellor.
Without compromising on her family life, and through continuous learning, Rajeshwari is presently working as a freelance trainer with NGOs and training institutions in Bangalore.
Roopa Pinnintty is a Prince2 certified professional in Project Management (Foundation & Practitioner). A hardworking, dynamic, proactive, friendly and experienced IT professional, she has 5 years of experience as a Techno Functional Consultant in Oracle Applications SCM modules and 3 years of Entrepreneurship in an Online Franchisee for Big Bazaar(Future Retail).
And this is what she has to say about getting back to work: ''I want to get back to a regular IT job; a field that I was always passionate about, and for which the time seems perfectly right! I have successfully played my role as a mother; being there for my son when he needed me, instilling in him the importance of education & sports, & raising him with a good set of values. He is now independent, excels at academics & sports, and has been selected as the 'Student of the Year'.
What more do I need to see that IT IS NOW TIME TO FOCUS ON ME?"
Neha Sharma shares that being a part of the tribe has helped broaden her prospects and has shown her that there are many women like her, sailing in the same boat, and yet, doing everything they can to reestablish their rightful places at work. And, it has also helped her resurface her own capabilities, and know that she is no less than anyone out there.
A B.E Mechanical from Rajasthan Technical University, she was recruited in 2007 as an Aerospace Design Engineer at a prestigious German firm, Edag Engineering and Design India. Having worked with them until 2011, she then moved onto Altran Technologies and subsequently to the CSG group of companies.
Due to her relocation to USA for two years, Neha quit her job and volunteered for a logistic firm in New York. This gave her great exposure to logistics and sales.
As she simultaneously played the role of a Purchase Controller at her first job, it gave her good hands on experience in SAP (MM and SD modules as a functional consultant) vendor management, and negotiations with customer ECT.
Sharing her reasons for finding her way back, she says:
''Yes I AM looking to restart my career because I want to set an example for my children, that there is no 'set' age to (re)start doing that which you once loved doing, and left behind a long time ago. And also because it is imperative for women to be independent in today's day and age.''
A JobsForHer Ambassador is on the cusp of reclaiming her work life. And while doing so, she also redefines networks of many other women on a career break looking to start, restart and rise. She uses her connections to spread the word that you Can and Will return to work.
JobsForHer is rolling out what promises to be many coffee gatherings for JFH ambassadors to invite their friends, family, and networks as part of our joint mission to reverse India's female brain-drain and bring women BACK TO WORK!

And our upcoming meet, hosted by Explore Life Traveling on the 18th of January, will have Guest Speaker - Vaishali Kasture - Partner, Deloitte India Consulting address all those questions of a Second Career.
If you wish to attend this meet, come join us as a #JFHAmbassador here: bit.ly/2iDcnRs and then register for the event here: http://bit.ly/2jhFwS3
About the Writer:
Kaajal Ahuja is a commerce graduate, who worked in the field of Customer Support first at HDFC Bank, and then at Dell International. During her 11-year career break, she spent four years volunteering as a Teacher at a government-run educational institution and also ran her own enterprise – 'Hey Gorgeous' – alongside, for 8 years. It was during her break that she discovered her love for writing, and is now back, working part-time as a Senior Content Writer at JobsForHer. She is married and is an upbeat mommy to a 13-year-old.