Women for Women - Showcasing the JFH Ambassadors
Kaajal Ahuja
in
Back to Work, Career Development
|
27 Sep 2016
Robert Ingersoll once said, "You Will Rise by Lifting Others"
How beautiful… and true.
The magnanimous feeling one walks away with from a helpful gesture no matter how small, to another, cannot be replaced.
And our groups of energetic and enthusiastic Ambassadors across India, who are nothing short of ELATED to be part of the 'JFH Ambassador Tribe' are living testimonials to that.
Every single day they wake up with a purpose that they love being a part of!
Let me introduce you to them…
1. Rina Tewary of Gurgaon stepped down from her career for 3 years. She is a post graduate in Computers and an MBA in Information Technology.
Rina wants to restart so she can be an independent woman who learns from and inspires other women!
She shares that the Ambassador Group is the perfect platform to meet several other like-minded women who can not only provide her with new insights every day but also keep her spirits high! In fact, she finds herself a more focused and confident person already!
2. Sapna Bakshi of Bangalore, one of our Champion Ambassadors, is someone who's 'wired to work'! She is a Bachelor in Business Administration and an MBA in Advertising & Public Relations. She has under her belt of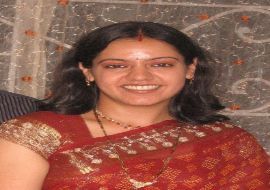 experience several projects and job roles in the fields of Advertising, Sales, PR and Marketing.
Having taken multiple breaks on account of personal reasons, this is what Sapna feels on being part of the Ambassador Tribe: ''This role has given me wings to fly! It's a platform where I can finally dream BIG! A great initiative, the Ambassador Program helps us inspire other women as well, in getting back to their career paths to achieve the goals THEY design for themselves!''
In fact, Sapna recently came on board as a Work-From-Home Consultant for Client Servicing with JobsForHer!
How awesome are the opportunities that NETWORKING opens doors to?!?!
3. Neeraja Ganesh, who is currently an IT professional, had stepped away from her career for all of 10 months! And this she says she owes to the phenomenal backing from her family & friends. But she also gives due credit to
her clarity on her priorities in all stages of her life!
Neeraja shares that being part of the Ambassador Tribe is an opportunity for her to contribute in whatever little way she can! While laying great emphasis on building a sturdy network, she says '' One never knows who or what will surface the next opportunity for you. But please be selfless when you build a network. Every new opportunity or challenge that has come my way has taken me to where I am today. I am who I am due to the interactions I have had with people. I've tried to do whatever was possible within my scope with those interactions and it has rewarded me amazingly!'
4. Rohini Majella brings with her a commendable 12 years of work experience with a giant like Thomson Reuters! She has done her Post Graduate Diploma in General Management.
After a 4-year career break, Rohini felt the urge to resurface and give her noteworthy skills their due place in the corporate world! While playing the role of an Ambassador, not only has she met some remarkably inspirational women but has also joined the JobsForHer team as an extremely dedicated Volunteer!
5. Pompi Mazumdar comes from a small town in Assam. After completing her MBA in the field of HR & Marketing, she came to Bangalore to turn her lofty dreams into her reality. Through her journey of a variety of HR roles in small and medium-sized firms, Pompi has encountered many a struggle.
Today, after a 3-year career break, Pompi is as hopeful as can be, as she looks toward a career restart!
"The JFH Ambassador role helped me stand and highlight my hidden skills. It gave me the confidence to open up in public without any hesitation and helped me drive out the best in me by helping others without being judged and scrutinized.
It gave me the liberty to help spread happiness in my own creative way to all those women who are also sailing on the same boat. Every day this role inspires me to think on innovative lines to make this world a better place for women.
This portal is helping women from each and every corner of the country with all possible opportunities and options in various fields to help them carve a niche for themselves in the society by bringing into play their own unused skills!"
Motherhood has taught Pompi all she needed. She finds herself a far more mature woman with almost endless tolerance and patience. The odds have only strengthened her to stand up for herself in all sincerity!
Going back to work, she says, will instil in her greater self-confidence, independence & determination, and enhance her decision-making skills.
Such is the faith that women lay in the spirit of getting back to work!
Now, what is the work world waiting for?
All of these women have taken their first step towards getting back to their rightful places in the work arena.
The question is, HAVE YOU?
Come take the first step. **Join Us as an Ambassador.
Email us @ ambassador@jobsforher.com or Whatsapp Khushaali on 9663904952
**The JobsForHer Ambassadors are a network of highly motivated women who have varied work experience and have taken a career break owing to personal reasons. Our Ambassadors are our brand propagators, who share our vision and are determined to restart their career while helping other women to start, restart and rise.
About the Writer:
Kaajal Ahuja is a commerce graduate, who worked in the field of Customer Support first at HDFC Bank, and then at Dell International. During her 11-year career break, she spent four years volunteering as a Teacher at a government-run educational institution and also ran her own enterprise – 'Hey Gorgeous' – alongside, for 8 years. It was during her break that she discovered her love for writing, and is now back, working part-time as a Senior Content Writer at JobsForHer. She is married and is an upbeat mommy to a 13-year-old.