Women at Tesco Bengaluru Know No Limits to their Potential
Ujwala
in
Women-friendly Companies
|
26 Mar 2018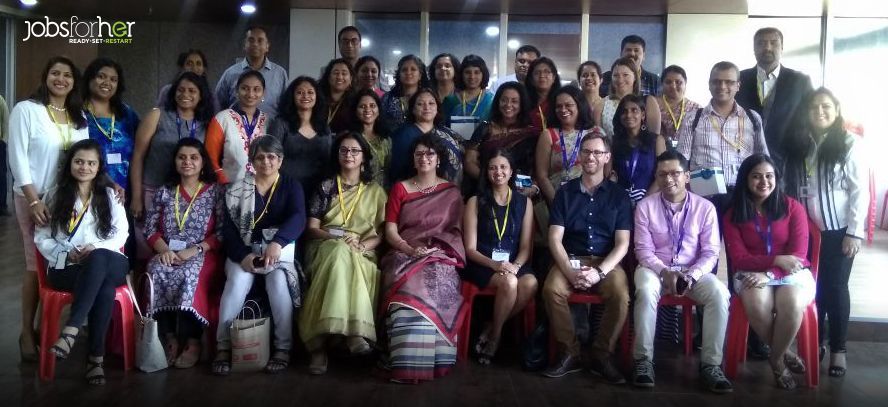 Tesco Bengaluru, a multi-disciplinary team serving its shoppers a little better every day while creating a sustainable competitive advantage for the business through standardized processes, quality improvements and cost savings partnered with JobsForHer to celebrate the 2018 International Women's Day at their event - "Know No Limits".
The event included a Straight Talk session by their CEO – Sumit Mitra and mentoring by their colleagues for less-fortunate young women from a City-based NGO.
JobsForHer curated their #MentorForHer zone on Tesco Bengaluru's award-winning, green 15-acre campus, creating an environment of learning, sharing, and exchange that resulted in an energizing and fulfilling event.
We are delighted by the impact made by the all-star line-up of mentors who helped women colleagues overcome barriers in their careers and beyond.
These mentors stepped out of their offices and into the MentorForHer zone to support women colleagues overcome their fears in taking their careers to the next level.
*#MentorForHer Anita Alexander speaks of her experience at the event.
*#MentorForHer Ira Gilani at the event.
A proud moment for us, as a connecting portal for women looking at restarting their careers with companies who are directing their energies towards diversity and inclusiveness.
Tesco as a company believes in creating an environment of success that is welcoming and where colleagues can be their best selves at work and beyond. They focus on colleague engagement and is a key factor in delivering customer experience.
A mentor-mentee relationship is perhaps the most influential in shaping a fruitful career which this event proved. Mentees were not only excited about meeting top players in the industry but were equally keen on putting their suggestions and ideas to practice!
When a company strongly encourages colleague participation, involvement and empowerment it becomes a preferred place of work for employees.
Colleague engagement at Tesco Bengaluru involves a holistic approach that fosters pride among colleagues to create a feeling of inclusiveness among them. Tesco Bengaluru is among the 2017 AVTAR and Working Mother 100 Best Companies to Work For in India list, a testament to their progressive practices and policies. With an in-house child care Center, a library, gymnasium, sports pitch and amphitheater to boast among other facilities, the organization invests in making an environment that is conducive for colleagues to succeed in doing their best for customers.
Tesco Bengaluru believes in encouraging colleagues to be their best at work and beyond. "When colleagues fulfill their potential and tap their talent and capabilities, we become better as a team," reads a recent post on their Facebook page.
"I enjoy working at Tesco, I wake up every morning and feel the joy of coming to work every day. I feel proud of this amazing company that Jack Cohen built and the legacy he has left behind. I'm proud to work in a company that has stood the test of time for over a century and is built on strong values with the customer in the center of its core purpose. I love the people in Tesco and I find in them a drive to excel and perform. We have a strong leadership team and the values are driven top-down", said a colleague of his experience of working with the company.
This is true now more than ever.
Employees are the greatest asset a company has. Tesco makes sure that every colleague is given ample opportunity to make a difference.
The company recently bagged multiple accolades including the Frost & Sullivan award in 2017 for process innovation, NASSCOM Showcase on analytics the same year and internal communication campaigns at the 12th Global Communication Conclave 2018 demonstrating its commitment for excellence.
If you want to be part of companies that believe in diversity, then click on the image below.