With Guts and Gumption, She Reinvented Her Restart - Shilpi Shah, Freelance Writer
Kaajal Ahuja
in
Restarter Stories
|
19 Jun 2017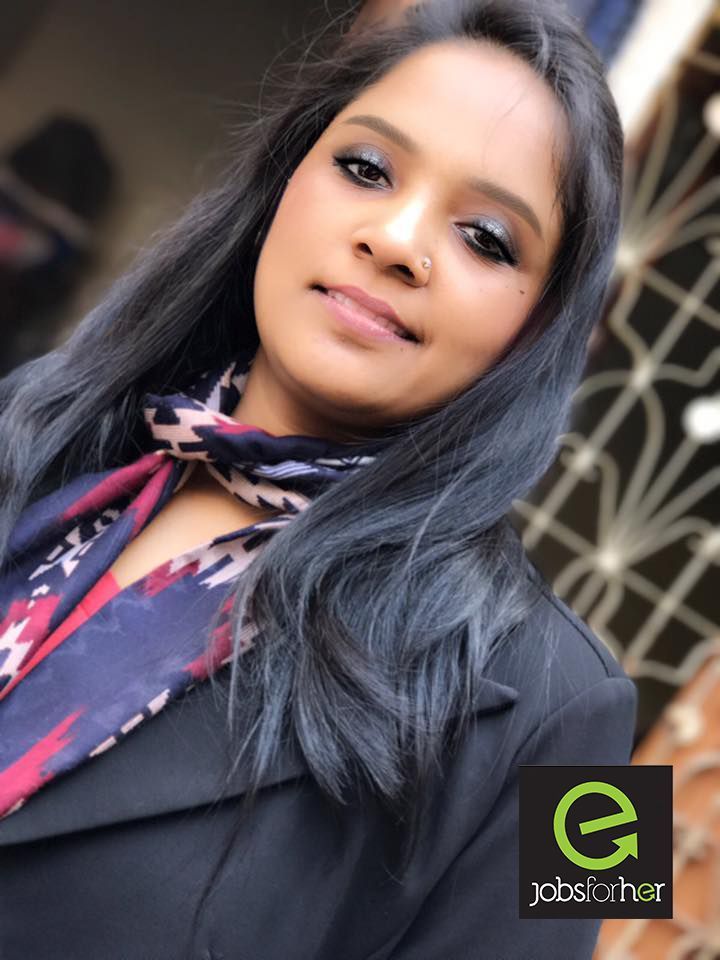 My earlier conception of the number 13 was never a good one until two most life-changing events of my life happened around it. Firstly my second born arrived in 2013, and secondly, I met Neha Bagaria the Founder of JobsForHer on 13th February this year!
Hindalco Industries of Aditya Birla Group had organized a workshop titled "AWOO Pilot Project" for the wives of their employees, to explore an array of work-from-home opportunities online. The workshop was designed to provide suggestions and guidance from career experts.
As luck would have it, among the Mentors present was Neha herself, and I was floored by her persona. She threw light on the cause and purpose of JobsForHer, and it was an amazingly interactive and informative session.
| Let JobsForHer be your Second Career Champion! Sign up with us HERE
When she so rightly pointed out that: "Even if you have been a stay-at-home mum, you've got to be proud of the unique set of skills you've developed - from time-management to negotiation skills, to perseverance", it all made so much sense.
I knew in that instance, that I had finally come across that revolutionary moment to kick start my second career.
Within the next two weeks, I became part of the JobsForHer Ambassador Tribe.
Updating my status from 'Homemaker' to a 'JFH Ambassador' was such a confidence booster!
Thereon, team JFH provided me with every kind of career support and guidance that I required from time to time. More so, they were forever accessible - over phone, email, or text. And that can mean so much to a woman who's still only finding her way back.
Coming back to work after a break is never easy and jobs are certainly not door delivered. A career break usually attracts negativity, uncertainty, and sometimes, disrespect.
But you have to get your head around these matters and focus towards your self- confidence, work-life balance, etc. When I decided to go back to work, I was seeking a switch in my career because I realized that I don't fit in a Geologist's skin anymore!
| Address Your Second Career Concerns by Becoming a JFH Ambassador
JFH has given me the opportunity to create the life I wanted. I was always passionate about writing, and doing something creative, with a desire to get noticed. JFH gave me the confidence and direction to follow my passion. With them, you get the opportunity to be part of a growing talent pool of women. On our group of Ambassadors, each and every woman is motivating, inspiring and mentoring the other.
Through the assistance of webinars organized by JobsForHer, I began looking at my second career through a brand-new perspective and learning all that I needed to, to restart. With the help of relevant links and information shared on the group, I got my very first written assignment as a freelancer recently!
Although I have started small, I'm happy to acknowledge and prophecy that, work-from-home IS possible, even for a non-technical person like me. In time, I hope to upskill and get certified too, but, one step at a time.
For now, I just want to enjoy the present, without focussing on the results.
The motivation to change our lives comes from our desire to be happy. The more opportunities we create to change our lives, the more fulfilled and happier our lives become.
The JobsForHer Ambassadors are a network of highly motivated women who have varied work experience and have taken a career break owing to personal reasons. Our Ambassadors are our brand propagators, who share our vision and are determined to restart their career while helping other women start, restart and rise.
Do you also want to create those opportunities that make YOUR life a more fulfilled and happier one?
Then start by signing up with JobsForHer to find your dream job and scale the rungs of the corporate ladder!
About the Writer:
Kaajal Ahuja is a commerce graduate, who worked in the field of Customer Support first at HDFC Bank, and then at Dell International. During her 11-year career break, she spent four years volunteering as a Teacher at a government-run educational institution and also ran her own enterprise – 'Hey Gorgeous' – alongside, for 8 years. It was during her break that she discovered her love for writing, and is now back, working part-time as a Senior Content Writer at JobsForHer. She is married and is an upbeat mommy to a 13-year-old.