Why are India's Women Staying Away from the Table When they Should be Getting Back to Work?
Neha
in
Back to Work
|
07 Mar 2016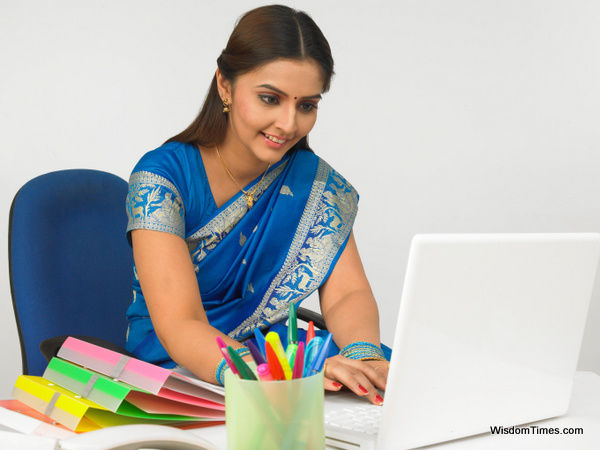 Family will always come first in the standard Indian scenario, because the Indian woman shoulders the guilt of a thousand generations. The guilt of wife, the guilt of mother, and the guilt of daughter(in-law). Her guilt is perpetuated by a system that has historically benefited the male status-quo in our patriarchal society.
But, the reality of the 21st century is that we are being driven to increasingly consumer-based economies, which more than ever require a double-income household. Our women want to and need to work.
They also need to know that their country needs them to pick up where they left off and restart their careers. They need to know that they are valued – for the best years of their lives that they put into their education, for the beginning, struggling years of their careers making little or no money for long hours of experience, for those mid-level, arduous-climb years to earn the promotions that they knew were theirs. And for the years that they walked away from it all to look after someone in their family – husband, child(ren), elders(in-law) – placing others' needs before theirs, doing what needed to be done because only they could.
Indian women should know their value in a nation that places unending reverence on mothers and motherhood, on woman in a range of avatars, on the ideal of womanliness, but seemingly so far, not much on a woman's economic contribution to our bottom-line.
However, the harsh truth is that there is a "woman-shaped gap" in the Indian workforce and we need to reverse the brain-drain that is holding our country back from the rest of the world.
According to two research papers conducted on the subject (for India):
"Forty-eight percent of Indian females drop out of the workforce before they reach mid-career. The largest percentage of Indian women leaving the workforce occurs between the junior and middle level, as opposed to between the middle and senior levels."[1]
"Female enrollment in colleges leapt from 10 per cent of total admissions at the time of independence to 41 per cent in 2010. However, this has not translated to equivalent gains in women's employment. Indeed, in the past few decades, the percentage of urban and educated working women has been stagnant or even fallen. Overall, only 20 per cent of urban educated working-age women actually work. Further, nearly half of those drop out mid-career."[2]
This is alarming and it is unconscionable. This is not surging forward, it is slugging backwards. Our grandmothers and mothers did not put in the effort they did for us to get where we have and then have it wasted away by our disillusionment with the working world and how it translates for our family lives. We want to know that we will be protected from discrimination when we do return.
Indian women comprise a significant, highly-educated chunk of our brain-bank – and the bank is draining when it could be burgeoning.
Kevin O'Leary of reality-TV-show Shark Tank fame has candidly opined that his investments run by female CEOs consistently outperform his investments headed by men. He observed that his female CEOs' risk-taking is vastly superior in that it is careful, intermediate, and often more researched than their male counterparts. He found that those CEOs that were busy mothers at home performed at the highest level in the group. The multitasking capacity of a busy mom could leave the most eager, energetic and aggressive-assertive male stunned.
"It kind of makes sense, right? Attributes that I have observed are that they take less risk, they are more goal orientated in terms of setting targets and meeting them. If they say, 'I am going to expand capacity or we're going to increase distribution in the next quarter', they deliver," he explained. "It's not an intuitive feeling. It's actual hardcore results."[3]
JobsForHer represents women who have been on a career break for personal reasons, women who wish to begin their careers and women who want to climb the corporate ladder, and this means that our pipeline of candidates are mostly women who had to step away in the middle of their career trajectory.
This means that they have high-quality resumes. This means that we are placing women in roles that will elevate their career upward and onward, the way it should go – the managerial-track route.
President Obama recently said, "When women succeed, America succeeds." In saying this, he wasn't being a politician paying lip-service to another rally. He was talking sense. Simplifying and shortening the path for women to return to the workforce after whatever break they took because they had to, because they were the only ones in their families who could or would do it, makes for a better GDP, a better growth-trajectory, a better balanced workplace environment, happier families and happier countries, on the whole.
Our women matter more than we're giving them credit for and we need to show them that they do. Because we need them back to work!
There are 8 companies in India who are doing just that this International Women's Day – and they're doing it in one massive diversity drive cross-country, this entire week!
Read all about the JFH Diversity Drive 2016 and REGISTER for your preferred company & its corresponding city TODAY!
[1] "India Needs More Women in the Workforce" – Persis Khambatta, Center for Strategic and International Studies, August 2013
[2] "The Dismal State of Women's Employment in India" – Tara Krishnaswamy, Newslaundry, October 22, 2014
[3] "Why Shark Tank's 'Mr. Wonderful' Thinks Women Make Better CEOs" – Carol Roth, www.entrepreneur.com, February 2015
If you're looking to start your career, or for new and exciting roles to showcase the skills you've gained along your professional and personal journey, you can find them at www.JobsForHer.com. Create your profile, upload your resume and start job-hunting today!