When He Stands Up For Her, Your Return to Work Is Easier - Srinivas Rao and JobsForHer
Kaajal Ahuja
in
Restarter Stories
|
07 Jul 2017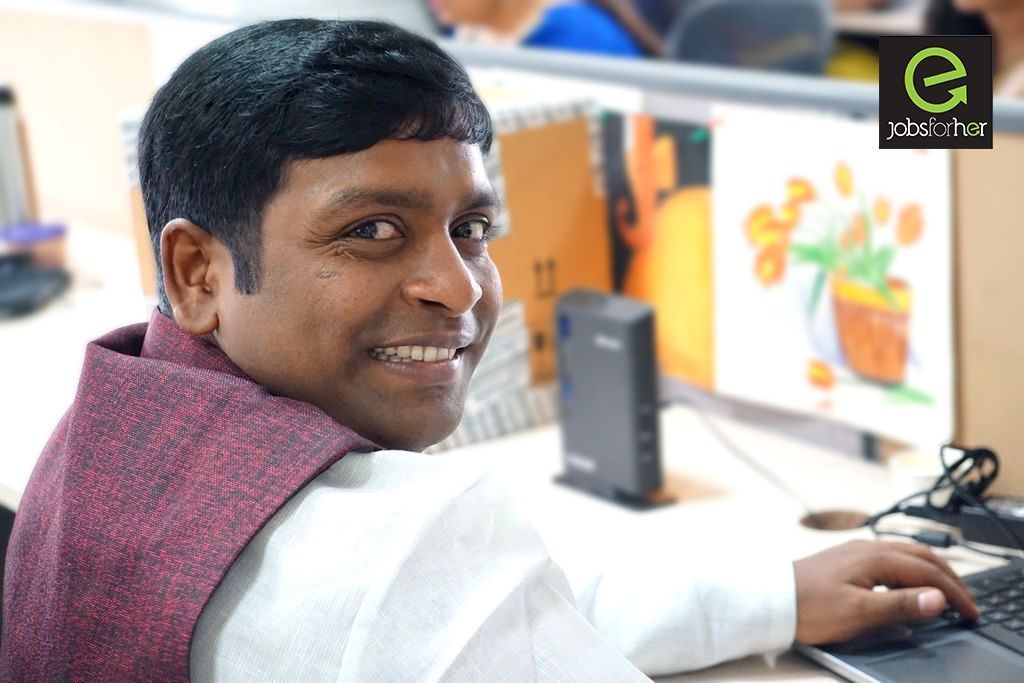 He has one of the most difficult jobs in the world.
Every single day, from within his male body and mind, Srinivas Rao - Ace Graphic Designer at JobsForHer – must dream up, design, and deliver, creative, out-of-the-box images that upon first glance, must touch the hearts, inspire the minds, and rekindle the souls of our second career women.
And he is triumphant, every time.
Ask him how he does it and the professional in him surfaces:
''I always take the time to analyze and understand the content that's supporting the image. I pay great attention to what is required from the image, to synchronize with the content. And then I work and rework those ideas several times until I'm convinced that the end result is what our women would like to see.
And of course, it always helps to be surrounded by so many of them in the office!''
| Have You Signed Up for India's Biggest Career Fair and Conference in Bangalore Yet?
But there was a time when Srinivas doubted himself to no extent; unsure of where his future lay; and whether he'd ever settle down to anything concrete.
Why?
Because he'd experimented with many a field – from commerce to science to thermodynamics and more - but never really found purpose.
Jack-of-all, master of none – he thought.
And he's pleased as punch that he proved himself wrong.
In fact, Srinivas demonstrated his mettle in the past year at JobsForHer to such an extent, that today, every design that goes across our social media channels, must first be approved by him.
How commendable is that?!
Although a graphic designer for the most part of his career, Srinivas didn't always set out to be one.
Midway through his graduation in Aeronautical Engineering in Chennai, he headed back to his hometown in Andhra, to tend to persistent health issues.
It was during his recovery period when he along with his brother dabbled with impromptu creative designs and video edits through sheer passion for creativity, and there he stumbled upon his calling.
| Have You Found Your Second Career Calling Yet? Do It With JobsForHer
Without a second thought, Srinivas headed to Bangalore to pursue a 2-year Multimedia course at Arena. His achievements, in fact, began stockpiling from this time on. One of the short films he made during the course was nominated for the Russian Film Festival.
All along his course, he'd dedicate his evenings towards teaching and guiding a young boy in the neighborhood with his academics.
And Srinivas did this for many years.
Today, that boy stands proud, and grateful after securing 75% in his 12th grade, much under Srinivas' constant guidance.
Towards the end of his Multimedia course, Srinivas' career had set sail, as he began working on small-scale freelancing projects.
| Dheere Dheere Slowly Slowly Am Learning Vearning Nayi Zubaan
He spent 6 months with his first company, Invensis, where he was primarily involved in image retouching. In time, he found an opportunity with Learning Time, where he delved deeper for the next 4 years into print designing for children's educational material in the form of pamphlets, brochures, and books.
Matters were taking form on the personal front as well. Srinivas found his life partner and decided to tie the knot in 2013.
His wife, whose passion is art, has just completed her first Tanjore painting after 3 months of incessant hard work. And Srinivas has been her tower of encouragement, from helping her source materials to finding appropriate classes, from assessing the marketability of such paintings to the exposure she would require to do so.
Srinivas is a true believer and supporter of the HeForShe initiative
| Bringing Women Back to the Forefront - Gautam Shetty, Head - Talent Acquisition, JCPenney
The HeForShe solidarity movement was created by UN Women to provide a targeted platform where a global audience can engage and become change agents for the achievement of gender equality in our lifetime. And JobsForHer's HeForHer campaign is only an extension of the larger movement, where we showcase, acknowledge and encourage the efforts of men who believe in and stand up for it, across India.
So much so that, many-a-time, Srinivas sits in a meeting room full of women, without a trace of discomfort, and with the complete know-how of what each and every one of us requires from his work, as if he were inside our heads!
Sign up Here and Now, to find your calling with JobsForHer.
Find a multiplicity of Full-Time, Part-Time, Work-From-Home, Freelancing and Returnee Internships with close to 3000 companies on our portal.
About the Writer:
Kaajal Ahuja is a commerce graduate, who worked in the field of Customer Support first at HDFC Bank, and then at Dell International. During her 11-year career break, she spent four years volunteering as a Teacher at a government-run educational institution and also ran her own enterprise – 'Hey Gorgeous' – alongside, for 8 years. It was during her break that she discovered her love for writing, and is now back, working part-time as a Senior Content Writer at JobsForHer. She is married and is an upbeat mommy to a 13-year-old.