Top 10 Women of 2015 We Want to Applaud and What they Say...
Neha
in
Working Women
|
16 Jan 2016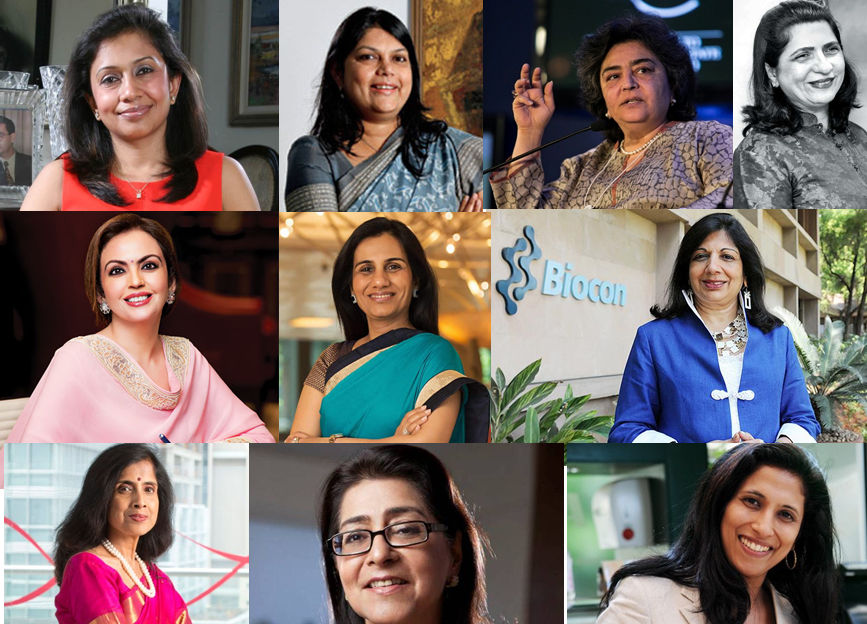 We picked and chose quotes from a cross-section of successful women of 2015 in India that we thought would inspire your journey towards YOUR second career!
From advice on juggling motherhood and work, to which soap operas inspire their business acumen, to their ambitious dreams and vision for the women of India in every field, these women have paved the way for us to follow, renovate, and recreate our own success, in a world whose glass ceiling is, piece by jagged-edge piece, falling down…
1. Nita Ambani – Chairperson of Reliance Foundation and Director of Reliance Industries
"As Indian women, we are always balancing work, life, home, etc. It's important to know that while juggling rubber balls and glass balls, the former may bounce back when you miss, but the glass balls will crack if you let them fall. So prioritise, prioritise, prioritise."[1]
2. Leena Nair – CHRO, Hindustan Unilever
Gender inclusion is not a women's issue, it is a business issue. To bring balance to the numbers, you have to change the men, you have to change the women, and you have to change the culture. We need all three to happen for progress.[2]
3. Falguni Nayar – CEO, Nykaa.com (ex-MD of Kotak Mahindra Bank)
"I think it is important to be committed to your work. That being said, we, as professionals, need to strike a right balance between work and family; it's not that difficult. Work should be a priority and success at work requires a certain degree of commitment, and not just long working hours."[3]
4. Zia Mody – Managing Partner, AZB & Partners
"I think the main challenge is constant perseverance, constant hard work, and at least for the first 10 to 15 years, constantly having to prove yourself. The agenda was to try and be an intelligent junior, who was willing to work double time, and to look for visibility, and consistently do good work that would be noticed. In India, I think we have a little more success (of female lawyers) just because of our extended family and the infrastructure that provides."[4]
5. Firuza Parikh – Director, Dept. of Assisted Reproduction & Genetics, Jaslok Hospital and Research Centre
"A very important lesson that I have learnt over the years being a parent of three wonderful children, besides being a godmother to a few more, is that we should bring out the best in our children in every way and not pressurise them to perform in school. Also we should cherish and enjoy our time with them. They grow up so quickly. Besides, we are ageing too. We should make the most of our time with our children."[5]
6. Kiran Mazumdar-Shaw – Chairman & MD, Biocon Ltd.
"I want to be remembered as someone who put India on the scientific map of the world in terms of large innovation. I want to be remembered for making a difference to global healthcare. And I want to be remembered as someone who did make a difference to social economic development in India."
7. Anuranjita Kumar – CHRO Citibank South Asia
"Stop battling yourself. Be kind to yourself… The climb is different even though the destination is same. Ultimately it all depends on 'what I want' which determines success. And the 'I' is gender neutral!"
8. Naina Lal Kidwai – Group GM & Country Head of HSBC India
"I was struck by the influence of fathers. The influence of mothers and teachers I'd have thought, but the influence of fathers in our times when most women didn't work is interesting. The common trait was women seeing their father as a mentor and guide, which tells me that we should have fathers spending more time at home with their kids, particularly if they have daughters, because they can encourage and drive in a way that maybe the mothers can't."[6]
9. Chanda Kocchar – MD & CEO, ICICI Bank
"...when it comes to women in leadership roles, I think India is more evolved than is generally recognized. Many Indian corporations, in fact, are going out of their way to attract more and more women in the workforce. And women are becoming much more open and conscious about the fact that they need to have a career of their own. The jury is still out on whether so many women will be able to balance their personal and professional lives through the middle-management stages of their careers and on how many will emerge from that as senior leaders. But I would say that as a whole, the outlook of the Indian corporate sector has improved substantially. ICICI has always been gender neutral and I see that across many more companies today."[7]
10. Shanti Ekambaram – President, Consumer Services, Kotak Mahindra Bank
"Women always are in a 'dharm sankat' to choose between family and work. While we need to respect those who choose their families, organizations have to support the ones who stay put as they also battle a guilt. Women who join after a break find it difficult to blend in as their peers have moved ahead. This lot needs to be made comfortable, counselled, reskilled and refitted so that they adjust to the environment that has changed since they left."[8]
If you're looking to start your career, or for new and exciting roles to showcase the skills you've gained along your professional and personal journey, you can find them at www.JobsForHer.com. Create your profile, upload your resume and start job-hunting today!
[1]Nita Ambani: I Gave my Kids Rs. 5 as Pocket Money – www.idiva.com
[2] The Gender Cliff: Leena Nair – People Matters
[3] Falguni & Sanjay Nayar – Outlook Business, May 25th, 2015
[4] Women at Work: Corporate Lawyer Zia Mody – Wall Street Journal
[5] Today, 90% of Infertility Cases can be Treated: Dr. Fariza Parikh – DNA
[6] A Woman's Place: An Interview with Naina Lal Kidwai – The Hindu, May 13th, 2015
[7] Leading in the 21st century: An interview with Chanda Kochhar – McKinsey & Company
[8] Times of India interview with Shanti Ekambaram, Dec 2013