Together We Achieve More - Kavita Singh & Lata Singh Dasila
Kaajal Ahuja
in
Mentors Speak
|
02 May 2017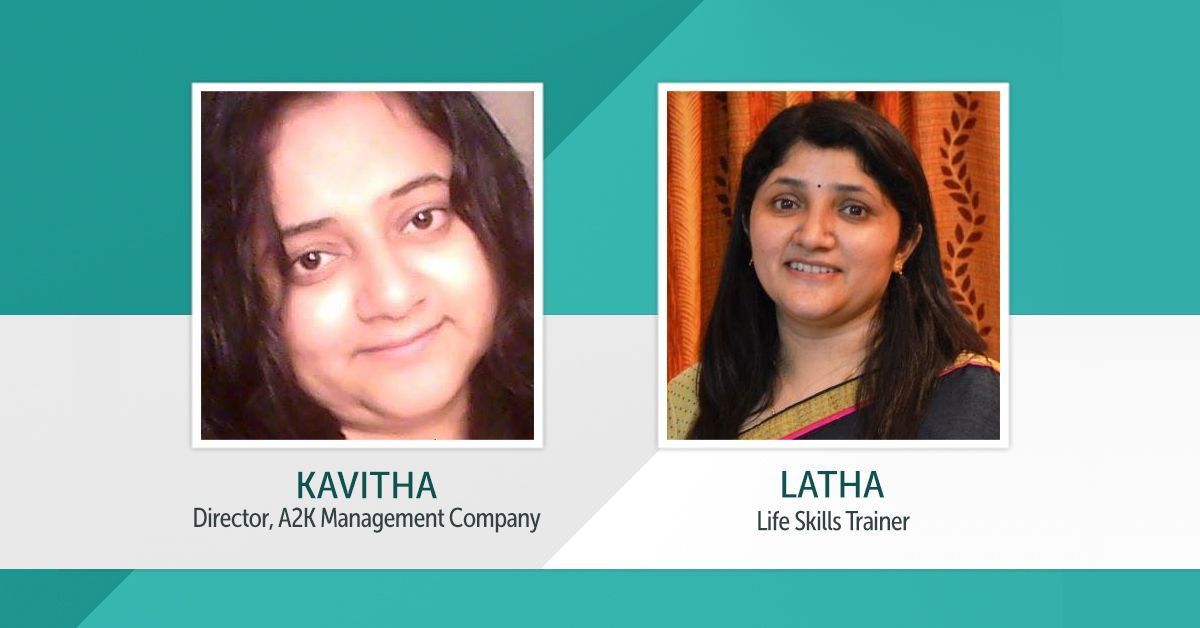 As you already know, Tuesdays and Thursdays of every week, we have from our Mentors Panel, one dedicated mentor who steps up to support, through their skills and expertise, JobsForHer's prime initiative – to get every Indian woman back to work. What could get better than that?
Well…Having TWO mentors come together to endorse that initiative!
In partnership, this week, are Kavita Singh and Lata Singh Dasila; two women, who, through their respective professions, also actively contribute towards initiatives that identify and address women's issues.
Kavita & Lata, who work out of Noida, first met and came together through the BNI Connect – a forum that thrives on, and augments its presence through, the power of business networking and referrals. Together, the duo believes in the motto ''Givers Gain'', and plan to run frequent programs in schools, colleges and corporates for kids, parents, executives, and women.
Kavita Singh, the Director of A2k Events Management, launched her company in 2015. After motherhood, unlike many a woman, she had no plans whatsoever, to get back to work ever again. But as time passed, she realized how she simply had to, to become independent again.
Today, with the firm having established its standing, she is happy to financially be on her own two feet again.
A2k Events deals with the planning of corporate & social events. Whether it's a wedding or a birthday you want to be planned, a photo shoot or a spa massage arranged, decoration or bartenders for a party – A2K promises to deliver! And what's more is Kavita has a great team of women backing her all the way.
Lata Singh Dasila, with over 16 years of experience in the field of IT, reinvented her career only 3 years ago. Today, she is an internationally certified life and trauma coach, NLP Practitioner and life skills, trainer. Lata has always enjoyed the human connection and has in the past, helped people solve their personal and professional problems with ease.
When she realized that this was her calling, she obtained a certification accredited by the International Coach Federation (ICF), USA. Lata now guides\mentors\coaches women and individuals on various areas of life like career, education, family, and kids to help them create a happy life and a positive mindset.
In a joint interview with JobsForHer, we unravel the journey of these two women, so far, and, the journey ahead…
If you're looking to start your career, or for new and exciting roles to showcase the skills you've gained along your professional and personal journey, you can find them at www.JobsForHer.com. Create your profile, upload your resume and start job-hunting today!
1. Happy to have you'll on board, Lata & Kavita. We're excited because this is our first duo mentor interview! So tell us, have the both of you taken a career break? If yes, then what challenges did it entail?
Lata: I never took a break in the 16 years of my career because my work was always a part of me. But that doesn't discount the challenges along the way.
In fact, I believe that challenges get you going! It's always tempting to go back to your previous job when things get difficult on a new path or quit mid-way. But the boon of pursuing a passion is that you find ways to overcome the obstacles in your path. What I did to see myself through them, was to always turn to someone I trusted, for help and guidance. I never took everything upon myself. Finding a mentor, whom we can fall back on, eases the journey ahead. I always encourage women to come up and speak about any concerns they may have; because every problem has a solution.
Kavita: I took a 3-year break because of my pregnancy. For me, it was hard to leave my child behind while getting back on the career track, and though my mother was supportive of my decision, she too shared my inhibitions. But, I always knew that I wanted to be an entrepreneur. And today, no matter what it took, I'm proud to have turned that dream into a reality. I'm proud that I NEVER GAVE UP, no matter how steep the climb was...
| A Long Way I Have Come and A Long Way I Shall Go – Sapna Bakshi's Career Path
2. Wonderful! It's great to have such varied experiences to learn from. What is your mantra for success?
Lata: The journey of a thousand miles starts with a single step. Never stop at your failures, neither at your successes. Keep moving. Don't sit back and cry over what went wrong. Pick up the pieces and move on. No matter how slowly you grow, it still is progress!
Kavita: Well said, Lata! As for me, my only mantra to success is: Do fully well, whatever you commit yourself to, stay punctual, and work with pride. As simple as that.
3. Thank you for those insights. Lastly, tell us what about your field of work, do you enjoy the most.
Lata: To be able to guide someone towards a solution is an awesome feeling! I enjoy coaching and mentoring people in search of help. The satisfaction that comes from such a role is immense, and yet immeasurable.
Kavita: Dance and music have always got me going. And to combine that with meeting so many new people, I absolutely love it! I've always wanted to work on my own terms and be my own boss. And there couldn't have been a better way than being an event planner to bring all of that together.
With mentors like Lata & Kavita, you can rest assured that your journey to a second career will most certainly be one of ease.
To follow Lata Singh Dasila on our MentorForHer panel, sign up here.
To follow Kavita Singh on our MentorForHer panel, sign up here.
About the Writer:
Kaajal Ahuja is a commerce graduate, who worked in the field of Customer Support first at HDFC Bank, and then at Dell International. During her 11-year career break, she spent four years volunteering as a Teacher at a government-run educational institution and also ran her own enterprise – 'Hey Gorgeous' – alongside, for 8 years. It was during her break that she discovered her love for writing, and is now back, working part-time as a Senior Content Writer at JobsForHer. She is married and is an upbeat mommy to a 13-year-old.