This Work From Home Writer's Career Found its Wings After a 4-Year Gap
Kaajal A
in
Restarter Stories
|
02 Feb 2018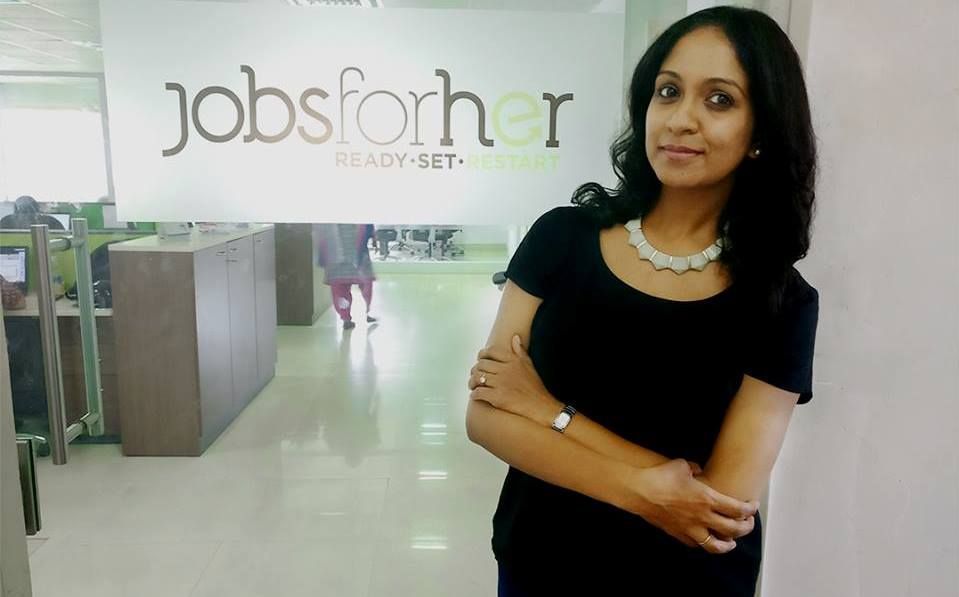 My personal and professional journeys tie in together with my love for the written word
Call me crazy, but I believe that each of us women carry enough life material to fill a 500-page book, front-and-back. And to pen a few pages of that story in the hope that it will motivate other women to rise up to the challenge is a privilege.
These few pages that I choose to tell has redefined the way I look at the ending.

Life has its way of helping you distinguish right from wrong. You only need to identify the signs
Throughout school, what I remember the most is my love for the written word compared to the written number (read mathematics)!
Geometry, Algebra, Algorithms were all brilliant sounding words, but more than that, they did nothing. The sciences were another type of nightmare.
So, it's safe to say that I perhaps passed out of school because of my undying love for words.
Shakespeare brought out the best in me.
However, I excelled in the languages. They were my most-looked-forward-to classes during the day, apart from the library period - my hour with Nancy Drew and The Famous Five.
So, when I acquired a glossy 75% in my 10th grade, my mother was very thrilled and surprised.
It was a no-brainer that I chose to delve into the 'arts'. Of course, to most of my extended/distant family, it seemed like my choice was rather obvious because I didn't score enough to go into a Science or Commerce stream.
I was only 16 then, but I did not let their comments bother me.
And THAT was my first lesson – To stand for what you believe in, and not let others' opinions dampen your spirits.
I graduated in style – in Psychology, English Literature, and Journalism
It was never the lectures or the numerous books we had to look through, but when I scribbled my first ever article on Hrithik Roshan way back in 2001 (when the actor made waves with his first film!) that I discovered my love for writing.
After nearly eight persistent hours of honest, heartfelt writing on scraps of paper, it was time to put it into shape.
I read, re-read, and read some more. Then I re-wrote, edited, and wrote some more. And after two-days, I had it penned on two full 'exam sheets' with my name neatly written in block letters at the bottom.
I addressed it to "The Editor, Bangalore Times, c/o The Times of India" and posted it…
… (Yes, I posted it because it was 2001, remember!) and waited for the following Tuesday. And boy was I ecstatic to see my little work of art published under the column "Piece of Mind"!
I was the talk of the class for a whole week in college.
Despite the three years of journalism, it was this experience that got me hooked on to writing.
My first job and a new-found respect among family
I got my first job in 2004 at the reputed Regional Daily at Deccan Herald, as a reporter/sub-editor. I was thrilled. Suddenly, everyone in the family was singing praises, because I was working for a newspaper!
After two years, I moved on to the role of Information Editor at Huawei Technologies India. That gave me immense knowledge and insight into the nuances of English writing and editing.
Although these were varied roles, they taught me a little something that I follow even today.
As a reporter, I learned that nothing is possible without the collective effort of a team. As an editor, I learned that less is always more.
Then came my connection with Qatargas in Doha, Qatar in 2009. I relocated to this beautiful Middle-Eastern state after my wedding, and thankfully, landed a job within a month of moving there.
Two years as Communications Assistant on this massive oil and gas project, and I grew as a writer (working on in-house magazines, brochures, mailers, and newsletters) and as an individual, thanks to my interactions with colleagues from different parts of the world.
It was a heady yet humbling experience to see how the power of the written word can bring you closer to those you work with.
The Dreaded Break…
My 7-year long high-flying career in the communications field suddenly turned into intermittent freelancing, with the birth of my daughter in 2012.
It introduced me to a new world of feature and commercial writing, copy editing and proofreading, which I enjoyed thoroughly owing to the flexible, work-from-home hours it came with.
After all, I could have oil in my hair, be in my pajamas with a hot cuppa with the A/C working its magic!
All was beautiful, but only for a few months.
Very soon, I found myself up at 7 am every day, wondering if I'd ever be able to dress up in suits and skirts and stockings and dresses (not all at once, of course), and not to forget them high heels to trot down a corporate office.
Why I decided to make a comeback, and why I'm going to stick to it
A year later I was having sleepless nights.
I wasn't content with just the "happy-baby-happy-husband" formula while I reclined on a sofa and typed away furiously for a measly sum every month. I wanted to do more.
I was going through the "not-working-anymore-I'm–going-crazy" syndrome. I would break down over insignificant stuff like not finding strawberry yogurt in the fridge, or my husband on the phone when I REALLY needed them!
I was angry and upset over traffic jams, the weather, dishes in the sink…!!
To add to matters, insecurities crept in…
What if I'm unable to keep up with the industry trends? What if I get too old to get a suitable job? I'd be left behind! Even if I were on the right path, if I just sat there, I'd be run over!
Keeping Up
So, I signed up for more freelance writing jobs thinking it would help keep my CV up-to-date. I worked when the baby was asleep and cooked, cleaned, exercised, did yoga, meditation, and every trick to keep calm and focused.
In time, I gradually found my space in the work I did and the financial independence it came with.
The extra work did give me sleepless nights, but 'at least you enjoy what you're doing. I'm proud of you!' said my husband.
Sure as hell, those words were like a shot in the arm.
Am I up to the challenge? Is this what I want to do?
A year into this routine and a relocation was on the cards.
From the sandy, desert dunes of the Middle East back to our homeland – India. It was a joyous decision, but even before I started packing, I applied to nearly 30 jobs that seemed remotely connected to my field of work. Now, getting back into the game shouldn't be difficult, I thought.
I was wrong.
A few months in Bangalore, and I became agitated, nervous, and lost all over again. And this despite being in a city that was home for 27 long years, but now seemingly unfamiliar.
Things had changed. I was blown away by the technological advancements. I didn't know where and how to begin job-hunting. 'This is it' I thought. I was going to be a stay-at-home mother, wife, and daughter-in-law, forever!
I found myself a victim of opinions, advice, and negativity from those I didn't expect it from.
My biggest mistake was to let them take control. I lost confidence, went into denial, and refused to talk to anyone. My friends couldn't identify with this cringing, cold person I'd turned into.
However, I continued to freelance to keep me grounded.
Family Does Matter
In the end, the support of your family is of utmost importance. Without it, you're just running from pillar to post trying to make sense of what you want to do with your life. My husband has been my strongest support system in helping me make important decisions when I was at an all-time low.
He understood my need for space and how I needed to get out there and be myself AGAIN.
When JFH Happened
Fast forward two years.
I heard about JobsForHer from an old friend and applied for ANY job I thought I could do - not just ones pertaining to writing.
Wednesday, January 12, 2017 - the day of my second awakening - my interview (the first in 6 years!) with JobsForHer gave me a renewed energy and confidence.
It was the day I rose like a phoenix - from the ashes of the cynical, vulnerable and depressed individual I had become, into the bright, shining one that I'm known to be.
I spent an hour just talking to the interview panel with utmost ease - no fumbling or stumbling.
I'd left behind the negativity, the condescending attitudes of people, the complaints, the regrets and the voices in my head that constantly brought me down.
Valuable Advice
It took a great deal of letting go and double the amount of support from my husband whose solid advice has been to 'do what makes me happy.'
Keep negativity out of your life. You don't deserve it.
You create reality by the thoughts you think, the emotions you emit and the actions you take. Accept It. Know It. Own It.
Don't shy away from support. Fall back on someone. Learn to trust. No one can live alone.
The best day of your life is the one where you decide your life is your own. No apologies or excuses, no one to blame. You alone are responsible for the quality of it.
This is the day your life really begins.