This Mother is Turning Her Dreams into Reality - Priya Torke's Career Path
Kaajal Ahuja
in
Restarter Stories
|
12 May 2017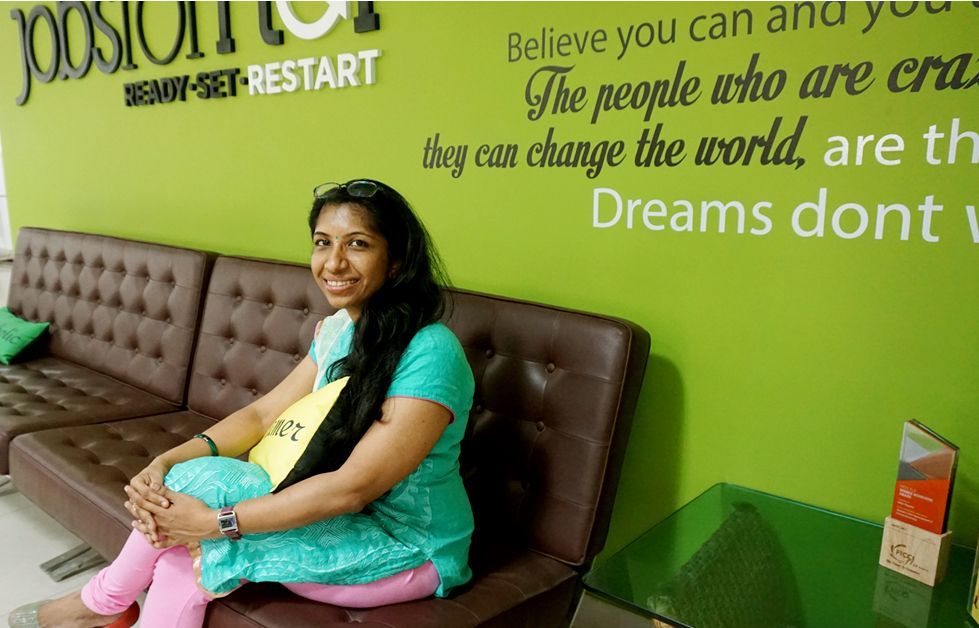 Not only is her story close to my heart, but Priya Torke – Manager, HR at JobsForHer, is not far from being a mother-hen (and headmistress, at times!!) to each and every member of the JobsForHer team.
Whether it's procedures for recruitment, an in-house job referral, the lowdown on our office internet and air conditioners, or an empty water dispenser, Priya is our go-to person for it all!
In fact, when the rest of us were rollicking in abandon at our team outing, Priya was doing her job - making sure that the day was progressing smoothly, and as per plan.
And what makes this narrative more special is that Priya and I became part of the JobsForHer team on the very same day.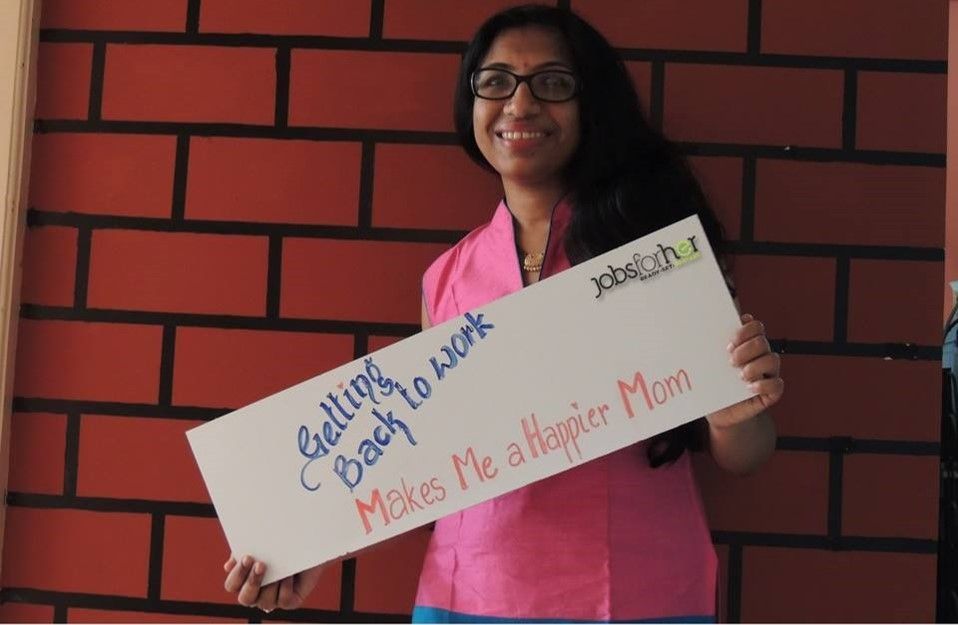 With multiple breaks in her career, and being part of a field that's as cumbersome as Human Resources - where the trivial and the significant weigh alike - Priya's climb to where she stands today has been laborious.
What stood her in good stead was Patience & Perseverance – her constant companions.
In Her Words...
''Being a small town girl, chasing my dreams in a metropolitan like Bangalore, was far from easy. But my challenges and triumphs are both etched in my memories forever.
Like the time I walked amidst the tall buildings on MG Road, so proud to have landed a job with a print media giant…Or the time I was made to take up the postgraduate diploma in Human Resource Management, like a small child, by my husband...
Those trying stages of my journey where I had to decide - more than once - between a career and my child; or the golden opportunity to work with a tech giant, because of the unparalleled support from my husband.
From motivating myself to buy a piece of jewelry from MY earnings, to overcoming the urge to fall back to sleep in the wee hours of the morning when I'd wake up to finish all that needed to be done before I left for work; from running every morning to catch the 7 a.m. shuttle to office, or doing the 3 hour long commutes, or watching my daughter miss me the way she did when I was away working… it's all still so vivid.
| From a Part-Timer to Director at LXL Ideas after a 5-Year Career Break - Kalpa Karthik's Awe-Inspiring Story
But then there are the rewards when, as a proud daughter you show your parents around your humongous work campus, or take them to a lunch treat with your first salary. Or, the cherry on the icing, when your mother-in-law proudly proclaims to the neighborhood how her daughter-in-law has worked with brands like Tata & Wipro.
At that point, you can feel and see that although the life of a working woman may not be easy with all that she pursues - when you chase your dreams with a willingness to give it all, such is the outcome… delayed, maybe, but most certainly fulfilling.''
Climbing the corporate ladder…
The one thing that Priya was always certain of was that she wanted to work in and be part of, an office setup.
She began her career with an interior design firm by the name of Living Design. Appointed as the Admin & HR Assistant, she was their FIRST employee. And all that Priya was hired to handle started with her own recruitment. Although it would get lonely every now and then, she was in it for the exposure.
A year later, with higher prospects in mind, Priya entered the world of media. She joined Infomedia India (formerly Tata's, moved to ICICI Ventures, and is now Network18) for a twin role - an Asst. to the DGM-South, and as an HR Asst., alongside.
Little did she know then, that she'd spend 6 sunny years of her career in this place; returning to work with them even after one of her many career breaks. Not only did Priya love the work culture and the team, but the company too made special provisions like extended mat leave, and part-time work options to get Priya back on the team.
These are the visionary processes that we at JobsForHer are doing everything we can to slowly but steadily, gently but relentlessly, bring into play in several other Indian companies.
| A 150-year-old Bank is Hiring Career Break Women in Bangalore
However, Priya had to step down yet again, to be there for her young one. And so she did.
Six months went by, and a promising opportunity came her way. Against all odds, Priya took up the role of a Sr. HR Executive at Wipro Technologies. What started out as a trial and error setup, turned into three gratifying years during which, Priya had the chance to learn from different processes within the organization.
Her next stop - JobsForHer.
Before which, Priya had to take another (short) sabbatical, to heed to her daughter's need to get away from the daycare set up for a while and bask in the warmth of home.
But today, when Priya's 12-year-old asks her, ''When will you stop working, Ma? When will you just be at home?'' Priya replies: ''Someday, I probably will, my dear. But certainly not now. For now, I can only see myself running towards my goals, advancing into newer realms, and scaling extraordinary heights."
JobsForHer is here to help YOU run towards your goals, while exploring newer realms, and thus ascending extraordinary heights.
Start by signing up with us HERE.
Priya Torke is a B.Sc graduate from the Karnataka University. She holds a Diploma in computer application from NIIT, and in Personnel Administration from Davar's Institute of Management. She has also pursued a post-graduate diploma in Human Resource Management. In her free time, which is rare, Priya likes to indulge in retail therapy; and when she takes a vacation, she enjoys going down to her parents', and practicing yoga with the kids, early mornings by the Gokarna beach.
About the Writer:
Kaajal Ahuja is a commerce graduate, who worked in the field of Customer Support first at HDFC Bank, and then at Dell International. During her 11-year career break, she spent four years volunteering as a Teacher at a government-run educational institution and also ran her own enterprise – 'Hey Gorgeous' – alongside, for 8 years. It was during her break that she discovered her love for writing, and is now back, working part-time as a Senior Content Writer at JobsForHer. She is married and is an upbeat mommy to a 13-year-old.