This Leader Is All For Second Career Options For Women Returnees
Kaajal Ahuja
in
Mentors Speak
|
31 Oct 2017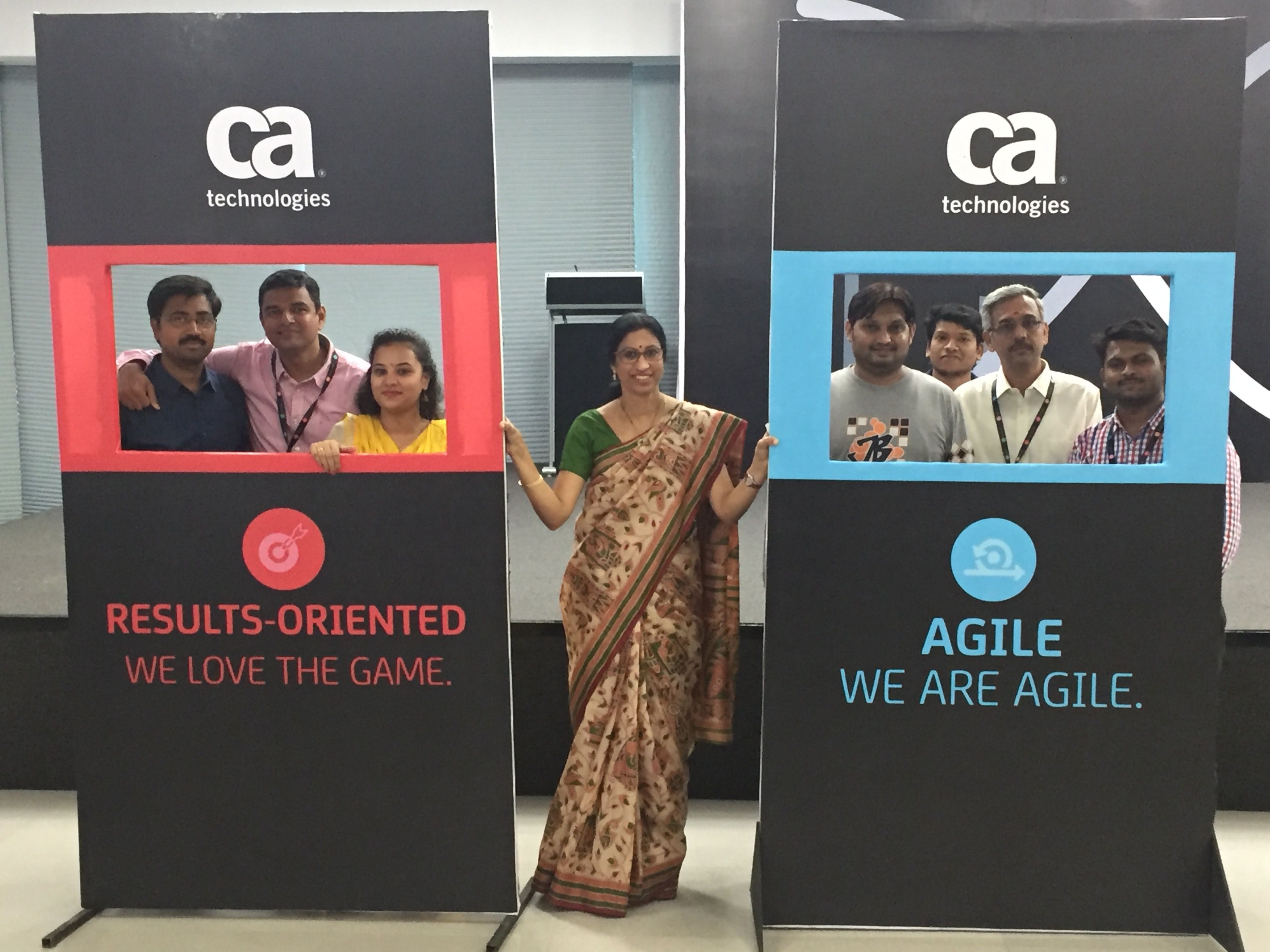 Draped in a crisp, vibrant, and perfectly-draped silk saree, with spirit and vigor as her companions, Kavitha Tumuluri – Advisor for Strategy and Technology at CA Technologies, created thought-provoking ripples among the women present at CA Technologies Hyderadabad's Diversity Meet-Up last week, with her brilliant observations about the absolute need for women to step up to the technology work-table today, which she brought to the table.
A complete woman, her life until now rich with the experiences of being a wife (whose husband is her motivation to work), the mother of two boys (now both college going!), and a working woman who has steadily ascended the corporate ladder with élan, is the exemplar we can all take a cue from.
| Have You Found Your Dream Job Yet? Let JobsForHer be Your Second Career Guide.
Q. Hi Kavitha! Thank you for taking the time to share your journey with us. First things first, why did you take a break in your career and for how long?
I took a 2-year break when we - my husband, our two boys and I - moved back to India after staying close to 14 years in the US.
I wanted us to have a smooth transition into our new home which was under construction, and settle the children in a new environment in Hyderabad.
I see. Surely then there were challenges you faced in restarting your career? How did your restart affect you and those around you?
I made sure that restarting my career should not be a challenge at all.
It was never an issue with my husband so that part was easy. The one thing he was concerned about, however, were my long work hours, especially since we were living in the outskirts. So the drive back home was a daily coordination with him if I was going to be late.
But that too was sorted in the last few years, ever since our area developed. Hence, the commute is absolutely safe now.
As for the rest of it… Setting up the necessary support system at home for close to 3 to 5 months ahead of my planned date of return, was KEY in my back-to-work strategy.
| Strategize Your Return by Attending JobsForHer's Mentorship Roadshow- Avail the Early Bird Offer!!
Be it sourcing every possible state-of-the-art appliance that would help all my helpers run the show when I was gone, or getting my mother and mother-in-law involved in helping us ensure the best for our children – I didn't hesitate to have it all.
But even with all the planning, when I returned to work, I had to travel to Europe within a week of restarting.
Constant communication with my children was important to me as a person who'd just gotten back to work. Thank God for cell phones, you can constantly be in touch with your children, and most importantly the nanny and maid at home. You can do seamless parenting with a cell phone and through your support system.
Alternatively, knowing that I could reach out to my mother and mother-in-law in case of emergencies made my transition smoother. It was comforting to know that help was within reach if I needed it.
Q. That is just brilliant! About CA Technologies, tell us what are the women-friendly policies that one can benefit from?
CA values diversity and every employee can take advantage of various technical and innovation forums outside their work stream.
Flexibility in work hours constantly helps one juggle a good work-life balance.
Unconscious bias training to all managers helps new managers in knowing that diversity counts and is important to build great teams.
Additionally, CA also has a well-defined 6-month Maternity leave policy, along with a world-class Montessori and day-care center, on the Hyderabad campus.
Several women's well-being programs are conducted, such as blood pressure and cholesterol checkups.
And, we are also encouraged to participate in the activities of the local schools and the community.
| 5 Tell-tale Signs That You Are Ready to Restart Your Career.
Q.That is abundantly good news for our women returnees. Was there a time when you put everything on the line to bet on yourself?
Quite a few situations that I can think of!
One situation like almost every woman in India: Marriage. I met my husband in the US through a family introduction, and within a few hours, I knew that he was the one.
But, after consenting, I had cold feet a couple of times. However, since it was a reference from my brother-in-law, I knew I might not get to be part of such a wonderful family if I let this go. And I am glad I made that decision.
On the career front, every few years I completely change my line of work. I literally bet on the skill set that I acquired and leap into something completely unknown in totally new domains.
Through my career, I have worked in Customer Support, Product Engineering, Application Engineering, Product Maintenance, Internal IT and more.
Q. That's amazing! What drives you to mentor second career women?
As women, we love to keep things to ourselves. We become a 'superwoman' on one extreme, and a 'martyr' on the other.
I like mentoring women on this constantly and encourage them to have an open communication channel either with their manager or team, on their availability. I also guide them on how to constantly reprioritize, and how to say no when the situation demands it; even though I too am continually learning and evolving in these areas, these are must-have skills in your personal toolbox.
The reason I mentor second career women is, because at that stage in your life you either try to do it all or, give up on your career at the drop of a hat. Hence mentoring from senior women leaders helps these women find a middle path.
Q. What about your current line of work do you enjoy most?
That I have the opportunity to work on something new and totally out of the box, almost every 18 months at CA. This, I attribute to the Leadership at CA, because they believe in what I bring to the table.
I also head the Women Forum at CA ITC and have mentored the 'Management Track' at GHC – India for two years in a row (2014- 2015).
I particularly enjoy mentoring the women at CA.
In Gandipet, I encouraged women to set up their own businesses by getting new skillsets like a beautician's course, teacher training, tailoring, etc.
Wow! So you already have much experience in the field of mentoring women. Lastly, what according to you is the best way to stay focused at work?
When I need to stay focused at work, I do this:
Block time on my calendar and if needed even go into a conference room to work on my deadlines; and
Delegate tasks that don't need my specific attention, to my team members in a way that they also get an exposure to other groups and managers.
.If you're looking to start your career, or for new and exciting roles to showcase the skills you've gained along your professional and personal journey, you can find them at www.JobsForHer.com. Create your profile, upload your resume and start job-hunting today!
Follow Kavitha on our MentorForHer portal HERE.