This Diwali, JobsForHer Gives you the Greatest Gift of All...
Schonali
in
Back to Work, Expert Advice, Events
|
21 Oct 2016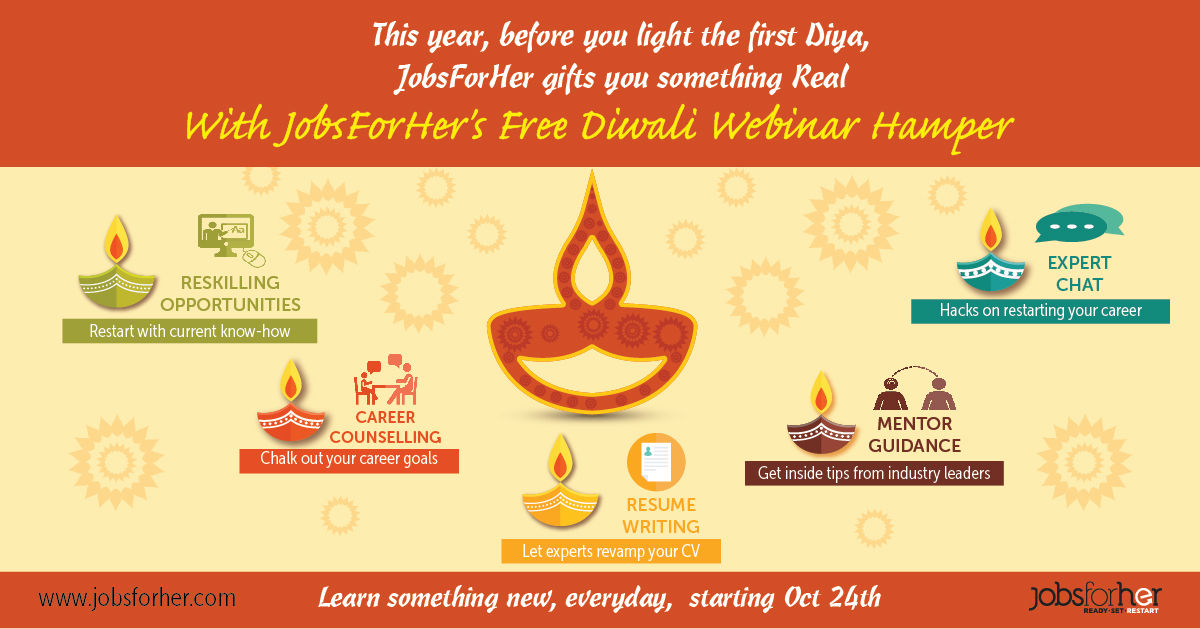 Diwali means many things to many people; but, the part we probably enjoy the most is what we get to buy and what we get to RECEIVE. Who disagrees?
This Diwali, JobsForHer gives you the greatest gift of all... Wait for it...
5 Days of FREE Reskilling to Restart your Career!
In the coming week, we have lined up a Webinar a Day with experts in the fields of:
♦ Resume (re)Writing
♦ Career Counselling
♦ Mentor Guidance
♦ Reskilling Opportunities
♦ Expert Chat
Did we mention that these webinars are ABSOLUTELY FREE? Yup, they're FREE!
They are our gift to you this Diwali because we truly believe that women returnees need every enabler they can get, to get back on their feet in the work world after a break.
Because it's tough. We know. We've been there.
So, here's a short description of each of our 5 gifts to fill your Diwali basket with this year...
1) Online Reskilling Courses Webinar – Simplilearn – Monday, 24th October
Simplilearn is one of the world's leading certification training providers. They partner with companies and individuals to address their unique learning needs, and provide training and coaching that helps working professionals achieve their career goals.
"Digital Technologies are rapidly transforming the workplace and this makes it imperative for women on career break to upskill themselves to be ready for today's job requirements!" says Prashant Parmar, Head - Enterprise Business, Simplilearn
JobsForHer is partnering with Simplilearn to offer a free webinar focusing on the Cloud Computing landscape and career opportunities available in this domain, on MONDAY, OCTOBER 24TH.
REGISTER YOUR ATTENDANCE: https://www.jobsforher.com/event/event_inner/115
2) Career Counselling Webinar – Soaring Eagles: A Career Break Should Not Be the End of Your Career – Tuesday, October 25th
Career breaks happen – sometimes out of choice and sometimes out of compulsion. However, that should not stop you from pursuing a successful and satisfying career once you decide to get back to work.
There are many thoughts that might plague your mind: Should I go back to my earlier employer? Will I have to start at a lower position and salary? Will I have to report to someone junior to me? Will my company give me some flexibility? Should I try to something totally new? How do I get into something totally new? And so on...
Your confidence might be quite low. You may be dealing with negative self-talk that's holding you back. You miss the office buzz and want to get back to doing something challenging and exciting.
On TUESDAY, OCTOBER 25TH you can talk a career-counselling expert from Soaring Eagles in an interactive webinar and carve your own path back to your career with CONFIDENCE.
REGISTER YOUR ATTENDANCE: https://www.jobsforher.com/event/event_inner/118
3) Resume Writing Webinar - GetSet Resumes – Wednesday, October 26th
Job hunting for women is tough. For women coming from a career break, it's tougher. We understand this challenge and so to make things easier, GetSet Resumes have come up with a unique resume writing service especially for women looking to rejoin the workforce after a career break.
A lot goes into writing a good resume. It involves a lot of information and a lot of processing. Moreover, you also need to tell the prospective employer that you did not sit idle during your break and that you are still a potent professional capable of delivering 100% to your new job.
Attend this webinar on WEDNESDAY, OCTOBER 26TH to understand how a well-written resume is a gateway to landing a job interview and eventually a job too!
REGISTER YOUR ATTENDANCE: https://www.jobsforher.com/event/event_inner/117
4) Mentorship in the World of TECH Webinar – Venturesity – Thursday, October 27th
Venturesity has tied up with JobsForHer to offer a free webinar hosted by talented mentors who will guide, inspire and drive you towards reentering the workforce in TECHNOLOGY!
From understanding the current climate to keeping up with required skills and trends – Venturesity's mentors are geared and ready to guide you through the essential steps to build your confidence, and enhance your skill-set to steer you towards a new job, and a new lease on life!
They're doing this for FREE in an online webinar on THURSDAY, OCTOBER 27TH just for YOU!
REGISTER YOUR ATTENDANCE: https://www.jobsforher.com/event/event_inner/116
5) The JobsForHer Expert Chat - Restarting your Career after a Break – Friday, October 28th
After more than a year of helping women get back to work after a break, we've learned a few things that employers are looking for that women can implement, to maximise their chances of getting (re)hired in an evolving workplace.
Join us for a chat online and ask us ANYTHING you need to know related to restarting your career after a break, on FRIDAY, OCTOBER 28TH!
REGISTER YOUR ATTENDANCE: https://www.jobsforher.com/event/event_inner/121
Does your basket runneth over? Are you satisfied with your shopping today? Could we have made this Diwali any better for you???
As always, click on the links for each event, REGISTER your attendance, and ATTEND them when they're happening EVERY DAY next week!
AND TELL YOUR FRIENDS TO DO THE SAME!