This Backpacking Mom Discovered Her Second Career DURING Her Break
Kaajal A
in
Restarter Stories
|
23 Nov 2018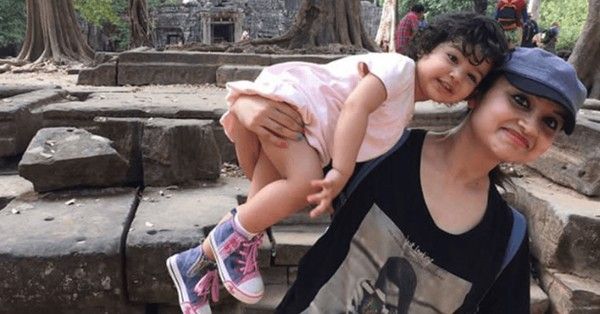 Originally from Guwahati, Assam, I moved out of home right after high school and pursued my undergraduate degree in Economics from Symbiosis, Pune. I worked at Google Hyderabad in online advertising for a while right after my undergrad but decided to quit after marriage and moved base to Pune, where I set up home in the National Defence Academy, Khadakvasla. Following which, married life and 'army wife duties' occupied most of my time.
But I also started working from home in digital marketing, for small and medium businesses in India and did some content writing for them.
Looking for Flexible, Family-Friendly Job Roles?

That is when I discovered my love for writing.
In the meanwhile, since we've moved to different stations within India over the last decade, and even though I've worked fulltime in multinationals whenever I had the chance, I could never pursue a fulltime career without opting to stay away from my husband.
In all that time, I had also pursued a Management Diploma via distant learning, but I yearned to complete a fulltime Master's degree. This decision led me back to Pune, where I did my Masters in Media and Communication from the University of Pune, and to my surprise, I was awarded the University Gold Medal for topping the program!
I conceived during the course but was determined to finish it at one ago and I did.
After my daughter was born, I was on a break for around two and a half years, as not only was I parenting a newborn, but was also doing my bit to support my husband during his regimental army command in Northern India.
My entire focus was on being with her for her initial years, as well as delivering 'the army wife duties' – of socializing, hosting get-togethers for the community, and the like. And this scenario kept me from pursuing anything that was career related.
But, soon, I planned to take up a Ph.D. program in Media and Communication and was awarded a Doctoral Scholarship from the University of Auckland to pursue it. Although I joined the program in New Zealand and was there for a few months, I moved back to India as I could not take my daughter with me due to certain stringent circumstances.
This was a professional setback for me, but I don't regret the decision to move back as I have always prioritized family.
Since then, I have been on an academic break, but it has led me to rediscover my love for writing. And I found my calling in parenting and travel-oriented content since I have been an avid traveler for more than a decade now.
I currently work as a freelance travel writer and blogger for a few media publications including The Indian Express, where I write a travel column for parents who wish to travel the world with their kids. I have started to enjoy this as I have been receiving positive feedback about my writing and social media content.


Over the last few months, I have been getting offers for collaboration from brands about my niche which is content creation in the travel and parenting categories. I have been featured by travel and women-oriented websites apart from online communities like Tripoto, Women's Web and by The Indian Express.
This positive development has given me a confidence boost and has deepened my love for writing and blogging. Although my second career has just begun, and I wish to have academic pursuits again, I definitely want to continue writing and blogging as a long-term career option because I enjoy it. Besides, I work from home now which gives me so much time with my daughter. Plus, I can literally work from anywhere in the world which is a huge bonus, considering my current family situation.
I would give the entire credit to my parents for always believing in me and encouraging me to write from the heart.
They go through each of my write-ups meticulously, give me feedback and share it among their peers. Since both my parents worked full-time and still managed to raise my brother and me so well, it has endorsed my desire to work, no matter the personal circumstances.
Apart from my parents, my brother and my husband have supported my interests, and have always wished the best for me. I give all these people credit for supporting my career restart.
For women who are reading this, I would just like to advise that our lives are in our own hands, and they always should be. The moment you hand over control to someone else, you will always conflict with yourself. Recognize yourself for who you are, walk away from everything that takes away your energy and positivity, and make the most of the situation you are in. It is never too late to start anything if you want to, and I say this from personal experience.
I also believe that every one of us has a purpose in life, and it is upon us to discover it. Do not compare yourselves to anyone, but keep working slowly towards your dreams, even if you fail in the beginning. Remember that only those who dare to dream can achieve them.