They Said She Couldn't. She Proved Them Wrong
Namrata Harish
in
Back to Work, Restarter Stories, Career Development, Working Women
|
22 Nov 2019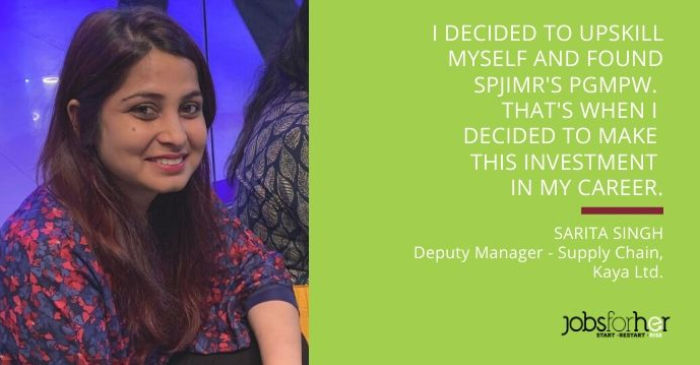 A career break was never on the cards for Sarita Singh, but circumstances forced her to take one. When it was time to get back to work, she realised that it was going to be an uphill task.
But all that changed once she chose to invest in upskilling herself with SPJIMR's PGMPW program.
Sarita tells us about her journey:
It's always tough for a mother to leave her child behind to pursue her career dreams. To move to a new city, with high aspirations to fulfill her career goals.
On one hand, society points at her, saying that being a working woman, she hardly has time for family. On the other, they say, if she was never interested in a career, what is the use of the education her parents took so much pain to put her through.
But life taught me well.
'Kuchh toh log kahenge… Logon ka kaam hai kehna...'
After graduation, I worked for 6 years without a break. I didn't take one even when my son was born. Circumstances forced me to take a career break when my mother became unwell, but otherwise, I had no intention of stopping work.


My break, which was meant to be for all of 6 months, eventually stretched to 2 years.
And then, I saw how my time away was creating an inverse effect on my interview calls. That was when my relationship with struggle began.
It was time to rethink my career, more seriously.
I decided to upskill myself and that's when I found the PGMPW course with SPJIMR. Even though it requires a long-term commitment, I decided to make this investment in my career.
SPJIMR, a socially sensitive institution, has taken up the task of reintegrating women returnees into the corporate leadership pipeline. And the PGMPW program is a great platform for women to relaunch their careers. With Indian businesses looking at women as a crucial untapped pool, this program is structured to bring those deserving women up-to-speed after their breaks. And with SPJIMR and its outstanding credentials — the kind that the corporate world trusts — this program is the right choice.
Some of the takeaways that I found impactful were:
Each participant is mentored by an industry professional throughout the course duration

There is placement assistance on the successful completion of the program

There are several Leadership Lecture Series (LLS), through which you can have direct interactions with industry leaders
And just like that, my one-year with SPJIMR flew by. Amid everyday case studies, simulations, presentations and more, my confidence grew...to lead the world. Everyone attending the program came with dreams, and the professors showed us how to fight for and achieve those dreams.
My decision to commit myself for that year has been the best decision I made professionally because it helped me relaunch my career. That year taught me one very basic lesson: time and money invested in oneself never gets wasted. It comes handy at some stage of life or the other.

Today, I'm a Deputy Manager for the Supply Chain at Kaya Ltd., and I couldn't be prouder or happier.
After all, don't we all know 'Kisi cheez ko itni shiddat se chaho, toh poori kayanaat usse aap se milaane mein lag jaati hai!'