The (Online) Nuts & Bolts of VMinclusion Taara
- Duncan Hewett, Vice President & General Manager, Asia-Pacific & Japan - VMware
in
Career Development, Women-friendly Companies
|
06 May 2019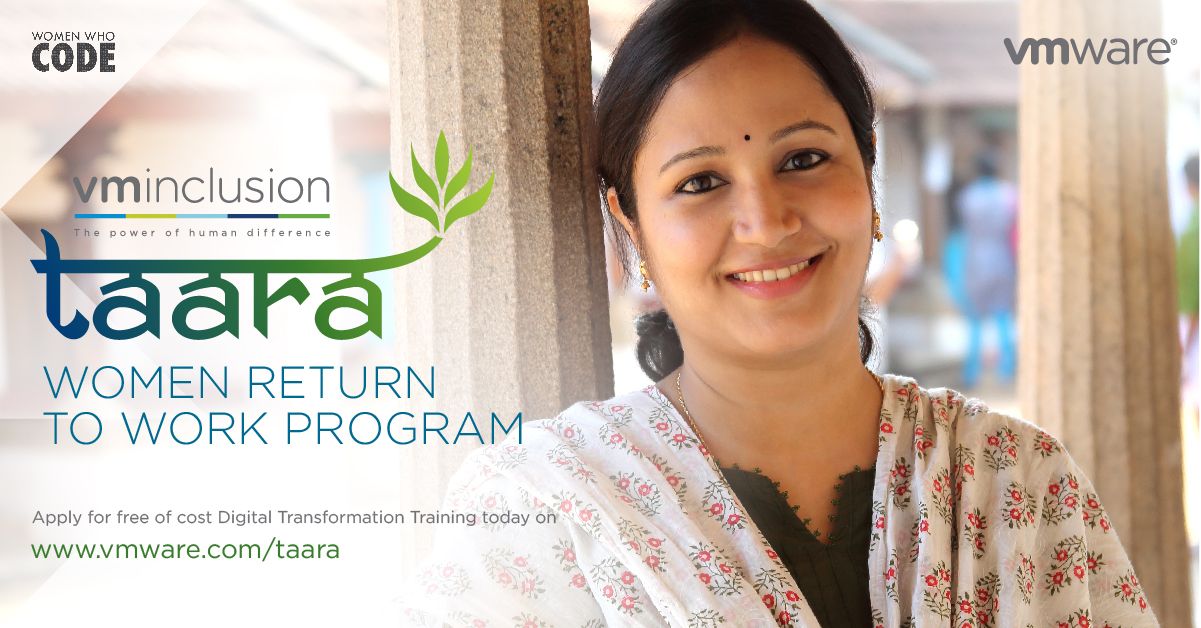 There aren't many companies who go the extra mile to make sure that the future of work is balanced and fair; in this case, with regard to gender-balance in the tech workplace.
JobsForHer sat down with Duncan Hewett, Vice President & General Manager, Asia-Pacific & Japan - VMware, to ask him everything a woman on a break needs to know about Taara - the VMInclusion program to upskill women returnees in digital transformation.
Here are the nuts & bolts of this online IT course for women returnees by VMWare:
How was the program conceptualized? What gave birth to the idea of it?
VMinclusion Taara is our Women Return to Work program in India – an online IT course, which aims to help women 15,000 women return to work by refreshing their skills through digital transformation upskilling courses provided for free by VMware.
The idea for this program came about from a "Women in Tech" session in Bangalore last year, which I attended. The women in attendance raised some thought-provoking points about the challenges they face, as women and as mothers in a very fast-paced industry.
It reminded me that many challenges that women face are bigger than what an organization can address purely within its own walls, and made me think about the platforms we are providing for the next generation of women.
I believe it is important for us to find a way to make a difference beyond our company and in the wider technology industry. From there, I was inspired to gather a talented and passionate group of colleagues across VMware, to put our heads together to develop a women returnee program that would bring about real change for women in India, and help them get back to work.
This program has a huge, audacious goal – can you tell us a bit more about it? Also, how much will it cost?
Our aim to help 15,000 women upskill in digital solutions in this course is ambitious indeed, but when you consider the full scale of the problem – and the opportunity – it makes you think.
Compared to other countries, India has a relatively higher proportion of women in tech [1]. However, when we conducted further research, we found that nearly 50% of women in core engineering roles drop out of the workforce at the five to eight-year mark [2], often due to family obligations.
As a result, their skills become outdated, and they often never get back to work. This is a massive loss for an industry that thrives on innovation. It is a massive loss for India's economy as well, which stands to become 27% more prosperous if they encourage female talent and rebalance the workforce [3].
While we are making a significant investment to realize this project, we and our industry partners (Bharti Airtel, Cognizant, Dell, and Women Who Code) are aware that we are reaching for a bigger goal here. Through this women returnee program, we hope to empower women with choice, by giving them the opportunity to upskill in this online IT course, and to gain the certification they need to regain a foothold in the tech industry.
With their invaluable talent and contribution, we uplift the entire technology industry and pave the way for future generations of women.
Who will be teaching these courses? Will they be online or offline?
Our first priority is to provide Taara candidates with best-in-class online training on the digital transformation technologies of today. The courses we are offering have been designed by experts, and follow the same standards and quality as training videos that we provide to clients and partners.
Keeping in mind that the women participating in Taara may have other life commitments to attend to, we are delivering all the training online.
Candidates have the freedom to go through the training at their own pace, which will give them the flexibility to fit the training to their time and needs, instead of the other way around. There will be a component of face to face examination at the certification level.
What are the criteria that currently unemployed women who apply to the program need to fill to qualify for it?
The goal of VMinclusion Taara is to help women who have been on a career break to upskill and re-enter the workforce; to get back to work. It doesn't matter if the candidate has been on a break for one, two or even ten years – as long as she is an Indian citizen who has been out of the workforce for at least six months, then we welcome her to apply for this returnee program for women.
This program is geared specifically towards the technology industry, as that is where we see the urgent need to provide training and reskilling to help women keep up with the rapid pace of change. So, we are looking for participants who have experience in Information Technology – which includes and is not limited to the fields of product development, engineering and testing; IT development, engineering and testing; technical support, and more.
What are some of the courses that women who go through the program can look forward to reskilling themselves in?
Candidates can expect to cover cutting-edge cloud technologies like networking, virtualization, data centre, storage and security. These are key emerging technologies that are shaping every aspect of business today, so we have designed the program to take the women through increasingly advanced levels of training that cover these topics.
First, we equip women with foundation-level training courses on digital business transformation. Then, they progress to professional-level courses on virtualization software for hybrid- and multi-cloud platforms and infrastructure. Finally, they take an advanced online course on network virtualization, data centre virtualization, cloud management and automation and digital workspace technologies.
Our hope is that by the end of the course, candidates will be armed and ready with skills that are highly sought-after in the market today and are certified and confident to restart and thrive in their careers.
What happens to them after they take this course? In other words, where do they go from Taara?
The ultimate goal of VMinclusion Taara is for each and every woman who takes part in the program to get back to work. The skills and certifications that they achieve after completing each level of the course will go a long way in helping them find meaningful employment.
While VMware will not be providing jobs directly or managing the job placement of candidates who have completed the program, we have received enthusiastic support from several key enterprises – Bharti Airtel, Dell, and Cognizant included – who will consider women certified under Taara for relevant IT openings at their workplace.
Our hope is to expand this network of industry partners so that we can give women in India more avenues to restart their careers in the technology industry.
If you want to restart your career in tech or STEM, follow VMWare on our portal to stay updated!

[1] Gender, Skilled Migration and IT industry: a comparative study of India and the UK, Open University, 2018
[2] Women in tech: There are 3 times more male engineers to females, Belong.co, 2017
[3] Why India needs women to work, The Economist, 2018