The Journey of Being a Stay-at-Home Mom to Becoming a Working Parent (#BlogathonForMums)
Neha
in
Working Women
|
15 Dec 2015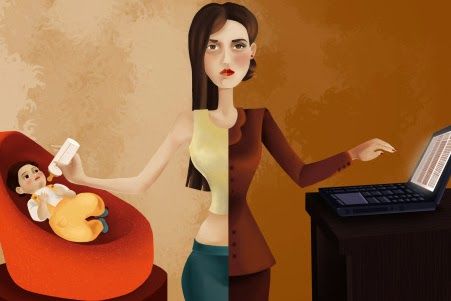 This entry is part of the Babyoye Blogathon for Mums.
While motherhood is one of the greatest experiences of a woman's life, transition from being a full time mother to a responsible working parent needs no less efforts. It is the most difficult phase in any mother's life when she has to do justice with two extremely different roles- one of a mother who spends sleepless nights to ensure that the baby is happy and another of an ambitious work professional.
For a woman her career could survive hundreds of challenges but motherhood is the point in life where all motivation to continue just falls flat of the face. Women who leave successful careers to become mothers are often left guilty about themselves either for not able to rejoin back or not being able to show their prowess at the workplace as before.
Restarting could often be a tough experience and here are the 5 important takeaways for a woman to be back with a bang at the workplace after motherhood sabbatical.
Have a plan! Organize yourself: Now you have two equally important responsibilities. For you bygone are the days when all what mattered was work. Now you can't work properly if you are not certain that the baby is safe and doing well. Make a plan. How much time you would be able to give to your work. Can you afford to miss late office meetings? Is remote working a possibility? Should you ask for a change in your shift/ working hours? Would the baby need a crèche/day care or a baby sitter would be more suitable?...so on and so forth. The planning should be strong enough that your company never feels that your productivity has gone for a toss after you have donned the hat of a mother.
Network & Keep Learning. It never goes out of vogue: Try to learn new things. Get knowledge about the industry from experts, company portals and social media. Hone your knowledge and master new skills. The world is changing everyday and constant learning is the only thing which could keep you afloat. Stay connected with mavens, old colleagues, alumni and friends. Share with them your undying spirit and desire to start working again.
Bring the family onboard: Family plays the most important role in catapulting you back to the workplace and perform like a star you always were. Discuss with familial members- husband, elder kids, parents/ other members about the problems you might face and how you expect them to help you.
Engage with like-minded people: There would be many couples who would be going through the same phase in your locality, community and office. Try to collaborate with them. You could crowd-source some good ideas from them and also share resources they might have.
Build the support system around you: Remember even a supermom would need a good support system to be successful. Try to build a good network of resources & services which could be handy at the time of need. A reliable taxi service, crèche/day care, pediatrician, chemist, a reliable baby products vendor providing discounted & on time home delivery. It could help you get the supplies on time right at home or at office. Make the best use of Internet and Smartphones so that you have access to resources right when you need them.
Think of the emotional plight of a woman who has won many performance awards at work but all of a sudden gets limited to changing nappies and doing household chores. A mother in no sense is weak or less capable of doing what any man or woman could do. All what is needed is a change in mindset, a superb support system and off course the desire to excel in both personal & professional avenues.
Liji Abraham
If you're looking to start your career, or for new and exciting roles to showcase the skills you've gained along your professional and personal journey, you can find them at www.JobsForHer.com. Create your profile, upload your resume and start job-hunting today!