The JobsForHer Dear Diary Blog
Anou Daniel
in
Back to Work, Working Women
|
12 Oct 2018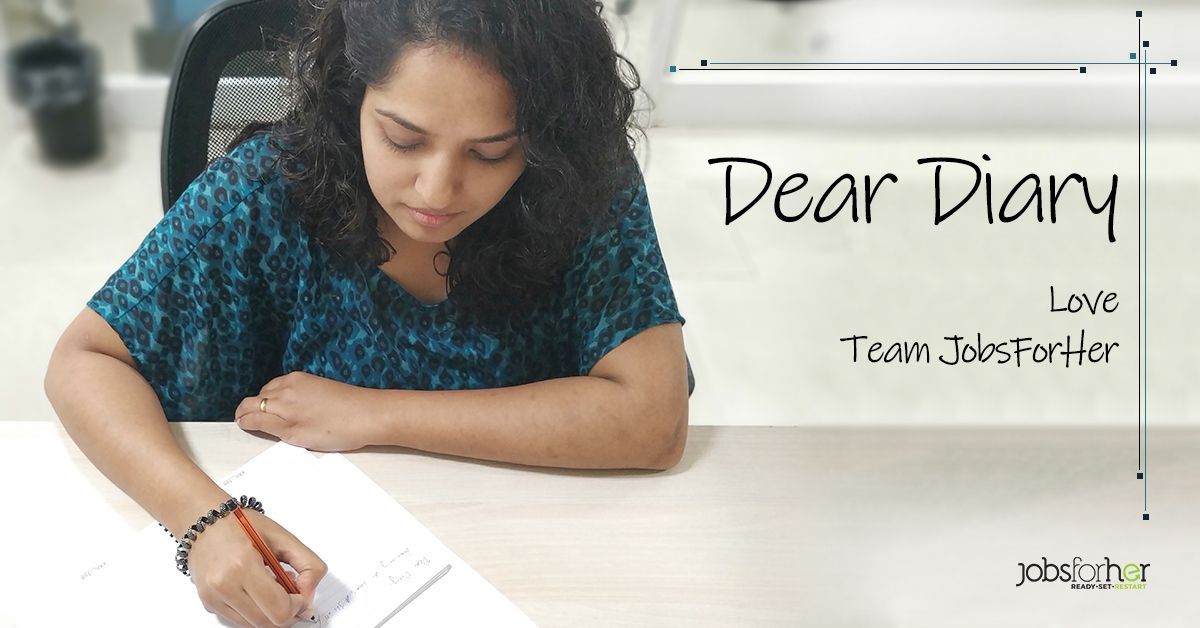 Dear Diary,
I woke up this morning making a list of the things I had to do today (Bruno Mars singing the Lazy song in my head did not help). I looked into the mirror and wondered what had changed...
Six months ago I was doing all the things I do today, if not more - dropping off and picking my kids up from school and extracurriculars, lunch with other mommies, errands, laundry, and the list goes on...
All this preceded the most shameful (for me) act of asking for cash from my husband. It isn't an exaggeration to say my life, my years of education, and my parents' hard work towards giving me an education, flashed in front of my eyes.
Today, as a returnee women (a restarter with JobsForHer), I can tell you one thing- I am more at peace with myself, I miss the little things that I had time for before, like picking up kids up from school and listening to them narrate their day's events. But, today they (and I ) are much more independent as they come by bus on their own, and we still have time to catch up at the dinner table.
Today, my husband put Rs.27,600/- in my bank account. On asking why, he replied, "It's been long since you asked for it."
A new song for my day - "Money, money, money, must be funny... hmm hmm hm hm."
As a stay-at-home mom I got to enjoy many of my children's firsts and for that I'm blessed! But I also know what it feels like to have a working mom because mine was and I missed her being at home just like how I know that my kids miss me. But, at times of guilt, I tell myself " When my daughters grow up, they will learn that they needn't be at home- it will be THEIR CHOICE!"
Much Love
Anou Daniel
MY STATE OF MIND
Dear Diary,
The past week has not been easy. But it has been one of many realizations. Realizations that happen only when life slows you down. When the mind and body can (or sometimes must) take time off the chaos that surrounds us.
Amidst our easy access to independence – and I mean in the absolutely basic, everyday tasks – we forget how blessed we are, and how gratitude for it, is amiss from our lives.
And THIS turn of events came as one of life's reminders…
November 15th (through 16th)
Have intermittent shooting pain in the lower back that cripples normal activity.
November 17th
I visit my orthopedic sensing this isn't usual in my history of a sensitive back.
Verdict?
Suspected slip disc. Not major but calls for bedrest for the next WEEK. Only bathroom breaks allowed.
The mind races through its over-analytical self.
What could've caused it? I've been so careful. I didn't even workout yesterday. Was it the bag I lifted on Friday? Naah…
My mum comes to stay with us. Thank god for MOTHERS!
November 19th
I visit another bone expert on the advice of a trusted friend.
Turns out, NOT a slip disc. A degenerative disc. Through wear and tear, what's lost cannot be repaired, but further damage can be checked through care and lifestyle changes.
Hmmm. Don't know which one is better. But, thank god for everything else that's INTACT.
November 21st
Feeling better and fitter, I shake off the negativity inside my head. I've been through worse, and I'm still here. This too shall pass. I open my laptop and work from home. Like always, work soothes.
November 22nd
I put on my b(l)ack belt, carry a cushion, get into a cab and head towards the JobsForHer office.
Lesson Learnt?
Anything that comes your way can either be a hurdle or a stepping stone. It's all about perception.
Every experience can either break you or make you. It's all about attitude.
Yours Truly,
Kaajal
So, what are YOU gonna make of today and all that it brings??
Dear Diary,
One thing, no wait, two things that we women keep losing, regaining, and losing all over again - SANITY and SLEEP! And, last week has been particularly maddening.
Exam fever has taken over. School timings have gone awry. The Mind is a brew of wild animals + parts of a computer + parts of a plant + things we eat + Kannada phrases + blogs + Content meetings (this one's mine).
Day 1 of Exams:
It was a sleepless previous night interspersed with cranky 6-year-old yelling "I hate schoooool, I don't want to gooooooo...". Followed by one hour of undisturbed sleep before waking up to "Ammaaa ...bathrooom...". I then missed the morning alarm AND lunch box prep for the husband AND me. Scamper around for the tie and belt and rubber bands and ribbons, socks, shoes, ID card... amidst constant, "Ammaaaa I don't want to gooooo..."
8 am: Tumble out of the house into the elevator and then into the autorickshaw, and then the school drop-off amidst constant, "Ammaaaa I don't want to goooo…"
Day 2 to 5: Repeat Performance.
Day 6: I am officially knocked down. But, it's the last day of exams! The kid's happy. I want to cry. I want to give thanks to the lord AND to JobsForHer for such a cool work environment, and fabulous colleagues who know what it means to juggle work and home and children while trying to maintain sanity.
So, dear woman on a career break, if YOU want to restart your career, then don't let the small things hold you back.
Get the professional in YOU back on track
Your's truly,
The writer who lets creative insanity get the better of her, sometimes.
Ujwala
13th Oct 2018