The JFH Pick of Jobs at TIME Inc. India, This Week!
Neha
in
Women-friendly Companies
|
27 Aug 2015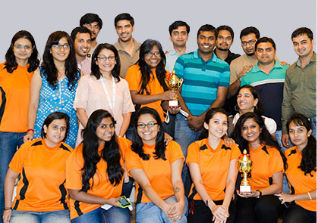 Time Analytic & Shared Services Private Limited, (Time Inc. India), operates out of Bangalore, and provides offshore support through processes within Analytics, Finance, Technology, Operations, and Shared Services. Its energetic, vibrant, and dynamic employee-base forms a solid foundation that celebrates the Time Inc. India culture. Next week, on Thursday, September 3rd, Time Inc. India will be hosting a sensational book-launch event at its offices in Marathahalli:
"Can I Have it All?"
by Anuranjita Kumar - MD & CHRO, Citibank South Asia
moderated by Sejal Gulati - MD & President, Time Inc. India
Do not miss this golden opportunity to glean invaluable insights and advice from two lionesses of the corporate world, in India! They will be hosting a Q&A session, during which women in the audience can ask them anything related to work, life, and the never-ending balancing act of the two, which they seem to have mastered!
Time Inc. India will also be hosting a Walk-In Interview Day, after the event, on September 3rd, for the following jobs:
Art Director for Direct Marketing Analyst COR Operations
Technical Program Manager (Mobile Apps)
Software Development Manager (Mobile Apps)
Software Developer Engineer/Engineer Managers
Software Developer Engineer
Software Developer Engineer
Cognos TM1 Developer/Business Systems/PeopleSoft
Senior Auditor—Internal Audit
Manager—Public Relations
Assistant Manager—Supply Chain Management
Associate Analyst—Consumer Marketing+Revenue Analytics
Senior Analyst—Real Estate Accounting
Attend the event and register for the walk-in interview here: goo.gl/forms/VXu8HM1iDI To learn more about the event and receive updates regarding it, go here: on.fb.me/1U8YfKa
If you're looking to start your career, or for new and exciting roles to showcase the skills you've gained along your professional and personal journey, you can find them at www.JobsForHer.com. Create your profile, upload your resume and start job-hunting today!