The Equality of Empowerment – Gender No Bar.
Kaajal A
in
Events, INKher
|
07 Aug 2018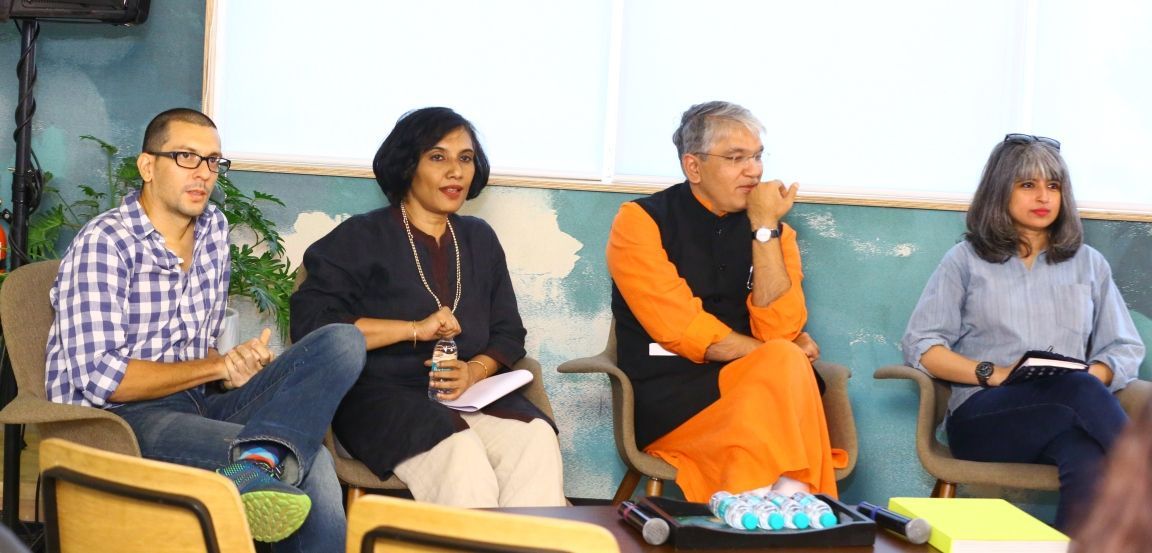 When a panel of individuals – pioneering in the professional and personal arenas of their lives - come together to affect change, simply by surfacing ground realities... you just consider yourself lucky to be part of such thought-provoking conversations, and the diversity they bring to the table.

How INKher's first event brought about the next …
When we launched INKher in March 2018, we had amidst our audience, Sujata Kelkar Shetty who was delighted to be part of the conversations that happened. Of how accomplished women professionals who'd risen to the occasion time and time again in their individual lives, had made the effort to bridge the distance to be there so that others on the path could do the same.
So when she brought to light a matter close to her heart - how men need to be as much a part of the conversation - we couldn't agree more.
From that day on, Sujata set about her plan to put together a panel that would address the issue with the depth and maturity it required. She not only ideated and curated the event but moderated the panel discussion too. As a result, the event was a culmination of Sujata's vision and hard work.
Meet the Moderator: Dr. Sujata Kelkar Shetty:
Dr. Sujata Kelkar Shetty is a US-trained biological scientist with publications in peer-reviewed journals. After completing her post-doctoral training, she has been focusing on researching and writing on preventive health for the last decade. Sujata writes a regular preventive health column for Mint – a column that many look forward to because her writing is unique in its emphasis on cutting-edge medical research, and age-old Ayurvedic practices.
She also gives wellbeing seminars, is an ICF Certified Life coach, and is presently writing a book on wellness and longevity for Penguin-Random House. A mother of two boys, Sujata is a trained classical musician and enjoys singing ghazals and Sufi compositions.

Pratury – Founder & CEO of INK – kickstarted the event:
"Gatherings like this, and conversations like these, are constantly important. For us, as well as our children. So that we present the world to them, in all its diversity, in all its imperfection, and in all its glory, so that they can make their choices without any bias."
When Neha Bagaria – Founder & CEO of JobsForHer took centre stage:
"With INKHer, we're trying to provide a platform for those conversations that will trigger a change in mindsets. Mindsets that exist all over the place. They are within the woman herself. Within families. Within societies. Within governments. And it can all only start with a conversation, like the one we're having today."
The powerhouse panel comprised of:
Arundhati Ghosh - Executive Director of India Foundation for the Arts (IFA)
Manish Sabharwal - Chairman & Co-Founder of Teamlease Services
Asha Rai - Resident Editor of The Times of India, and
Vivek Radhakrishnan – Consultant, HappyHealthyMe
Meet the Panelists:
Our first panelist of the day was Arundhati Ghosh - the Executive Director of India Foundation for the Arts (IFA). Before moving to arts philanthropy 17 years ago, she spent a decade in the corporate sector. Today, Arundhati sits on the Advisory Panel of the Beyond Sight Foundation, and The Museum of Arts and Photography, Bangalore; and is a Trustee of the Seagull Foundation for the Arts. She often speaks and writes on arts and philanthropy for Indian and international non-profit and cultural networks.
Alongside, Arundhati is a dancer with a degree in classical dance and is a poet in Bangla.
Her stance at the event:
"Feminism in itself as a movement embodies the fact of how difficult patriarchy has been for men. Not just in how they have stereotyped what masculinity must be, in the manifestation of his everyday actions, in the kind socio-economic-political relationships that a man must have in the world that he inhabits, giving the man no individual space to determine what this world could mean to him. Patriarchy has just left man masculine, and not really gave him a chance to be human. And Feminism has been that space which men could join and become feminist allies with women. Not just to support women, but as a journey for their own self-discovery as well."
Our second panelist was Manish Sabharwal, the Chairman & Co-Founder of Teamlease Services - India's largest staffing and human capital firm. Teamlease has over 140,000 employees in 5000 cities and is implementing India's first vocational university and national PPP apprenticeship program. The company has hired 16 lakh employees over the last 14 years.
Manish is also a member of the National Skill Mission, Central Advisory Board of Education, serves as a Director on the Board of the Reserve Bank of India, is a trustee of the New India Foundation, and is a columnist for the Indian Express.
Incidentally, he is a fellow-alum of our founder Neha Bagaria, from The Wharton School, and an alumnus of Shriram College, Delhi, and Mayo College, Ajmer.
His view of the issue at hand:
"…the most effective leaders are those who won't be hard or won't be soft, they are appropriate. I think if you think you're going to get away by being soft as a leader, you may be ineffective. If you think you're going to get away by being hard all the time, you'll be ineffective. So I wouldn't believe that anyone at the extremes has any chance of success."
Our third panelist was Asha Rai, who is the Resident Editor of the Times of India, Bengaluru and the three editions the paper brings out in Mysore, Mangalore, and Hubli. As a senior editorial resource for the paper, she is an ideator, writer, mentor, and editor of stories.
In a career spanning three decades, she has also worked with the Economic Times, the Business Standard, and launched a city magazine, in a short entrepreneurial stint.
What she had to add:
"It really worries me that the 'objectification' of women has gone up in the last couple of decades. There is a higher and higher premium based on looks and how you present yourself. Why would one want to objectify themselves to such extents? To me, it's alarming that as we sit here having conversations on women's empowerment, that the society is placing so much emphasis on the physical level."
Watch the Video Here:
And our last panelist of the day was Vivek Radhakrishnan, Consultant, HappyHealthyMe.
Vivek loves to say that he has not worked a day in his life, because he has been fortunate enough to do the things he loves most! Of his many passions, the few that he has pursued professionally are design, cycling and the world of health & nutrition. He is currently working at an incredible brand, growing the organics and wellness space in India – 'HappyHealthyMe' – India's first 100% certified organic food brand and grocery store.
Vivek's primary focus there is the Organic Superfoods business, a segment of great importance for general well-being and performance with sports and fitness enthusiasts.
At heart, he is a vegan and an athlete, and most importantly – a father to two girls.
"I have had many different careers and jobs, but being daddy is undoubtedly my most important and favorite one," he says.
His take on the matter:
"We're talking about all this top-level stuff – people who're running companies, running countries, and what they say and how they react. But for me, I see the biggest problem with all this at the bottom level, if you want to call it that, which is parenting. Which is what we say to our kids. And that's where it all starts. Somebody will tell their son not to cry like a girl. Someone will call their son a sissy and say 'You're throwing like a girl,' or 'You're fighting like a girl.' All of this is so common. And if you ask me, this is where things get really deep-rooted."
JobsForHer, founded by CEO Neha Bagaria, is an online portal which enables women to restart their careers after a break and achieve their full potential.
Lakshmi Pratury, Founder & CEO of INK, a platform for cutting-edge ideas and inspiring stories, collaborates with talented individuals across disciplines to take advantage of their respective strengths.
INKher foundation – a collaboration between two empowered, visionary leaders each with her own organization that is challenging the status quo and redefining people's perspectives, was founded On March 6th, with one simple goal - to bridge the gender gap in India.
Neeraja Ganesh - Head - JobsForHer Foundation, will help the initiative see through its goals - viz. focus on skilling women, celebrating their achievements, and connecting them to a community of path-breaking leaders to keep their career paths inspired.
If you wish to be part of a cause as magnanimous as this and would like to be in the know of events like these in the future,
Follow us at INKher