The Day that was AccelHERate 2019
Kaajal A
in
Women-friendly Companies, AccelHERate
|
04 Apr 2019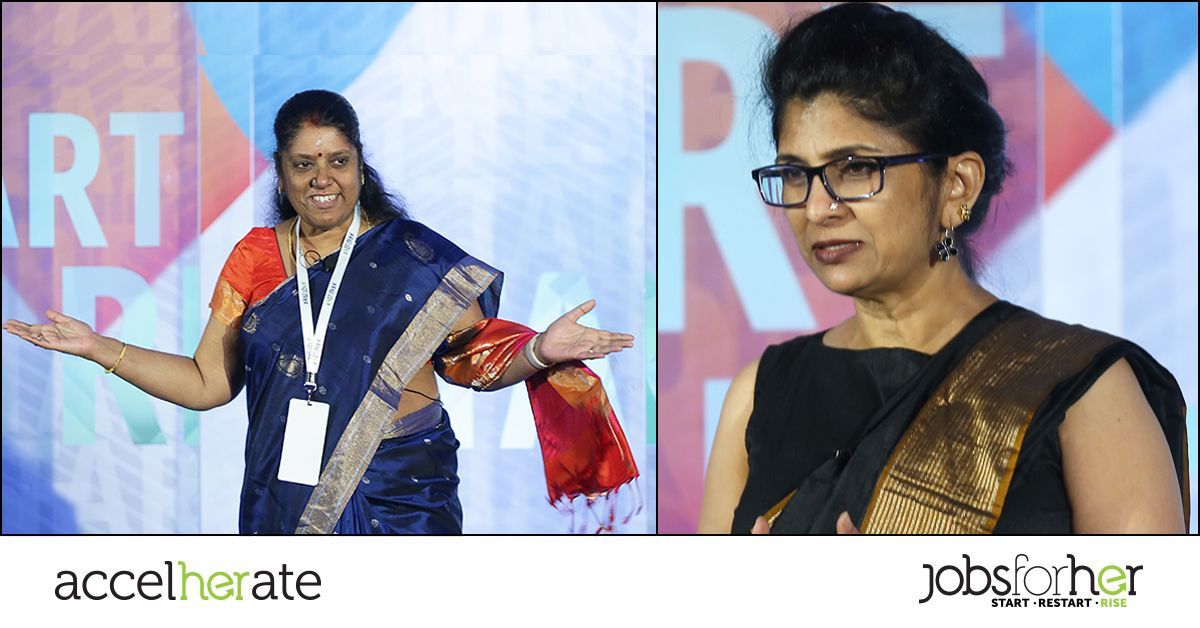 The first panel at AccelHERate2019 - Enabling Women to Start. Restart.Rise in their Careers - was moderated by Shveta Verma, Chief of Staff- Global Diversity & Inclusion office, Leader Global Human Capital and India Diversity & Inclusion - PWC. The panelists stressed on the measures taken by their companies to facilitate positive change in their workplaces.
Taking center stage were:
Navneet Kapoor, Chief Transformation Officer - AP Moller - Maersk
M.R. Srinivas Prasad, CEO - Philips
Alok Nanda, CEO - GE India Technology Centre and CTO - GE South Asia, GE
Chandradip Dass, Senior Vice President R&D and Managing Director, India - NextGen Healthcare
The second panel - Kick Some Glass - dealt with calling out existing biases & breaking the glass ceiling. The panel, moderated by Konika Chadha, Head of Search - Financial & Consumer Markets - Korn Ferry RPO & Professional Search brought together:
Rekha Nair, VP - Talent Management - Capgemini
Saraswathi Ramachandra, Associate Development Director - DanskeIT
Dr. Parul R Pandey, VP - Talent, Learning & Engagement - Diageo
Aastha Bindlish, Head of Talent Acquisition for Nestlé - South Asia - Nestlé
Gayathri Belapurkar, Director of Engineering - Intuit
Both panels went over time with an animated discussion on stage & from the audience, too.
Are you ready to Start.Restart.Rise.?
Find your place in the workforce HERE
How do companies promote and encourage diversity & inclusion?
How does a company create a diversity program, support initiatives and measure their success?
How important are CXOs in setting the tone for a diverse workplace?
These were some of the power-packed questions asked & answered by India Inc. at the two roundtable discussions at AccelHERate2019.
And these were the leaders, who, from varied fields of the corporate world engaged in discussions to address those questions.
Srikanth Suvvaru, RBS
Cheryl George, Netapp
Vanitha Venkatesh, Intuit
Sreemoyee Malakar, Lawcubator
Dr. Yogesh Kumar Bhatt, Manipal ProLearn
Yasmeen Shaikh, NextGen
Shwetank Tandon, Amity University Online
Sathya Ramaganapathy, Jigsaw Academy
Arati Anilkumar, CGI India
Romy Dutt, Flipkart
Vinod Kumar, Philips
Veena Ramagopalan, Inroads Leadership Development
Priyanca Choudhary, CITI
Vishwas Deep, Wipro
Shwetha Vishwas, Clearly Blue Digital
Namita Mehta, The Red Pen
Ankkit Srivastav, Akamai Technologies
Sudhir Tiwari, ThoughtWorks
Vibha Kagzi, Reach Education Pvt. Ltd.
Find your place with companies like these HERE
AccelHERate2019 was a thumping success with over 400 companies coming together at India's biggest B2B conference, pitching their flags to accelerate women careers and discuss and discover the best practices to create gender balance at every level of the workplace.

Keynote speaker Pankajam Sridevi, Group General Manager - Operations and Services - ANZ hit all the right notes and gave the audience a whiff of what it takes to rise to the top in corporate India.
The Fireside chat was an enthusiastic discussion between Neha Bagaria, Founder and CEO of JobsForHer Saptorsi Hore, COO at ThoughtWorks and Bhavna Kumar, Senior Director - Technology at Visa.
And the closing address was a passionate analysis of the importance of investing in the power of women by Vani Kola, Managing Director at Kalaari Capital.
If your organization would like to be a catalyst in accelerating women's careers, Connect with us NOW at simran@jobsforher.com