She Went From a 5-Year Career Break to a Career in Data Science
Kaajal A
in
Restarter Stories
|
21 Dec 2018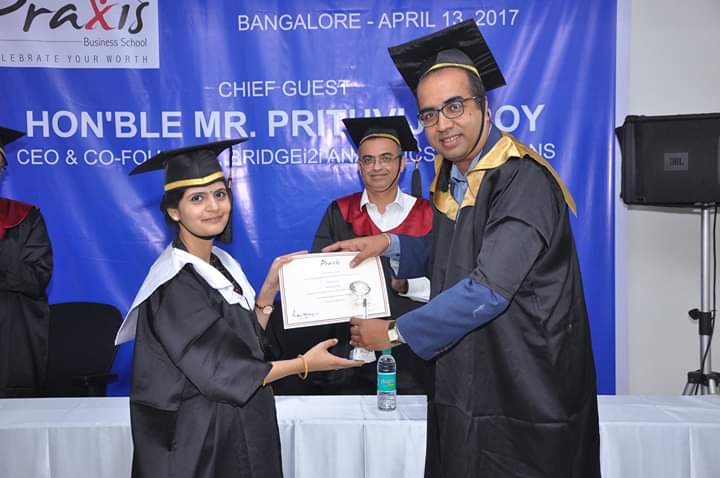 "A big break was starting to have its effects on my lifestyle. I was lazing around on the sofa, binge-watching Hindi serials, unwilling to come out of my comfort zone. And yet, the urge to do meaningful work and be financially independent kept me restless…"

PRAXIS is a premier B School in India, offering a 2-year full-time residential Post-Graduate Diploma in Management and a 1-year full-time Post-Graduate Program in Data Science.
To address the community of working professionals who are keen to equip themselves with the skills of a data scientist, Praxis offers intense full-time programs in Big Data & Analytics from their campuses in Kolkata and Bengaluru.
And Karuna Tiwari – BI Developer at Hinduja Global Solutions who came back to work after 6 years, found her way back to work, into the corridors of corporates, and even those daunting rooms of interviewers, through THIS very course from the Praxis Business School.
She takes the time to break it all down for us in this heart-to-heart interview…
Hi Karuna! Tell us a bit about you and your career thus far.
I am originally from Uttarakhand, now married for 10 years, and blessed with a daughter who turned 7 a few months ago. After my Engineering in Computer Science from BTKIT Dwarahat, I began my career with Bosch in Bangalore as a Developer.
Later, I moved to Accenture, so I could join my husband who was in Hyderabad at the time. After our daughter was born, I decided to take a break. When she was 5 years old, I joined the Post Graduate Program in Business Analytics at the Praxis Business School, following which I received a job offer from Hinduja Global Solutions as part of the campus placements. Today I'm working as a BI Developer with them.
What were your reasons for going on a break, and how long were you away?
Since my husband and I had to move to Bangalore for work, we became a nuclear family setup. With our daughter's birth, we didn't want to burden our parents with the obligation of taking care of her. At the same time, we weren't comfortable leaving her with a nanny or at daycare. So, we mutually decided that one of us would take a break.
And since at such a tender age, a mother's touch matters most, I decided to take that step.
I took a break for 6 years before restarting my career, which includes a 1-year course at Praxis.
What made you want to return to work?
A big break was starting to have its effects on my lifestyle. I was lazing around on the sofa, binge-watching Hindi serials, unwilling to come out of my comfort zone. And yet, the urge to do meaningful work and be financially independent kept me restless; the precise reason why I also did many courses during the break.
But it was my husband, who persuaded me to return to work.
He'd say – "You should not waste your education. Look for a job…do a course!!! But DO SOMETHING!"
And that's how you took up the course with Praxis! Brilliant! How has the course helped you in your restart?
The skills I had acquired over my previous roles were almost becoming obsolete. I had to up-skill myself in order to restart. I am good at numbers and programming. These qualities match up with requirements in Data Science. It was one such field that not only could help me restart but also cover up the lost time.
I had taken some short duration courses during my break, but I was not feeling prepared and was dreading the ordeal of an all-out job search.
I'd even received emails from my previous employers to come back, but I was not ready to face the interviews.
This course helped me big time in this regard! Not only was the curriculum comprehensive and market-oriented, but at the end of the course, Praxis facilitates campus recruitments, so there was no need for me to go out and search for jobs either.
There were companies coming to the campus for placements and I was selected for one. Thanks to Praxis for making the job easier for me.
What was it like to do the course and handle your responsibilities alongside?
Initially, it was okay since my Mom came over and stayed with us. She used to take care of the household so that I could concentrate on my studies. But due to the sudden demise of my Granny, she had to go back. That was a very tough time for me. To the extent that I even thought of leaving the course. But my family, the Praxis Management, the teachers and the batch-mates encouraged me to carry on.
As the campus was far from my place, I used to cook breakfast, pack our lunchboxes and leave home by 7 am. And while going back, pick my daughter from daycare, feed her, and take her to play.
Then, cook dinner, and spend some time with her on homework. My husband would come home only by 11 pm. After giving him dinner, I would start studying at 11:30 pm. Sometimes until 1 or 2 am.
There was one day when I had to finish an assignment. That day I slept at 5 am, woke up at 5:30 and as usual, left for campus by 7. It was extremely exhausting! During all this time, it was my family's support and God's blessings that kept me going.
But now when I think of those times, I can't believe that I sailed out of it so gracefully and emerged a winner!!
What was your driving force to reach where you did?
All of us worked very hard to achieve the objectives with which we joined this course and all of us emerged as winners at the end of it.
The course is unlike any other Engineering course in which people just study a day before the exam and get marks. Data Science is a complex field and the full-time design of the program was an advantage. The curriculum kept us on our toes all the time. An intensive course divided into 3 terms for 3 months with 20 subjects. We had a diverse set of subjects from technology & tools (Python, R, SAS, Tableau, Spark etc), Techniques (Stat, machine learning, text mining) and business domain. We had exams at the end of each term and tests and assignments during the term. The knowledge was in-depth and as I said, we had to be on our toes!
The course was delivered by a high-quality faculty team. The faculty generated interested in the subject and ensured that we understood and were well prepared. What worked for me was, I made sure that I didn't miss any of the classes. I was sincere and attentive to the lectures and made notes diligently. The determination to prove myself to the world (yet again) was the fire in my belly.
What has restarting your career done for you?
Restarting my career has helped me in many aspects. It has
increased my confidence,

boosted my morale

helped me discover other dimensions to myself (ones that I wasn't even aware of)

help my husband in managing the expenses of the household, AND

help my daughter find a role model WITHIN the HOUSE
I fondly remember this letter from her that came from her little-big imagination and read
"Congrats Mumma on topping the course. Maybe you will top in your office too."
If you've been inspired to come back to a career the way Karuna did,
BOOK YOUR SEAT for the Praxis Data Science Course RIGHT AWAY