She Runs a Company of Second Career Women and Will Be Mentoring at RestartHer
Kaajal Ahuja
in
Mentors Speak
|
06 Sep 2017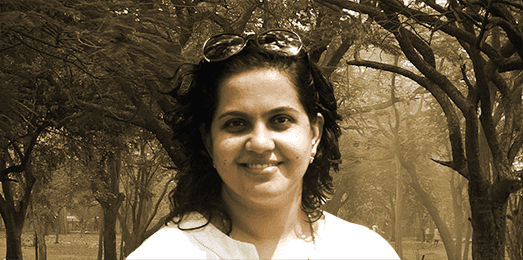 ''There are managers who are dictatorial in nature. There are managers who have such a sense of propriety in their start-ups that they don't give you space enough to grow. And there are managers who sit on your head every other day, for an update on the work assigned to you.
And then there is Padmaja.
Vibrant, cool and an absolute team player, she allows us our space and creative freedom to the work assigned to us. She is there for her team when guidance is needed or in times of crisis. And she is always there to share a laugh or even a bit of gossip!
The perfect mix of motivation and fun, Padmaja is the kind of manager one doesn't come by too often.''
This is what Niveditha Navin, one of the restarters at Clearly Blue, says about her experience of working with Padmaja Narsipur - CEO of Clearly Blue Digital, who is one among our veteran mentors at RestartHer – India's biggest conference and career fair.
| Come and meet Padmaja and her team of women restarters at RestartHer - Register for it HERE.
When JobsForHer got down to an interview with a woman of her caliber and cogitation, her vision and future course of action had us beaming effortlessly from ear to ear…
Hi, Padmaja! It is such a pleasure to have someone like you come on board as a Mentor.
What is Clearly Blue's presence at RestartHer going to be all about?
I've converged nearly two decades of work in technology, content, and communication across two continents into my new venture – Clearly Blue Digital. We're excited about being the company with a difference - a small team of dynamic and dedicated people who use new-age content channels and tools to best communicate stories about people, products, and services.
A team of professionals, all with unique restart stories, we're looking to connect with, and hire other women restarters. At RestartHer, we hope to share our experiences, meet with talented women, and inspire them to overcome their hurdles, besides joining our team.

That is great to know. Tell us, does being a team of women restarters yourselves drive you to mentor second career women?
I know how second career women face a huge number of challenges:
From themselves (I dropped out; am I now capable of getting back?) to their family (won't her second career disrupt our lives?);
From doubting recruitment personnel at companies (where is your most recent pay stub?), to prospective employers who look for updated skill sets rather than a ready mindset.
I've been there, so I know how tough it is. I hope, sharing my experiences with them, will help them overcome their challenges better.
| Come Back Stronger - Tara Sunil of Clearly Blue Shares Her Second Career Lessons


So true, having stood at the crossroads yourself, who would know better. Was there ever a time you had to put everything on the line to bet on yourself?
Yes! There sure was! When Clearly Blue was conceptualized and created.
I resigned my job at Intel Corp in Santa Clara, CA in 2005 and took up a freelance/consulting career in September 2006. That has evolved into my current company.
When I started this company, it was just me. Because I believed in my potential and the value I could bring to my clients.
One and a half years later, we are 8 people strong and still hiring.

What are three things you'd like to be doing with your business in the next three years?
I obsess about creating great content – the kind that will help start conversations. And to make that a reality, we will:
Continue to build a top-notch team,

Get into content-based product space, and

Focus more on our niches - technology and education.


What do you most enjoy about your line of work?
No two days are alike. It's exciting to meet new clients and take on new challenges. After all, we are the filter through which our clients' products and services are showcased to the world.

What according to you is the best way to stay focused at work?
I've found that scheduling my day rigorously (I use Google Calendar), and focusing totally on the task at hand (ignoring phone calls, emails, other distractions), makes me more effective.
And once you get home, schedule time for your kids till they hit the sack.
In simple words, giving every moment it's due, I'd say.
Have YOU given your second career its due yet?
Do it by attending RestartHer - India's Biggest Conference & Career Fair.
Register for it HERE, and open doors to a plethora of opportunities for your return to work.
If you're looking to start your career, or for new and exciting roles to showcase the skills you've gained along your professional and personal journey, you can find them at www.JobsForHer.com. Create your profile, upload your resume and start job-hunting today!