She Owes the Success of Her Second Career to An All Round Support System
Kaajal Ahuja
in
Restarter Stories, Women-friendly Companies
|
03 Nov 2017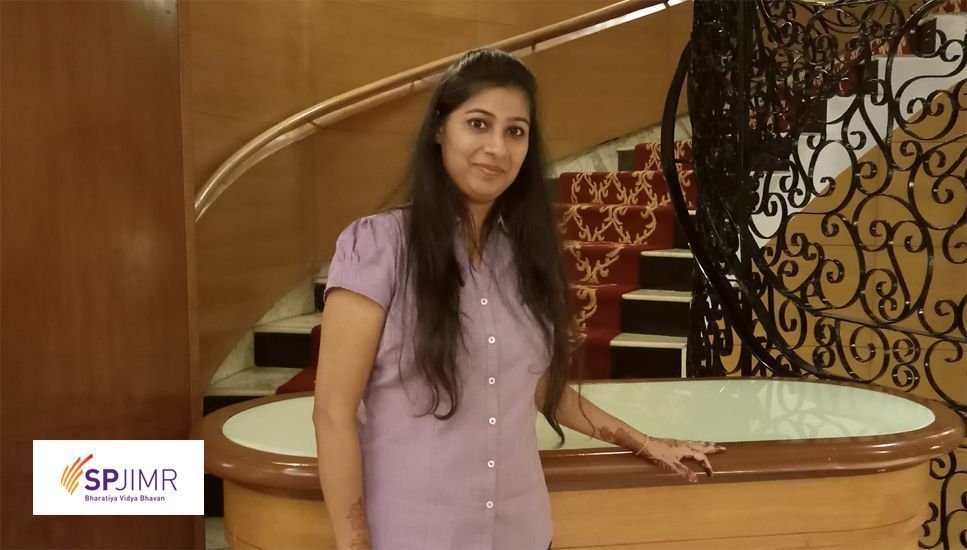 Let's face it.
Women are the anchors of their homes and families.
Anchors without whom smooth sailing routines collapse and beautifully nurtured practices become devoid of detail. Because of which they cannot and do not stop nourishing those areas of their lives.
So, if a woman wants to return to work to nurture her own creative side, she must do it in addition to the roles she already plays. That is why for a second career woman to find her way back to work she needs a VILLAGE of SUPPORT to actually get there.
And that is HOW Dipika Sharma – Placement Associate at SPJIMR – got her career back on track.
| Time to Get Your Career Back on Track?
Do It With JobsForHer
''Life has mostly been challenging for me.
Right from the time of my MBA to working in a corporate, to striking work-life balances after marriage.
My career started out as a Management Trainee with Standard Chartered, Mumbai in 2008. And by 2011, when I moved to Kolkata – the city I grew up in – marriage came calling.
I stepped away from my career to settle into this new phase. Six months in, I decided to step out of home and resume my career.
I had always been in Wealth Management – a profile that demanded sales targets to be met with no fixed working hours. Before marriage, I never worked double shifts and never did any household work. Confused, I asked myself, "Can I manage a demanding banking job along with managing a household?"
And when I found a job as a Client Servicing Manager with IndusInd Bank, it was an exhausting routine. But, with the support of my in-laws, I sailed through the phase. During my stint with IndusInd, apart from putting in place the mid-day meal, I practically never had to contribute to any other household responsibility – courtesy: my mother-in-law.
| The Secret to Coming Back to Work After a 13-year Break - Dimple Makhija's Remarkable Return

( PIC )
Three years with IndusInd Bank and my husband was transferred to Bangalore for better opportunities. Since I was unable to get a transfer, yet again, I quit and started afresh in a new city.
I decided to not compromise on my career profile and hence chose to return to wealth management. Even with a gap of just one month, it was not easy to secure a similar role. I'd applied to all possible banks in Bangalore, and yet, my hands were empty.
Finally, a role with Axis Bank as a Wealth Manager came in the form of a boon. My day would start with preparing meals and packing them, especially for my husband who'd leave at 7 am. I'd get to the office by 9 am, and, on returning home in the evening, I'd pick my day up where I'd left it in the morning, and get to cooking dinner, washing the clothes and preparing for the next morning!
This is how each day and night went by… without a break.
Not a day would go by when I wouldn't miss my mother-in-law – one of the most supportive figures when we were all living together!
But this restart too was short-lived, when motherhood came knocking at my door.
And since then, my husband has left no stone unturned in supporting me with the entire household work.
My job profile demanded extensive travel within the city, and that was taking a toll on my health. So I decided to take a break and moved to my mom's house in Kolkata for the delivery. Staying away from my husband during this phase was extremely difficult, but it was something that had to be done for the wellbeing of our little one.
After my daughter was born in 2015, resuming work immediately was not possible as I had no support system in place. I was in Bangalore, and both our parents were in Kolkata. It was a difficult decision, but I wasn't sitting idle. I'd taken up the job of a stay-at-home parent.
| This Management Course Is Helping Women Returnees Accelerate Their Return to Work
When our daughter was turning 2, we moved to Mumbai.
Ah! I cannot express enough the joy of coming back to where I started out from! This time, I just wanted to start working. I asked my in-laws to move in with us, and there on, my job hunt started.
Even with 7 years of banking experience under my belt, I had to face rejections.
WHY?
Because I had a 2-year long break in my resume.
But shortly after, my husband chanced upon the role of a Placement Associate for SPJIMR'S Post Graduate Management Programme for Women. And before long, I landed the job.
Now, my day starts at 5.30 am, with getting the meals of the day in place, packing our lunch dabbas for work, my daughter's snacks for playgroup, and a few odd jobs around the house. I leave home by about 8:15 am so that I can get to work by 10.
I do as much as I can before I leave, to make it easier for my mother in law, as she supports me tremendously in the upbringing of my daughter – from getting her ready for school to dropping and picking her up, her food and oh… the list is endless!
Without my mother-in-law in the picture, I could not have imagined returning to work again.
| ThoughtWorks: Where Technologists Thrive on Diversity
I believe that every woman needs this kind of a support system to resume her career.
My husband loves that I'm a working woman. In fact, he was never in favor of me sitting at home.
I appreciate the women-friendly policies of SPJIMR, which have helped me strike a work-life balance. I have the liberty to choose my work timings provided I clock in 8 hours a day. My supervisor is highly supportive and gives me the space I need to work freely.
In fact, 70% of the workforce in SPJIMR comprises of women and most of them are women returnees!
SPJIMR conducts induction, training, and workshops to enhance their employability skills.
I firmly believe that a good, all-round support system is the foundation to bounce back into your career. From your spouse to your in-laws, to your parents, to your employers and bosses."
What Is It That YOU Need to Rekindle YOUR Second Career?