She applied to 150 jobs but got called for all of 6 interviews
Kaajal A
in
Back to Work, Restarter Stories
|
01 Feb 2019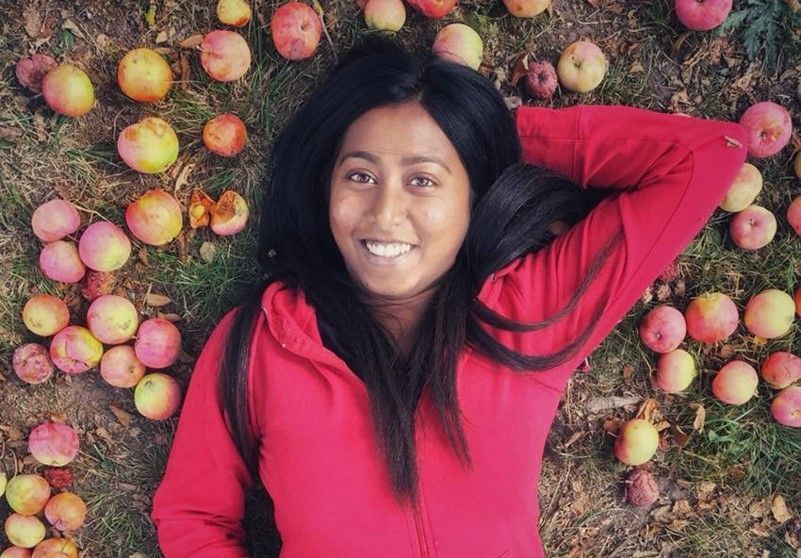 "I spent days in self-doubt, went through more than 150 job applications and rejections, cultural clashes, misunderstandings, and physical heartache. I hated being forced to adapt at such a quick pace, without any choice or luxury of leisure. It was a matter of one versus a thousand, it was me who had to adapt. I craved for mental stimulation and the pulse of a big city.
But again, this is the experience that shaped me..."
A writer at heart, daydreamer by choice, and warrior through experience, this woman's second career story will leave you awe-struck by the end of this read.
Taking a career break can be liberating. But it can also bring unsolicited reactions from the ecosystem. And Ruth Dolla - Manager, India for Visit Sweden - Sweden's Official Tourism Board, has a story that epitomizes the struggles of a second career woman as she pieces back her life and her career options, that a relocation surfaces her to.
1. Hi Ruth! We are super excited to be covering your journey! Tell us a little about yourself and your personal and professional journeys so far.
I have always been a writer at heart. As a child, I used to read up to 3 novels a day and daydream a lot. I majored in journalism and interned for The Indian Express where I got two of my investigative stories carried on the first page with my byline at the age of 20. It was such a high!!
However, I switched to copywriting soon after, where I helped conceptualize creative concepts for various brands.

After my stint with copywriting and PR, I was keen on exploring marketing strategy and started my first job in Marketing, at India's first wine company – Sula Vineyards. And then, I moved to the exciting world of Formula One racing at Kingfisher Force India F1, and then, to International Marketing for Bollywood music at Hungama Digital.
While work took me across the world, I have always lived in Mumbai; up to the age of 30, when I moved to Sweden.
2. Why did you move to Sweden?
When I was 29 I met the love of my life, who happened to live across the seven seas, in Sweden.
After a year of knowing each other and a long distance relationship, we decided to get married and agreed that between the two of us, I would move to Sweden – one, because I love adventure and two because I was more outgoing.
Little did I know what I'd agreed for! I have always had the habit of jumping into something without knowing what it entails, which can be a great thing because you live life passionately. But sometimes, a struggle because you learn how to swim while you are in water gasping for air, which is not really fun.
But, necessity is the mother of invention and I have always found my way out of a sticky situation.
3. How long was your career break?
When I moved to Sweden I was very positive that I will find a job. "How hard can it be?" I thought.
Sweden wanted to show me that it can be really hard. Getting a job for a non-Swede in Sweden is like selling ice to an Eskimo. But just harder!
The hunt for a job, not knowing the local language, and being dependent on my husband was a life-changer. I hated it, but it is what shaped me.
I would dread my inbox because I knew it would be filled with rejection emails from employers. They'd say things like: 'It's an English-speaking job, but we need fluent native Swedish too!!', or 'You are overqualified for this job.'.
The rejection was always tough for me to digest because I was used to being an achiever and overcoming hurdles. I was used to devising solutions and tackling problems head-on. And yet, here I was in Sweden, unable to get a job for almost one and a half years!
Forced career breaks are the hardest because you don't choose it. It's like being stuck in a black hole where you're constantly trying to scrape and scramble to hold on to anything at all.
4. So from your experience, what does a relocation for a spouse entail in a woman's career?
Imagine entering an ATM where the only language preference is Swahili or Japanese or some alien language you don't speak. Imagine the discomfort you'd feel with your hand wavering over the options not knowing which button to press, while ten other people wait in line behind you.
Now imagine this times ten. Walking in a country where all signs around you, the food, the culture is ALL alien. Or buying something as simple as buying a pack of tampons, or pressing a button to enter a building that has security screens in Swedish (while you are running late for an interview!!), or boarding a train where you can't comprehend any of the announcements… welcome to Sweden – a world unknown.
The Swedish culture and people are in general very reserved and don't talk unless needed.
There are a number of them who understand and speak English, but only in the capital city. I moved to a small town called Gävle with only 70,000 inhabitants, where not many people spoke English. "Oh is it uncomfortable for you to speak in Swedish? Well, imagine our discomfort then, to speak English!" they would say, and continue in Swedish.
It was a matter of one versus a thousand, it was me who had to adapt. I craved for mental stimulation and the pulse of a big city.
I hated being forced to adapt at such a quick pace, without any choice or luxury of leisure. But again, this is the experience that shaped me and forced me to learn Swedish in three months straight.
I had to learn the language to find a job, and to be a part of the society that I now belonged to. It is then that I realized that language is truly the key to the world.
I felt like a baby who couldn't ask for what it wanted. I had to learn every single word. As a journalist, I felt stifled, as I couldn't express myself and my identity was diminished. I couldn't even buy a local sim card without my husband accompanying me, and it really stung me.
I started from ground zero. No job, no friends, no family, no local language.
I spent days in self-doubt, went through more than 150 job applications and rejections, cultural clashes and misunderstandings and physical heartache. All I had was love and my belief in God and that's all I needed to motivate me and rebuild my life from scratch.
5. That's gut-wrenching to know, Ruth, and yet, so inspiring! What did you then do to overcome these challenges?
Every single day, every damn day, I made sure to dedicate a few hours towards my goal.
I studied Swedish from 9 am to 4 pm every day for three months on my own, with no assistance, until I could get a seat into an official course.
I never gave up. I went once a week to the Swedish language school and met the principal to check if there was a seat available until she started recognizing me and started avoiding me! It was not easy, but I was not going to be shy or scared. I pushed forward.
I finally got my seat and then attended class all through the day, took a break for two hours, and then again studied after. By the end of my day, I'd just crash out.
On my first day in Swedish school I, spoke in sign language with my classmates, because none of us could speak so well to string together a sentence. We only knew a few words here and there. And even if I knew a little Swedish they didn't. We ate lunch and only laughed, no words.
Loneliness was my biggest weakness and fear. Having lived in Mumbai - a city of 27 million people, and the Indian culture of constantly having friends, family or cousins around, this was a shocker to me.
However, it taught me to listen to my inner thoughts. Something that I may have probably never done otherwise. It helped me develop new hobbies, surface my hidden cooking skills, and learn a new language!
It taught me or forced me to be comfortable with myself. I still struggle with it. I know that seeking contact will always be a part of me because I am a social being.
I got out and met people through various apps…almost like dating! It can get tiring to not have a support system or never meet a familiar face.
You try to 'fit in' to the new culture of an adopted country, and then you learn you don't really need to change yourself to 'fit in'. You realize that you have somehow, adapted unknowingly and that it's okay to be half Indian and half Swede.
A person with a Swedish citizenship and an Indian heart.
I even kept my pride aside and worked at a cafe, clearing used plates and glasses after customers left. One day, while loading the dishwasher I dropped all the porcelain plates. I started crying.
It was because I felt: 'I have a Master's degree and here I am cleaning dishes in a cafe!!' and then, I couldn't concentrate on the work at hand.
Living outside India was far from everything comfortable, but taught me the real meaning of 'dignity of labor'.
I learnt to be comfortable with being uncomfortable. I pushed myself out of my comfort zones - from giving a 1-hour presentation in Swedish to potential funders at my workplace (and winning the pitch!!) to going to a yoga class in and not understanding any of the instructions but still participating by looking at others.
When it came to finding a job, I never gave up. I shortlisted companies that were hiring English speaking professionals. But I still needed Swedish to break this invisible entry wall. I called recruiters for feedback on why they didn't select me and used that feedback to review and rewrite my CV and cover letter. I networked everywhere possible.
I even worked for free as an intern, although I had 10 years of work experience. I swallowed my pride and believed in myself. I believed that I deserve something better and that this was just a test.
After all those job applications, I finally got a job and that too in the capital city! I was overjoyed! I accepted a job that was three levels below what I did in India, but it was my first real job and I was grateful for it.
From there I switched to a job that I really wanted and liked – connecting my homeland India to my new homeland Sweden. It is a dream come true job for me to be able to be in touch with India while living in Sweden and educating people in Sweden about the Indian consumer market.
It's as if the universe had been listening all along, and secretly working on the best possible option for me!!
"Life is not always roses, especially in a new country. But slowly, you build your 'village' around you. It doesn't come to you, you need to go out every day and make it happen. Having lived in Sweden for 5 years now, I believe that anything is possible. Starting a new life here - going from jobless to surviving to flourishing, showed me how strong I am. The country may seem beautiful to my friends through Facebook pictures, but I must still deal with existent problems alone – bureaucracy, work-life balance, recovery from sickness, and so on. Having found my way through this maze feels incredible!"
Ruth Dolla's story UNDERLINES the importance of upskilling while considering second career options.
Find a variety of courses to choose from and MORE at JobsForHer