Reliance Jio is welcoming Career-Break Women to join India's Biggest Digital Revolution!
Neha
in
Women-friendly Companies
|
20 Feb 2016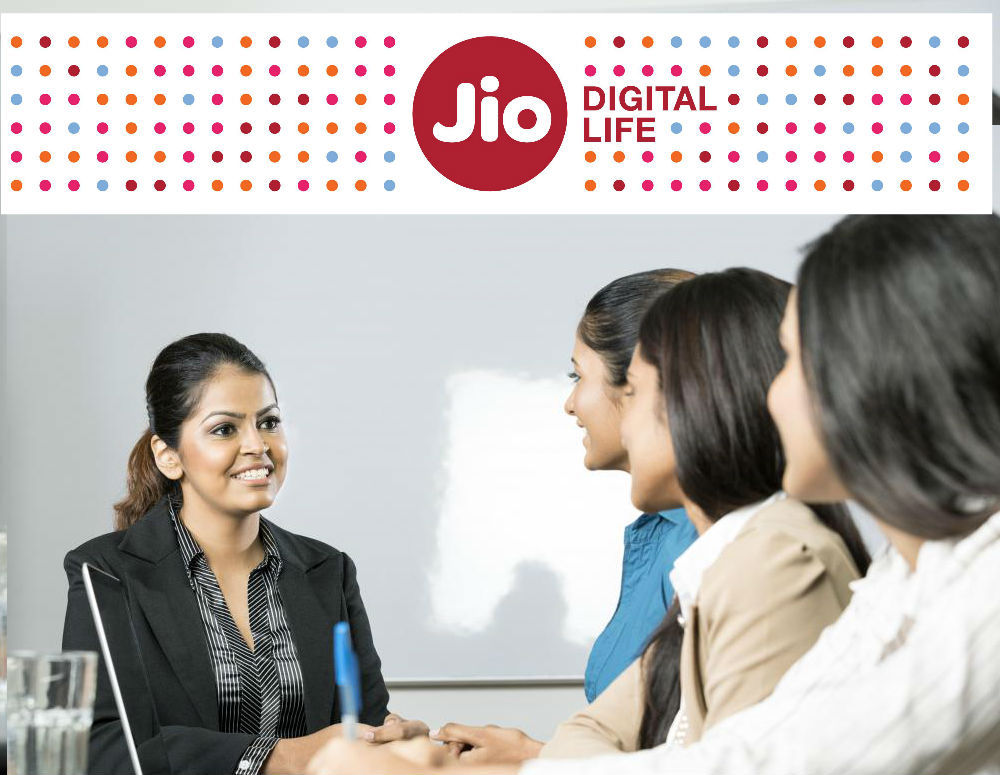 Reliance Jio partners with JobsForHer to rehire career-break women in pan-India diversity drive this Women's Day
"Growth has no limit at Reliance. I keep revising my vision. Only when you can dream it, you can do it"
Dhirubhai Ambani founded Reliance as a textile company and led its evolution as a global leader in the materials and energy value chain businesses. He is credited to have brought about the equity cult in India in the late seventies and is regarded as an icon for enterprise in India. HE epitomized the spirit 'dare to dream and learn to excel'. The Reliance Group is a living testimony to his indomitable will, single-minded dedication and an unrelenting commitment to his goals.
Reliance – A Legacy of Revolutions
Mobile Revolution – Telephony communication made accessible to each citizen of the country.
Textile Revolution – Affordable clothing for every Indian
Equity Revolution – First IPO that ensured prosperity for common Indian
Plastics Revolution – Plastic bottles and other objects available to the masses
Energy Revolution – Converted India from a net importer to a net exporter of petroleum products
Retail Revolution – The first, scalable, equitable domestic retail ecosystem
JIO will be one of the biggest digital revolutions our country would have ever witnessed!
Vision & Mission
Vision: Start a movement that will give Indians the power to make their dreams possible Mission: Jio will harness the full potential of the internet to create a digital revolution through lightning speed connectivity, rich content and innovative services that will radically transform the way Indians work, live and play.
What is Jio?
World's largest end-to-end IP network

Largest holder of 4G spectrum

Network of over 250,000 km - Deep fibre penetration across the country

Device eco-system & Launch of Smart devices Brand - LYF

All India coverage across all 29 states, 18k towns and cities, over 130k villages

Most advanced telecom products as well as best-in-class services and applications
What are we Aiming For?
1.3 billion people – 18,000 cities & towns – 28 states – 4G services for EVERY INDIAN
Provide affordable digital services to every household in India!
Jio – A start-up and a mature organization
At Jio we have the best of both worlds!
Jio is The Movement
Reliance: The largest private sector company in India
Jio: The biggest start-up the world has witnessed yet!
At Jio, we are not just a part of a "start-up", but that of a "movement" that carries the weight and might of Reliance Industries behind it!
Opportunities @ Jio
Quick Thinking Our changing environment and situations teach us to think on our feet and adapt quickly Multi-Tasking ? Being in a start-up, we handle multiple areas at once on a daily basis ? Our diverse work areas can give you a plethora of roles to choose from should you stay with us for a long term ? Managing a scale as large as Jio, helps you grow professionally/personally at a much faster pace than anywhere else
Life at Jio
At Jio, we believe in the power of technology to solve just about anything. That's why we gather some of the sharpest minds and put them to work on the toughest challenges. From wireless networking to fiber optics to cloud computing, Jio has the most advanced tools. More than that, our innovators believe so much in the power of technology, they refuse to accept it can't solve everything. So we meet every challenge with tireless determination.
And it starts with one question:"Which problem do we want to solve next?"
And now Jio is HIRING women on a career-break in with the
JobsForHer Women's Day Diversity Drive 2016
like never before!
This March, Reliance Jio in MUMBAI is throwing open their doors to meet and assess career-break women, all day long!
Register here for Reliance Jio Mumbai
Deadline to Register: Tuesday, March 8th, 2016