Relearn Your Ambition with SPJIMR
Ujwala Thirumurthy
in
Back to Work, Career Development, Women-friendly Companies, Working Women
|
11 Nov 2019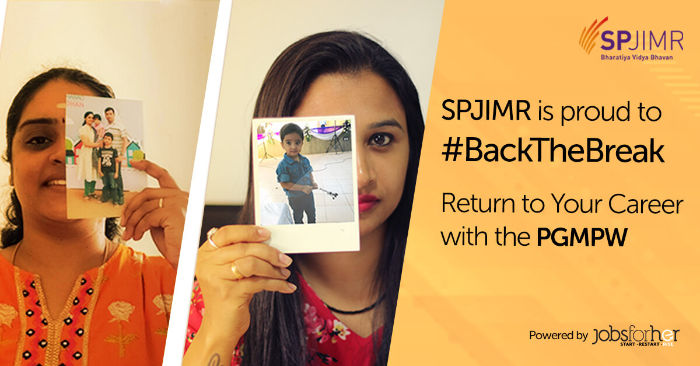 "Whatever anybody says or does, assume positive intent."
Indra Nooyi, former CEO, PepsiCo.
Before a woman 'chose' home over career.; before she 'learnt' her place in life; before all of this... she had her individual identity. Learning, Understanding, Questioning, Playing. Because knowledge doesn't discriminate. And Ambition came naturally.
It is a liberating experience for a woman when she returns to her career after a break, but it is doubly encouraging for her to find organisations that #BackTheBreak and help her regain her professional identity.
Say hello to SP Jain Institute of Management and Research (SPJIMR) — an institution that has helped shape the lives of women across the country by enabling them to pursue their career dreams post a career break.
Rechart Your Career with PGMPW
The Post-Graduate Management Programme for Women by SPJIMR is a path-breaking full-time management course exclusively designed for women who are returning to work after a hiatus. This accelerated management programme for women returnees is structured to bring a deserving woman up-to-speed after a break, and at an institution with outstanding credentials the corporate world trusts.
The Purpose Behind the PGMPW?
As a socially sensitive institution, SPJIMR has stepped up to the task of not just bringing women back to work after a career break, but also enabling them to break into the corporate leadership pipeline. They understand that the Indian family paradox leads to women taking a break from formal jobs for several reasons, subsequently hindering their return to the professional world. They also understand that with Indian businesses looking at women as a crucial untapped talent pool, this is the right time for women to upskill and return to the corporate world.
To say that the PGMPW program is a platform for women to relaunch their careers will be stating the very obvious.
Read more about PGMPW here
#BackTheBreak — The Campaign
In keeping with their mission, SPJIMR, in partnership with JobsForHer, launched a campaign — #BackTheBreak — to showcase talented women professionals who have now settled successfully into a second career after a long hiatus. The campaign throws light on the several factors that make women put their careers on the backburner, and how they come back stronger and more confident to their professional paths even after years away from the industry.
Be it switching careers, reskilling/upskilling or just simply making their mark in an industry they were already proficient in, these women prove that NOTHING is impossible when they know what they want, and how to get there. Marriage, child care, elderly care, reassessment of career goals and relocation are only a handful of reasons why women decide to take a step back from their careers. Whether it is a matter of choice or an avoidable circumstance, women end up compromising on their profession.
But interestingly, they don't always decide NEVER to go back to work again. And that, as we'd like to believe, is because women are confident of returning to a career sooner or later. And that's why when an institution like SPJIMR is ready to #BackTheBreak, we know that we're headed in the right direction.
Real Women. Real Stories
The women we're showcasing here have stepped up to the challenge and made a successful second career, thanks to upskilling / reskilling and sheer determination. And if they can, so can you!.
Sasmita Rohit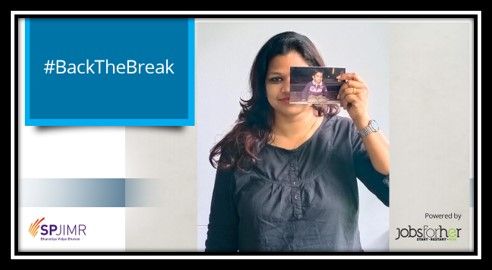 She stepped back from her 7-year-long career in the Petrochemical/Chemical Sector to take care of her child. After a 4.5 year break, she enrolled in PGMPW. After successful completion of the program, she is currently employed with Reliance Retail Ltd.
Saradindu Siddartha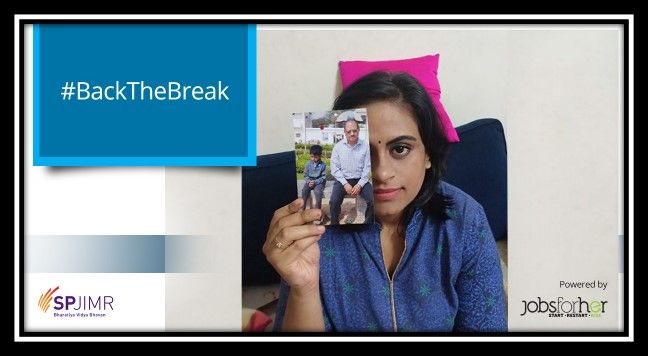 A Graduate in AgriBusiness Management. ,Ex-Procurement Analyst and today, a Primary School Teacher. During her 6-year career break to care for her son and family, she enrolled in a teacher training course. Today, she teaches a range of subjects to primary school children and loves it.
Malathi Menda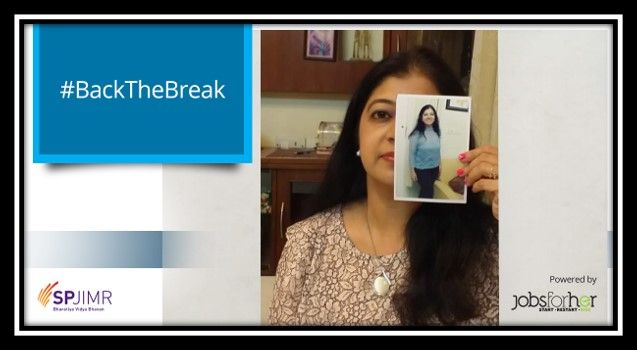 Malathi took a short break from her teaching career to reskill in content writing for school textbooks. Today, she balances both like a pro!
Divya Rajaganeshan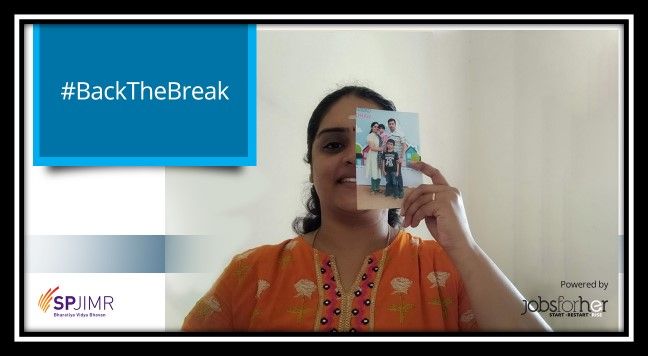 After a 9-year-career break to take care of her family, Divya is now ready to relaunch her career in a job that she loves.
Priyadarshini S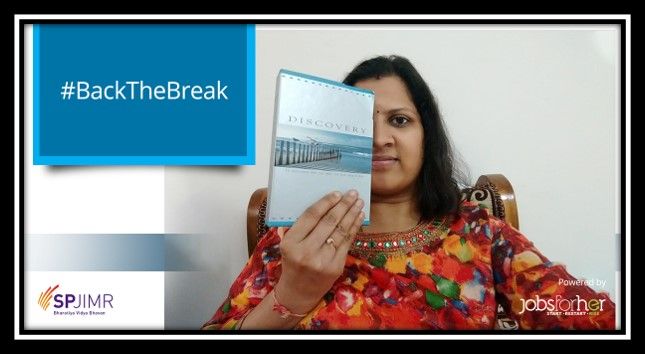 Priyadarshini took a break from her career to embark on a journey of self-discovery — to excel professionally and personally.
Kirthi Ponnappa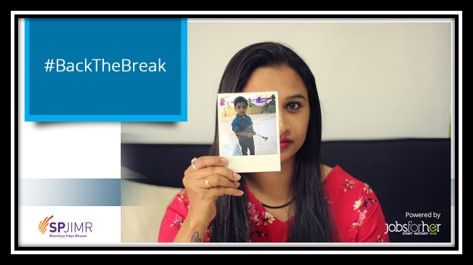 Kirthi stepped back from her professional life to stay home with her son, when he most needed her. She's now rocking her career in Sales.
Now, it's YOUR turn!
So, ladies, we're inviting you to #ReLearnAMBITION, remember who you were: Back Bencher, Sporty Spice, Teacher's Pet, etc., etc. Because, the learning never stops. And neither should you. Rediscover Your Ambition. And all this time later, on your career break, remember the talented, experienced professional that you are. Celebrate the reason you took the break with pride.
If You are looking for the smartest way back to work, then SPJIMR is clearing the trail with a unique learning opportunity, designed for the woman on the break. SPJIMR is enroute with JobsForHer to #BackTheBreak.