Praxair Welcomes Women Returnees on International Diversity Day – The Event That Was.
Kaajal A
in
Back to Work, Women-friendly Companies
|
30 May 2018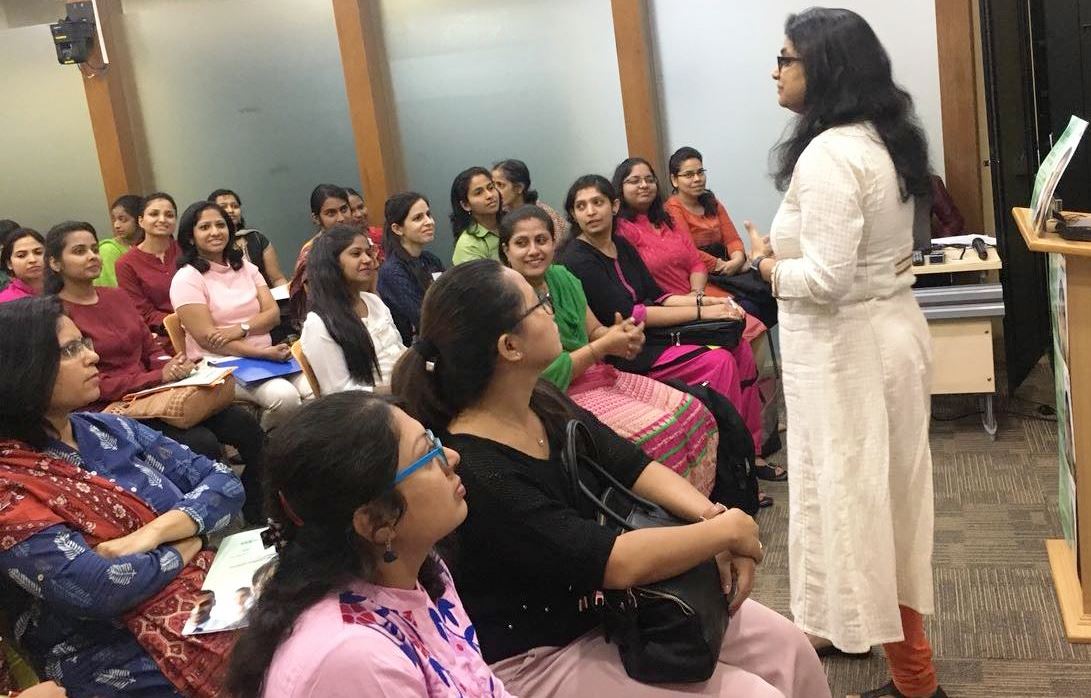 How do you capture and sustain the attention of a room full of second career women who are at the threshold of restarting their careers?
Through closely encountered, life-transforming stories of real people.
And THAT is how the team at Praxair India welcomed and celebrated the women returnees that walked through their doors – eager and optimistic about the day ahead - on May 21st, International Diversity Day.

The event which set out to be a small scale platform to inspire and recruit a handful of women returnees saw an incessant inflow of aspiring women who wanted to make sure that they left no stone unturned in their efforts to a restart.
An inspiring and humbling experience to witness.
Let's Start From the Very Beginning…
After a warm welcome note by their anchor for the event – Nandini N, Senior Manager – HR, Anuj Sharma – MD for Praxair India took center stage.
A leader who walks the talk, Anuj is the kind of person who doesn't think twice before taking risks or promoting meritocracy when it comes to Diversity or Inclusion. (The precise reason why several 'Praxairian' women – especially the women that were part of the event panel - have tenures ranging from 8 to 14 years at Praxair!)
After a brief introduction into the history of the 12-billion dollar organization, also one among the list of Fortune 250 Companies, Anuj spoke of how Praxair is not only constantly outperforming their peers but doing so within the environment-conscious boundaries of sustainability and corporate social responsibility.
"Since 2010, until now, the year 2018, DIVERSITY has been recognized as key within our organization. Because of which, it's not just about the number of women we hire, but also the roles that we're sustaining them within. Because getting women to fill influential, leadership roles as well is of prime importance at Praxair. And through key performance indicators that we have in place, we recognize and document the efforts of every employee – be it man or woman - so that there is a clear vision for all – company, employee, managers – to acknowledge the career growth of people at Praxair."
"Now, let's talk about YOU. In my personal opinion, when it comes to capability, there is no doubt, from what I have seen in my past and my present – through school and college and my career, that WOMEN have what it takes. In fact, they're many-a-time outperforming the men! But here are a few things that you can keep in mind on your way back to the corporate world:
His Words of Advice
Once you have goal clarity, find the endurance to see it through.

Perseverance is another trait that you will have to build, to go the distance.

Voice out when you have to. Open up. Don't bottle up matters that are bothering you.

State your goal – to your supervisors, your company. So that they can equip you with all that you need to achieve that goal. So, raise your hand."
Ushering in the All-Women Leader Line-Up…
Leaving the women present with these motivational words, Anuj made way for the next speaker – Geetha B S, VP – Product Mgt., Marketing, Applications Technology and Specialty Gases.
A business leader with an extensive work experience of over 16 years, she has spearheaded Sales, Strategy, and Business Growth across various organizations, both in Indian and International geographies which include Netherlands, Germany, Houston, Finland, Italy, Singapore, Japan, and UAE. Geetha has come to be the torchbearer at Praxair in growing the business across the multiple verticals under her.
A role model for most of her colleagues at Praxair, she connected with and influenced tremendously the event attendees, through her story and the challenges of being a career woman, wife, and mother – all rolled into one and helping women think – 'A job or career': how to decide which one is right for them.
"Being here today, looking at all of you, and sensing the energy in the room, I'm reminded of the time when I was fresh out of college. Very quickly, would each one of you share with us why you took a break?"
To see HOW the conversation proceeded… WATCH this VIDEO.
And the Women Continued to Take it Forward…
The third speaker/panelist on the agenda was Raksha Hegde – HR Director for India & Middle East. Raksha, a seasoned HR professional with an extensive experience of over 20 years has spearheaded the HR function for multiple organizations.
During one of her stints with a previous employer, Raksha hired 800 professionals within a short span of 2 months for one of their flagship events!
Since she has joined Praxair in 2016, Raksha has been the torchbearer of growing the strategic reach of Human Resources and the community engagement within the company. An energetic and transformational leader, she has implemented several diversity initiatives. She helps her colleagues create avenues while balancing work and life, better.
"I want to thank each and every one of you for taking the time to be here today. Before we started, I was chatting with a few of you outside, if you remember. And, very interestingly, I picked up on a little bit of ENVY that transpired between us. YOU were jealous of US? Well, it may come as a surprise but WE envy YOU! Because you get to spend quality time with your family and children, which is a luxury for us.
But you know what it is in actuality? A RESPECT for each other's domain."
And then, touching upon the diversity initiatives at Praxair, Raksha spoke of:
Networking Forums for the Development of Women Employees:
An internal platform for women employees to open-up in the organization, which acts as a toastmaster to them, and serves different purposes like building their networks and self-confidence;


• External forums like Women in Leadership development: WILL, AccelHERate, CII – IWN etc to enhance networking opportunities for women;


• Walk the Talk - Women in Praxair Olympics as owners of leagues, and captains of teams to nurture their managerial & leadership skills;




• Skip level meeting with senior leaders to have greater visibility to the future.
Wrapping it Up…
And coming to the last panelist for the day – Divya DJ – AGM, Human Resources has been with Praxair since 2007, both as a specialist and as a business partner. Working with diverse teams to drive business goals to fit the needs of the organization, are a few of her demonstrated strengths. A great example of how one can give attention to their family and yet never lose focus of their goals, Divya is a force to reckon with.
"I stand in front of you today as a representative of Praxair, and in all my years here, I have witnessed my colleagues go on career breaks for the reasons they needed to, and yet find ways to come back to us later, because of the culture that's ingrained within the organization.''
She shared her story about how she held her career high as her choice, when she struggled through different phases of her life – be it during the initial struggles of her career, or her choice of pursuing a relationship with Praxair in India while her husband worked abroad, or during her efforts to get her long travel hours & deputation balanced with a complicated pregnancy, or her battle at staying away from guilt when she looks at other full-time moms. And as lucky as she was, through it all, her family has remained her sole support system.
Bringing the event to an end, this is what she had to say:
"My story is NOTHING, compared to some of the most amazing women I have met in my journey so far – some hanging on to their careers even with trauma after trauma, and some even willing to let go of a legacy, regardless of it being a legacy. I have the utmost respect for both kinds. Because at the end: It really is about OUR CHOICE and our happiness with such choice."
What also touched us was how Praxair made sure they acknowledged the role that JobsForHer plays in a woman's return to work.
Have we inspired you to join an organization like Praxair?
Apply to their job opportunities HERE