Paying It Forward Through Creativity and Conviction - Omkar Muravane - Training Mentor & Design Consultant at Monkey Funky Studios
Kaajal Ahuja
in
Mentors Speak
|
25 Jul 2017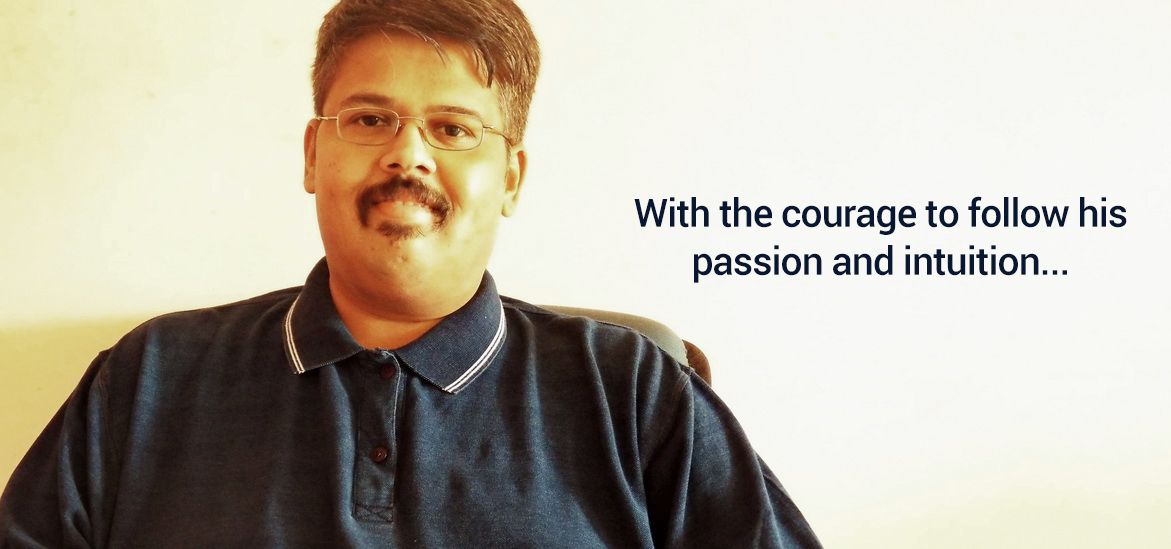 Omkar Muravane – Training Mentor and Design Consultant at Monkey Funky Studios, is the kind of professional who, through his approachability and flexibility to accommodate new learnings, will get your attention from the onset of any professional engagement.
He is the kind who, through his knack of observing and discerning, both, people and situations, will sense and act upon the need of the hour, or the individual in question.
He is the sort of mentor who, through his carefully deliberated and drafted methods, molds and remolds his line and way of teaching, to suit and satiate the requisites of today's rapidly advancing times while delivering end-to-end solutions to those who seek his guidance.
Riding high from the inspiration of the Mentoring Roadshow 2016, and advancing into newer horizons with JobsForHer, he takes the time to share with us from his journey thus far, what has been, is, and will be…
| Come and Meet a Host of Mentors at RestartHer - India's Biggest Conference & Career Fair in September - Powered by JobsForHer
Hi, Omkar! We're glad that you've garnered a great deal of appreciation through your re-skilling webinars for our second career women. Tell us, what drove you to mentoring women on a career break?
Thanks, Kaajal. I've thoroughly enjoyed being a part of it all, too.
When I met these aspiring women at the Mentoring Roadshow in Bangalore this year, the one attribute that stood out for me, was their die-hard enthusiasm to make a restart.
Women essay multiple roles throughout their lives; many-a-time, sacrificing their own ambitions in the process.
Women have always been far more dedicated to whatever they engage in. In an age where opportunities galore are being made accessible to get these women back to work, if I as an individual with all the experience I have to offer, can make any difference by mentoring them… what could be better than that?
|Redefining Career Roadmaps - Geetha Thiagarajan - Vice President, HRBP, Societe Generale Global Solution Centre
Brilliant! What led you to choose the fields of Content Writing and Digital Marketing?
As a designer previously, marketing a brand was already a natural extension of my field; which is why I ventured into the world of Digital Marketing. At the time, I was working for a start-up, which meant that I had to take up multiple roles as an individual.
I was comfortable playing around with words, as a result of which, Content Writing was the most natural choice. And the added responsibility of creating content for all the websites I designed has been the magical path that led me here today.
|Women Restarters - Find Your Own Way - Geetha Pradeep
You said you never took a career break, but there were challenges along the way. What were those challenges?
Coming from a packaging background, switching to a career in design, was nothing short of a restart in one's career. It was, in fact, one of the toughest decisions I ever made.
There were multiple challenges, not just on a personal level, but on the professional front as well.
Who would give work to someone who left behind a career in packaging to pursue the designer's dream?
But there is always a testing period - when you are as unsure about the change, as much as the people around you are. But somehow, I came to realize that it's also the best time to stay focused on the goal you designated for yourself, continue working towards it with that extra bit of effort, and no expectations of the outcome.
It's equally vital to have the support of your loved ones when you experiment with something so new. I'm grateful for having had that kind of aid, for many years, from the people in my immediate circles.
And for the people who are always skeptical, it also depends on how far you go, to prove your mettle in changing that perception.
| Bold & Beautiful - The Restart Journey of a Nonconformist
That is so true. Your words are certainly coming from a place of self-experience.
If you had to describe your company in 60 seconds, what would you say?
More than a creative studio, we are a bunch of spirited professionals, adding value to design. Continually dishing out a great mix of innovative ideas - for branding, digital marketing, and training. Most importantly, we don't mold your requirements. Instead, we provide customized solutions.
We're a set of young aspiring heads, who are more than happy to put our noses into your business, to help it touch new highs.
| Capgemini's Career Comeback Program for Women
What about your line of work do you love most?
I love that I have access to a great deal of creativity, and the opportunity to build on it, by contributing my two cents! Plus, your grey cells are in constant action when you innovate at so many levels. Be it in design, branding, marketing or writing.
To me, being able to add a piece of you, is one of the best aspects of being in this field.
And lastly, what is your all-time favorite fall back on mantra?
Don't let the noise of others' opinions drown out your own inner voice. Have the courage to follow your heart and intuition...by Steve Jobs.
Are your heart and intuition steering you towards a path of a career comeback? Sign up with JobsForHer to find your calling, and browse through a host of Full-Time, Part-Time, Work-From-Home, Returnee Internships, and Freelancing roles.

Follow Omkar Muravane on our MentorForHer panel by clicking HERE.

About the Writer:

Kaajal Ahuja is a commerce graduate, who worked in the field of Customer Support first at HDFC Bank, and then at Dell International. During her 11-year career break, she spent four years volunteering as a Teacher at a government-run educational institution and also ran her own enterprise – 'Hey Gorgeous' – alongside, for 8 years. It was during her break that she discovered her love for writing, and is now back, working part-time as a Senior Content Writer at JobsForHer. She is married and is an upbeat mommy to a 13-year-old.