Once a Mother, Always a Mother - The Comeback Tale of a Woman Whose Restart Revolved Around Her Kids
Kaajal A
in
Restarter Stories
|
17 Nov 2017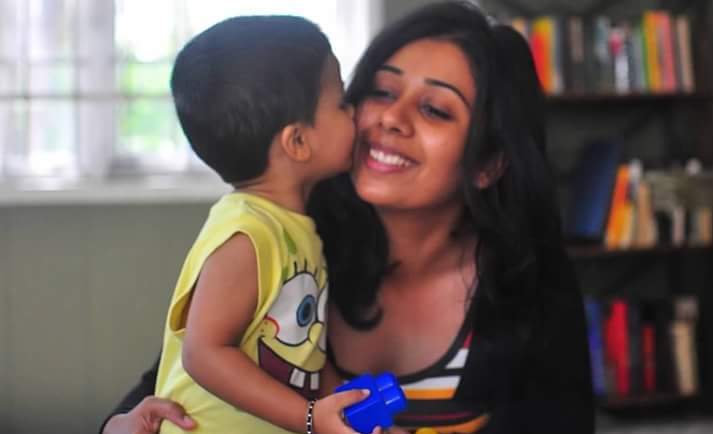 This is the story of a woman who, time and time again, put her career on hold, only so she could do justice to both worlds - her children and her career - without messing up both; and hence took it one step at a time.
Every Restar we've interviewed until now always had one thing in common:
They didn't see their restart the way we do – the way it is – commendable and grand.
They didn't think of their stories the way we do - the way they are - significant and uplifting.
But that was only until we TOLD their stories to the world.
And Ramya Shripathi, who restarted as an HR Specialist at a diversified global manufacturing company, thought so too when she read, in awe, the stories of the women featured on our website.
Not aware that her comeback, just like every other restart, proves how women become the heroes they're in search of.
How We Met Ramya…
Ramya's motivation to get back to work came from attending RestartHer - JobsForHer's conference and career fair in September 2017.
''When I heard of RestartHer from a friend, I signed up for the event immediately, and I'm glad I did because I was looking for higher ground.
My previous job had been a work-from-home role as the HR Head for a startup. I'd been with them since 2015, and the place proved to be a great platform to bridge my 'gap' years. After the startup wound operations, I missed the feeling of being in an office, especially after my (soul-satisfying) full-time roles at Accenture and Tesco, before my career break.
Which is what got me headed towards the conference and career fair. The learnings and revelations that came from it were tremendous:
The Importance of Networking – which I had firsthand experience of at the event itself. Whether it was with women like me, who were finding their way back too, or with mentors who had countless tips for us to grow our net worth; or with the workshop experts who emphasized on the importance of building one's personal brand and keeping our professional profiles relevant and up to date.
Clarity of the Way Ahead – which came directly from the awe-inspiring panelists, who were telling us in a thousand different ways HOW it was possible to not just come back, but do it on our terms. Because the work world needed US far more than we could even imagine.
Staying Positive During the Job Search – which had become a challenge before I came to the event, since it seemed like I was alone on this path, and since my efforts, in whatever tiny measure, were not realizing results.
So much so that on certain days I'd question my decision of stepping away, wondering if I'd done the right thing!
But all of that changed after I interacted with people at the event.
The story before…
The birth of my son in 2011 sent me on my career break. And until 2015, when I had my daughter, I hadn't even considered restarting, let alone chalking out the how-to of my return.
I believe that there will come a time to make your money, and build your career. But the childhood of your children will only come by once.
Which is why I was sure that I wanted to be around for those precious formative years; even though I was at the prime of my career with Tesco then, and people around me wondered how I could give up on a career that was only moving upward.
So, no matter the delay, and no matter the redundancy that was bound to come in, I had great faith in myself, and I knew that it was only a matter of time before I caught up with the rest of the world.
The Goodness of a Restart…
I love that I look forward to work each day, and now have a purpose to wake up to.
Right now, with my part-time job, I have the best of both worlds. I get to get out of the house for a few hours, put my education and experience to good use, and then come home to my children, spend the evening with them and unwind by the end of the day.
I can also see a difference in the way my husband looks at me now. Proud that I'm back to work, he can't get over how I cracked the interview in one go!
I'm ever so grateful to him for giving me the liberty to take a break or restart my career. If it wasn't for him, I would have further delayed my plunge because of a lack of confidence – something that easily creeps in when the corporate world is at bay.
It does take a village to raise a child, and I'm thankful to everyone who helped me get to where I am today. My parents, mother-in-law, friends, colleagues and of course, my nanny!
What she just had to say to the women reading this…
A career is not just about the money. It makes a difference to our self-esteem, widens our social circle, and adds new dimensions to US - ones that we didn't know existed.
But having said that, if you wish to be around to nurture your children, then don't second guess your decision.
Follow your instinct and take that time off.
Because the regret that comes in later is irreparable and just not worth harboring.
And when you do come back, this piece of advice from my new boss may help: ''Take baby steps on your way back into the corporate world and don't be hard on yourself. Give yourself time to settle in or to show results.
Luckily for us, we now live in an era where the work world is becoming more and more aware of a woman's dynamism and is thankfully becoming conducive to her particular ways of striking a work-life balance.''
Whenever I doubt myself about how far I can go, I simply look at how far I've come