My Working Day at Barclays
Schonali
in
Back to Work, Working Women
|
30 Nov 2018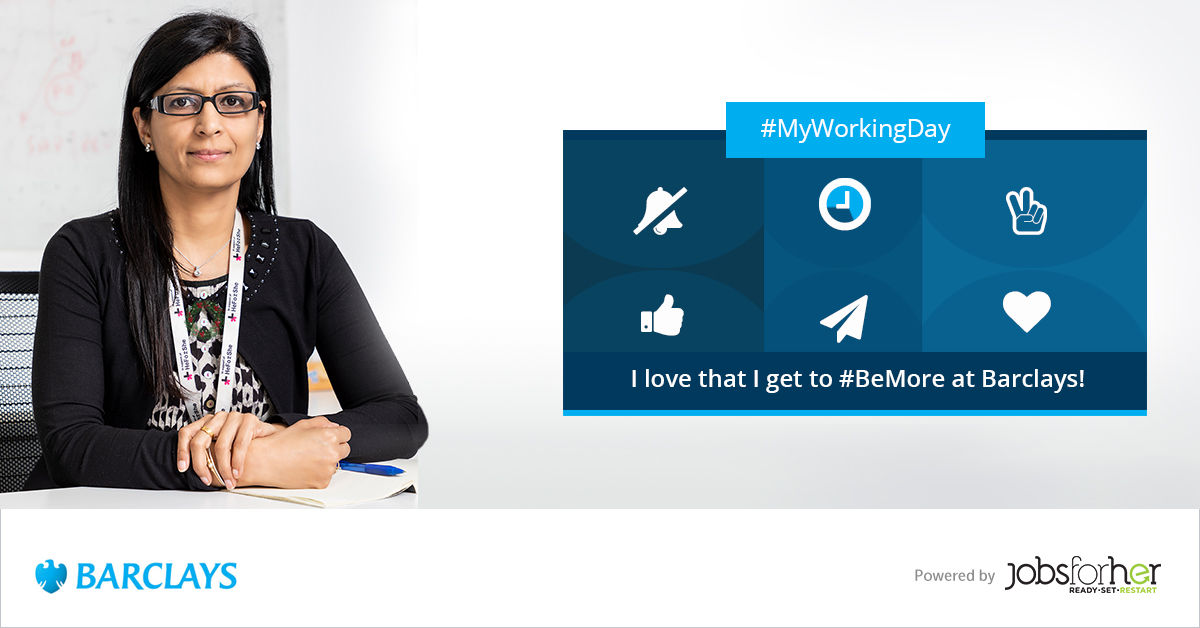 Vermeen Kapoor, heads Change teams across APAC
.
Based out of Noida office, Vermeen tells us about her typical day at Barclays, a company that loves bringing women back to work.
My alarm goes off: at 05:20. The first 30 minutes are spent in solitude as 'me time' which includes having a hot cup of tea, watching my three-year-old (sleep like a baby!) and listening to some melodious music recitals in the background. This is followed by a brisk walk (fitness goals are always on my mind!) and the crazy rush to get ready and head out for a 90-minute commute from Gurgaon to Noida.
My typical day at work: usually starts mid-way through my commute- from clearing emails, to reviewing and updating my to-do lists. I use the first half of the commute to read flagged-off articles covering technology, leadership, emerging markets, and parenting to keep the grey cells ticking. Once in office (it feels like the morning tea was ages back!) a cup of coffee and the 11-floor climb up the stairs (remember fitness goals are always on my mind!) energises me for the rest of the day. Leading a project management team involves working with many stakeholders, team members, and colleagues across multiple offices and time zones. As a result, the rest of the day is spent listening, analysing, solving, and troubleshooting through discussions, huddles, and meetings over phones, VCs, and in-person. Amidst all the frenzy of work, the one-on-one coffee meetings with colleagues and the occasional fun break-outs with the team provide me the opportunity to connect and build relationships.

The most challenging day at work and how I sailed through it: There are quite a few, as you might expect in the story of 'A life of a project'. In every project, we have had moments and challenges that stand-out and stories that are waiting to be told and lessons to be learnt. The one that stands out in my mind, was from a couple of years back, when we had a five-hour marathon call to take a 'Go/No-Go' decision on an important project. The project was at a critical juncture and needed tough decisions to address the long list of challenges. I was impressed with the perseverance and the positive approach demonstrated by my colleagues to address all cross-functional issues that enabled a timely delivery of the entire project.
My most fulfilling experience so far: was a special day, when all my colleagues were recognized for their stupendous efforts in a successful programme delivery. The multi-phased programme had its fair share of challenges, encompassing communication across stakeholder groups, technology solution, budgets, personnel, regulatory compliance and even changes in requirements. However, the deep knowledge, focus, hard work, and a strong governance framework saw them pull out all stops and establish a highly collaborative relationship with their business groups to see the programme through. The exemplary display of execution, leadership, and teamwork during the programme has been called out in many different forums across the organisation.

I love my job because: of multiple reasons. First of all, my role as a Change Leader allows me to pursue my passion of solving complex multi-functional problems applying planning and organising skills (a skill everyone at home is happy I'm getting to apply away from home, so they get a respite!). Secondly, I love the variety in my role – where no day is like another, and where every day is a new challenge. Finally, it is the people I work with that make all the difference. My role gives me the opportunity to connect with an amazing set of people, learn from sharp minds from across the world and equally important helps many colleagues grow to be successful leaders and managers.
My biggest takeaway from Life@ Barclays: Be YOU! Have open, honest, and transparent conversations and you will be pleasantly surprised at the outcomes. My own personal journey through my daughter's premature birth, maternity break, and joining back is a testament to the same. One should make choices on work-life integration, on how you would like to contribute and add value, be open and honest to yourself and your organisation; and you will have all the support you need.
How I like to unwind after work: spending time with my family.....evenings are clearly 'my girl's time'. It's always the highlight of my day when I walk through the door and am greeted by my daughter. I play with her at home or in the park or listen to all her pre-school activity banter, or just have a peaceful meal as a family (without phone calls), tucking my daughter into bed after story time.
Be More @Barclays APPLY NOW!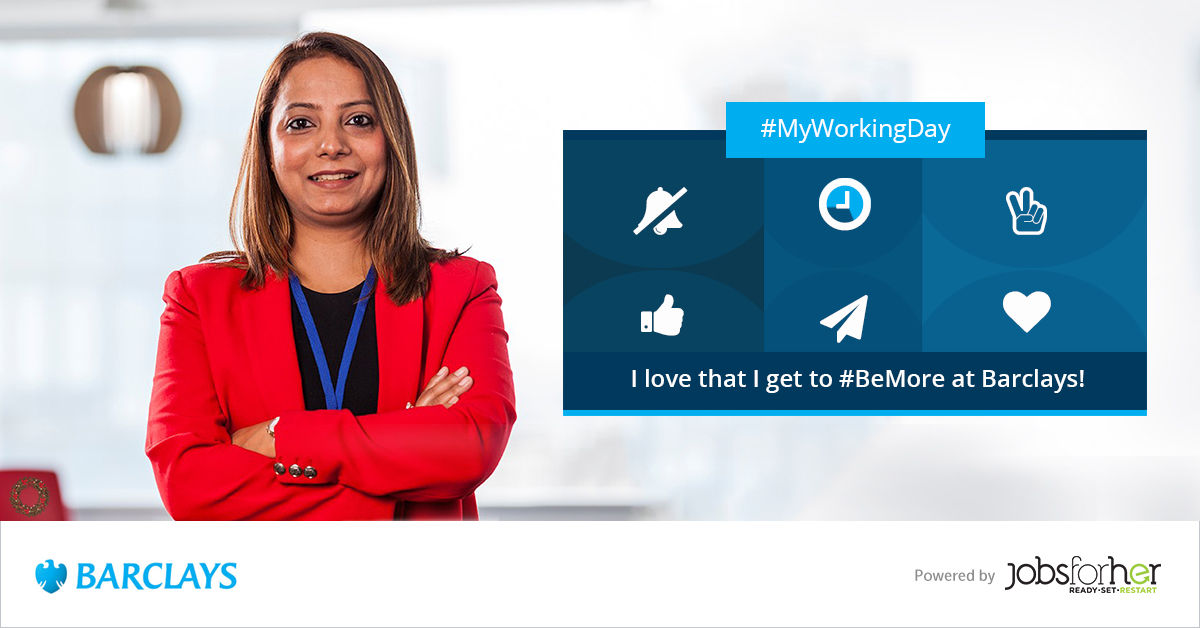 Vaishali Ratan Arora is a Senior Manager at Barclays Cards division. She tells us about what makes her a 'people's person' and how she drives customer-focused initiatives.
My alarm goes off at 6:30 am and I help my eight-year-old son get ready for school. The flurry of activity ends when he boards the school bus. Then I head straight to the gym where I spend an hour revitalising my senses. Once I feel energised to kick start my work day, I head back home and get ready for work.
My typical day at work involves donning many hats – I am a 'people's person' and, in my role, I am accountable for many business outcomes. Meeting with various teams, guiding and mentoring colleagues and discussing plans and strategies with the leadership are few of the activities that take up my time. Some days just fly by in meetings and discussions, however, I can hardly complain because I thoroughly enjoy the challenging yet exciting days with the people I work.

I started at Barclays 10 years ago. Over the years I grew richer in experience and kept forging strong relationships with people while taking on various development opportunities and additional responsibilities.
The thing I love most about my job is being with people and finding solutions that make the customer journey smoother and seamless. To make our customers' interactions with our teams a great experience, my team and I conceptualised and implemented the idea of a training and coaching academy. Initiatives such as this have worked wonderfully for the customers and also deepened our stakeholders' trust in us.

My most fulfilling experience was at the UK Customer Experience awards 2018 in London. It was quite a nerve-wracking, yet exciting experience. Several presentations and pitching before stalwarts of the industry, for me, gave a steep upturn to my learning curve. We earned ourselves a Bronze award.
My biggest takeaway is humility. Being humble and approachable is imperative for anyone who would like to be in a leadership role.
I unwind after work… by treating myself to some family-bonding time. Both my husband and I prefer to spend time with our son by doing fun activities such as playing Chess, Carom or reading bedtime stories. Sleeping until late is a luxury these days, however, when I can, I love to indulge myself.
Be More @Barclays, APPLY NOW!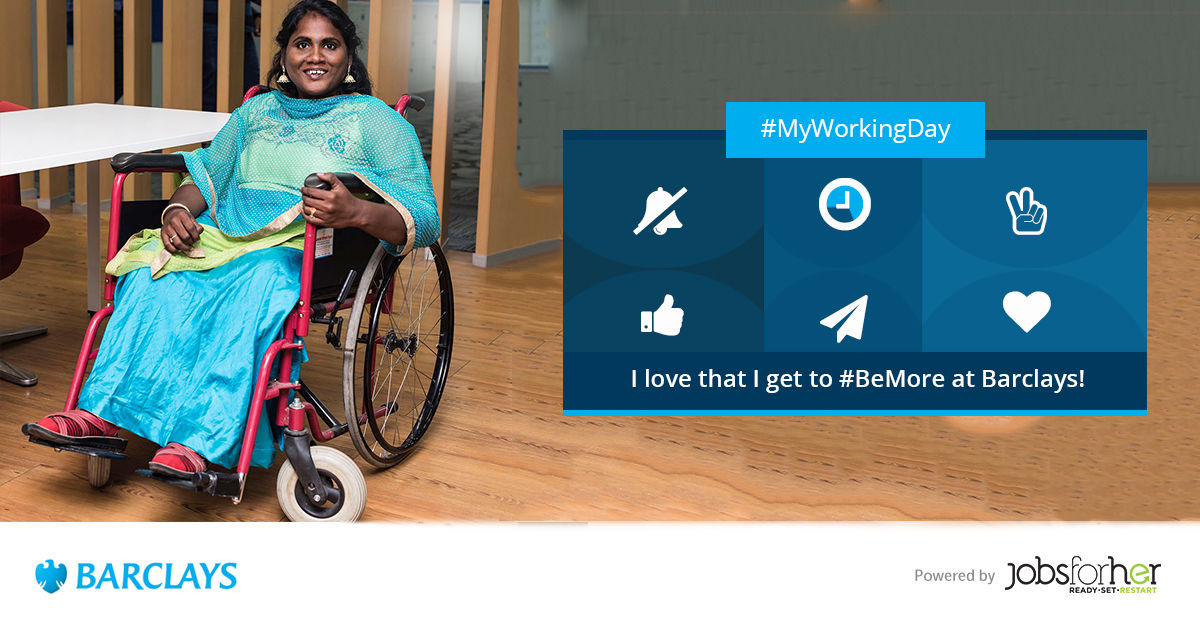 Malathi Raja is a Process Advisor at Barclays based in Chennai, India. She tells why she loves her workplace and what makes it so special to be a part of Barclays.
My alarm goes off… at 9 am every day. I start my day with a swimming class as it keeps me fresh for the entire day, and also because I am preparing myself for the National Swimming competitions.
My typical day at work… involves understanding customer requests and ensuring appropriate action is taken. Many of the requests are quite critical in nature, and I want to ensure we help our customers promptly, with sincerity, while maintaining high levels of accuracy at all times.

The most challenging day… was in April 2017, when I had to travel to Bangkok for a Wheelchair Basketball training camp for an upcoming International Tournament. The only glitch was that I had to organise my own wheelchair to manage my movement in the camp. I neither had a wheelchair nor enough money to have one. When few of my colleagues came to know, they quickly started a conversation and began mobilising people across teams to collect funds. They were able to arrange for a brand new wheelchair in a matter of few days. I was in tears when I got to know about the efforts they took to ensure that my journey doesn't end.
It motivates me… that whenever I come back to office after winning a tournament, my colleagues/managers appreciate and encourage me, to achieve more. They make me feel more valued not only as a professional but also at a personal level. Thanks to their encouragement, I'm planning to participate in competitive swimming tournaments in the near future.

I love my job because… I feel valued for not just what I do at work but also for what I do out of office. I'm encouraged at every step by my Manager, my colleagues and the organisation, that understands my requirements, and I am motivated to do more. The job gives me financial stability that helps me to pursue my ambitions along with taking care of my dear ones.
My biggest take-away from Life@ Barclays… is the feeling of being an integral part of the Barclays family. My colleagues have supported me in every way possible… without them I could not have travelled so far successfully.
I unwind after work… by continuing to work relentlessly towards my ambitions. I feel the only way to achieve success is to have a continued focus on goals we have set for ourselves.
Be More @Barclays APPLY NOW!