Microsoft Has a Secret Launch(pad) for Career-Break Women...
Neha
in
Women-friendly Companies
|
15 Mar 2016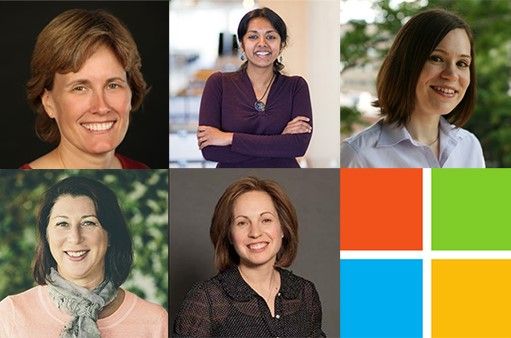 ...and it's called Springboard! Details unfold below...
[Bill] Gates has acknowledged the influence his wife and mother have had on him over the years. Just before marrying Melinda, Gates' mother wrote to the couple: "From those to whom much is given, much is expected." It resonated and Gates later cited his mother's encouragement to give in a Harvard commencement speech.[1]
Microsoft was launched by a man whose far-reaching vision and philanthropic foundation is changing the world to be a better place, every day. And the vision of the company is as big as its founder's:
Microsoft is the productivity and platform company for the mobile-first and cloud-first world. We will reinvent productivity to empower every person and every organization on the planet to do more and achieve more.
They have always embraced diversity and credit it for their multiple successes through the decades…


'Our results demonstrate that the collaboration of different cultures, ideas and perspectives is an organisational asset and yields greater creativity and innovation'


Microsoft believes that their continued success depends on the diverse skills, experiences, and backgrounds that their employees bring to the company. To help foster diversity and inclusion, Microsoft has a rich community of Employee Resource Groups (ERG) and Employee Networks (EN). These organizations provide career development, support, networking opportunities, mentoring, community participation, product input, and assistance in activities that promote cultural awareness. Their programs include speaker series, scholarship programs, community service, development conferences, and heritage celebrations.
'Being inclusive is not something we simply do, but rather it stands for who we are. We see our leaders and managers as role models in transforming the culture.'
To that end, this past fiscal year, they've developed and rolled out key priorities, which have now been woven into the Global Diversity & Inclusion Strategy and approved by their Board of Directors.
Part of their diversity initiatives is a fantastic program called SPRINGBOARD – to ease career-breakers back into the workforce after a sabbatical!
At Microsoft IT-India, we acknowledge the importance of a well-deserved sabbatical. What we also understand are the challenges women face once they decide to pursue their career interests after a substantial career break. Which is why we have designed a program that will help you make an easy transition back into the corporate world. With the flexibility to work flexible work hours and opportunity to work on live projects within Microsoft- IT, the program, aptly named Springboard, gives you just the right impetus to get your career back on the track, the way you want it.
The Springboard Program is a 6-months program which provides:
Flexible work arrangements to make a smooth transition back into the corporate world Live and strategic business projects in areas of Development, Automation Test, Program Management, and Service Operations. Ramp-up training to hone technical skills Project Guide, Mentor, and Buddy to assist you during the project Opportunity to interview as a full-time employee at the end of the program Attractive Monthly Stipend
What do I expect from the Springboard Program?
1) Firstly, you will be required to work for a minimum of 20 hours a week. However, you have the flexibility of fixing your work schedule in consultation with your Project Guide. 2) The projects will allow you to work from home; however, sometimes, you will be required to be physically present in the premises for project work and to attend meetings and special sessions, if any. 3) You will be assigned live projects which require skills to perform roles such as Software Developers, Automation Testers, and even Program Managers. 4) You will also receive relevant training that will prepare you for present-day challenges. 5) Finally, you will receive attractive monthly compensation through the duration of the project. 6) After project completion, you will have an opportunity to Interview at Microsoft- IT as a Full-time Employee (FTE) based on your performance during the program.
Microsoft is currently hiring for 2 positions in Hyderabad, and they really want a career-break woman to fill them both!
So, dust off that resume, give it a once-over, and APPLY for these TWO JOB-OPENINGS at Microsoft India!
[1] To Understand Why Men Need Women, Just Look at Bill Gates – Alyson Shontel, Business Insider, July 2013