Meet the Women of Our Fifth Ambassador Showcase
Kaajal Ahuja
in
JFH Ambassador Tribe
|
23 Jun 2017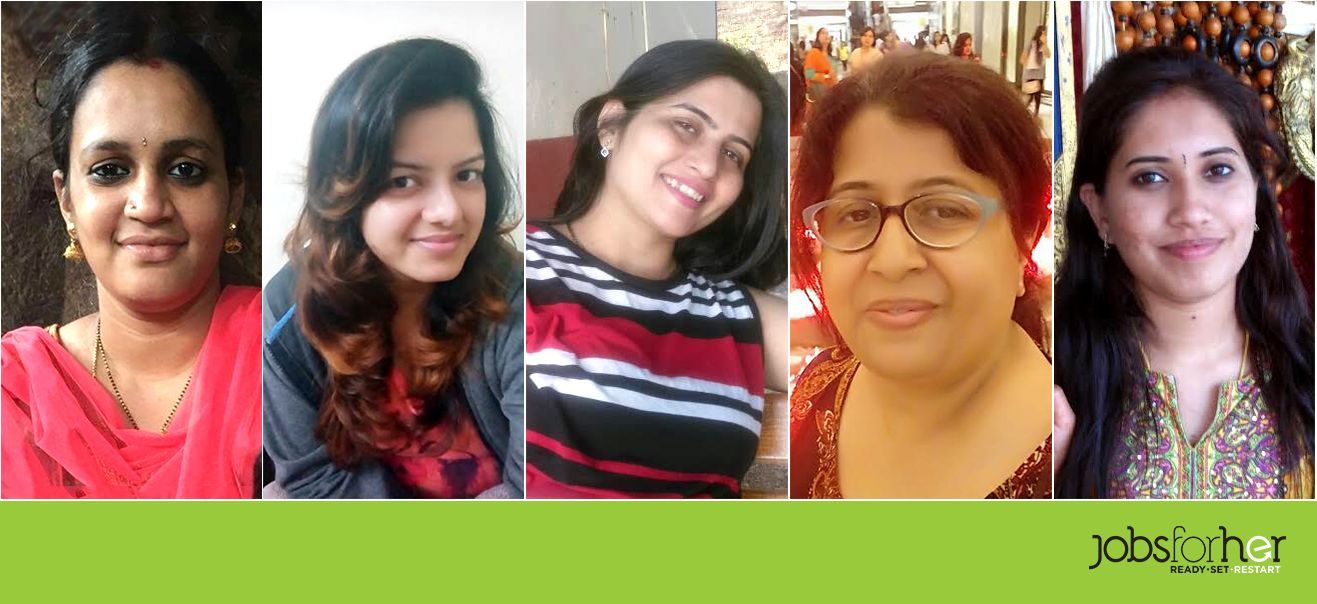 Madeleine Albright (Former United States Secretary of State), once said:
''There is a special place in hell for women who don't help other women.''
If that is true, then, every woman on our warmhearted group of JFH Ambassadors has a guaranteed seat in heaven (with a great deal of pampering too, we'd reckon), considering how committed they are towards getting each other back on the track of a career restart.
Privileged to be showcasing them every once in a way, here's our 5th Ambassador Showcase.
Become a JFH Ambassador and join this tribe of women by signing up here.
Meet our Ambassadors, our Champions…
Sudeshna Goteti, a B.Tech graduate, and mother to a 2-year old, seeks a career in the software profession. Although she has no prior work experience, she now looks to become financially independent, so that someday, her daughter will essay the values that her mother once role modeled.
It's the first time ever that she has come across an initiative as grand and beneficial as the Ambassador Tribe's, and is grateful for being a part of it.
Pradnya Sudesh Shinde, an MBA in Finance, has 14 years of experience in Investment and Insurance Banking. She stepped away from her career as traveling and working night shifts weren't in accordance with her family life.
Today, after a 3-year break, when her daughter is a well-groomed and independent child, Pradnya looks hopefully towards a restart.
Motivated by being a part of the JFH Ambassador Network, not only does she have access to a multiplicity of job openings that are posted on the group, but also to the knowledge of the other experienced women on the group, on the scope of a second career.
| Wish to RESTART your career? Sign up with JobsForHer and gain access to a multiplicity of career resources.
Sarmistha Mithra, with honors in Economics and 17 years of experience in Sales and Marketing, has worked in a variety of industries like cement, construction, insurance, and banking.
Surrounded by the enthusiastic women of the Ambassador Community, Sarmistha is keen on restarting her career after a 2-year break, not just for the financial freedom that comes with it, but also for the feel good factor.
Noopur Tanwar, a freelancer in the area of Android development for the past two years, is keen on entering the corporate world today. Although she secured a job soon after her graduation, she chose to stay home and tend to an ailing mother.
After her mother's demise, Noopur pursued customized costume designing as an Entrepreneur and subsequently focused on Android Development in the years ahead.
She is currently pursuing Udacity Android Nanodegree and can work in the areas of Visual Merchandising and Android/Java Development.
It's been a great experience being part of the Ambassador community, she says, because apart from the latest information on job openings, the energy of the group equips her with the power of self-motivation.
| You are the Writer of Your Story - Smitha Jacob's Restart Tale
Seetha Lakshmi has completed her MBA in Shipping and Logistics, is a mother to a 6-month-old, and aspires to be an accomplished painting artist someday.
After working in the Shipping industry for six years, she stepped down to take care of her newborn. It has been 6 months since she's part of the tribe, and Seetha loves the energy on the group. Not only does she feel confident in making a comeback, but is glad that she too is in a position to help and guide her peers on the group.
The JobsForHer Ambassadors are a network of highly motivated women who have varied work experience and have taken a career break owing to personal reasons. Our Ambassadors are our brand propagators, who share our vision and are determined to restart their career while helping other women start, restart and rise.
If you wish to be part of this group of women who never miss an opportunity to help one another in their career journeys, then join our network of Ambassadors by signing up here.
Find full-time, part-time, work-from-home, freelancing and internship opportunities on the JobsForHer portal.
About the Writer:
Kaajal Ahuja is a commerce graduate, who worked in the field of Customer Support first at HDFC Bank, and then at Dell International. During her 11-year career break, she spent four years volunteering as a Teacher at a government-run educational institution and also ran her own enterprise – 'Hey Gorgeous' – alongside, for 8 years. It was during her break that she discovered her love for writing, and is now back, working part-time as a Senior Content Writer at JobsForHer. She is married and is an upbeat mommy to a 13-year-old.