Juggler By Birth (#BlogathonForMums)
Neha
in
Working Women
|
14 Dec 2015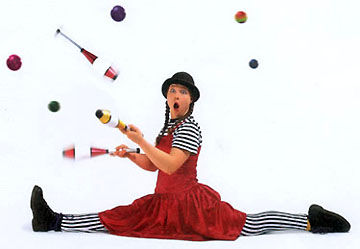 This entry is part of the Babyoye Blogathon for Mums.
I got up early did my workout and started on my routine, switched on the geyser, finished my chores in a flat 10 min. Ironed Shriya's uniform till it was crisp and was eager to be worn. Went into my kitchen fully prepared, doing all the chores in a perfect orchestra, boiling milk, dosa, chutney, rice, sambhar, and beans sad. My guiding soul in this battlefield was the clock, my Lord Krishna. Once done, I made morning tea for my in-laws, one for myself till my little one got up; I had some me-time and planned to spend it my garden reading newspaper and do some deep breathing, Oh! A blissful morning in addition to the excitement of going to office what more can I ask for.
My maid came in wished me and started on her updates about our next door neighbour, tv serial and her mother in law. It was a routine I did not like to miss and so getting up little early always gave me this bonus. Let me introduce you to myself, I am Seema Nayak working as Executive Asst, married to software techie have a daughter Shriya and supported by in-laws.
It's time for my little one to get up and so I spend beautiful time, while doing her activities like brushing, bathing and getting her ready for school. Breakfast is her favorite so it takes less time for me to feed her. Her daddy comes back from his morning walk and takes his little one to a bus stop and steals some time to listen to her banter.
Both of our lunch boxes are filled by my MIL and then they leave for their morning walk. Both I and my hubby have breakfast, update each other on personal and official stuff and then get ready for our office. Reach office in time and start with a smile on my face, I finish my task for the day, get an appreciation mail from my boss and my day could not have been better.
I reach home and find Shriya calling my name repeatedly. I respond, but she still keeps calling.I open my eyes and she tells me that I am late by half an hour…Oh my God! To my horror or to my surprise I realized I was dreaming and so started my day working like a machine, nothing new but at an extraordinary speed. That perfect day was just a reverie!!!! Whereas in reality it is exactly the opposite, though everyone at home is used to this I always wished about having that perfect work-life balance. A life where I can be free of the guilt of not being there or done that.
Every day, I feel that from tomorrow things will be better and I will balance it in an improved way, that one hour of my sleep will share it with my family, friends and myself, but it never happens. Each day, I head battlefield and return back tired, drained and bruised. When I read about articles on striking perfect balance I always felt that it's me who has that deficiency or incompetence in managing time in an effective way. Earlier days saints and gurus went in search of nirvana but today living life in contentment is nirvana.
With disturbed mind, I reached out to my little soul and asked her did she miss me, does she mind that sometimes she has to go without her dress ironed, run to the bus stop, will she hate me for sleeping before her while reading her favourite story book. Her answer was my moment of accomplishment, she said "Amma, I see you tired when you come back, still you make dinner, get my homework done, prepare for tomorrow and try to put me to sleep but I feel happy to see you doze off for I know you go to office just like Mrs. Lucy my teacher who comes to school to teach me and I love her, so she must be doing same things like you to be there". I was happy and relieved to know that the guilt with which I am living for not striking that balance is all mine for the people whom I matter will always look beyond!
Oh, the work-life balance that I was talking about. It's just in mind and I need to just the juggle them well!
Seema Nayak is an Executive Assistant, married to a software techie and they have one daughter.
If you're looking to start your career, or for new and exciting roles to showcase the skills you've gained along your professional and personal journey, you can find them at www.JobsForHer.com. Create your profile, upload your resume and start job-hunting today!