JobsForHer's First Employee Finally Shares Her Restart Story!
Kaajal Ahuja
in
Restarter Stories
|
09 Mar 2017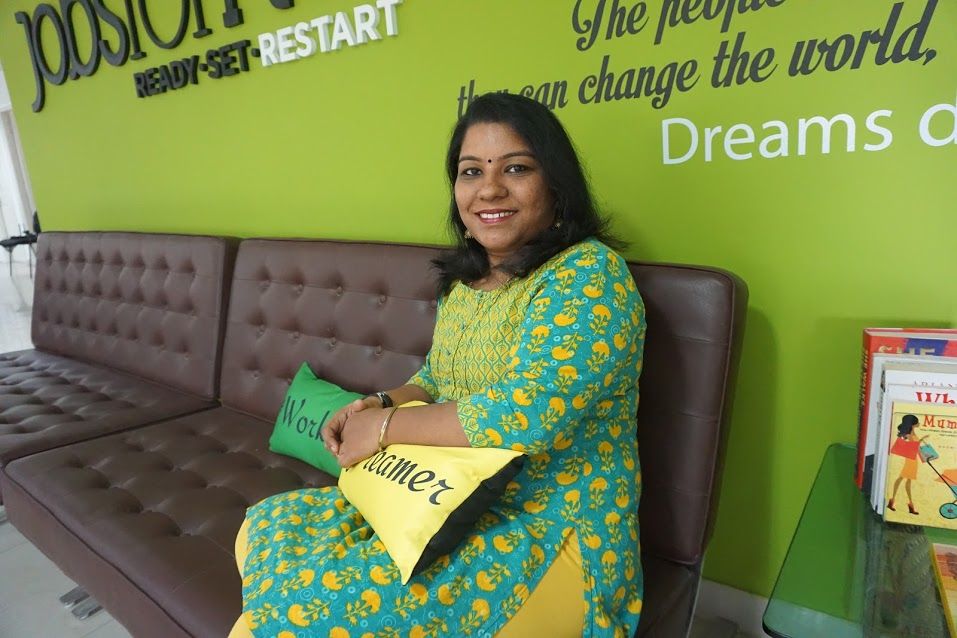 Gayatri Prasanna, the Assistant Manager for Client Servicing at JobsForHer, was our very FIRST employee.
An indispensable part of our then tiny, ever-growing team, Gayatri has left no stone unturned to help take this firm to where it stands today.
From being the one person that sat opposite our Founder, Neha Bagaria, in a co-working space, to moving 3 offices in 2 years, to now being part of a 35+ member team, Gayatri has certainly come a long way, and how!
With a career history in large firms only, the start-up world and its culture was an ultramodern concept to her. But, little did she know that ALL of her past experience would culminate to come handy in the multitasker role ahead of her.
Today, as JobsForHer AND Gayatri both proudly touch their 2-year milestone, I am privileged (and thrilled!) to be journaling her odyssey so far.
From handling admin issues to internal recruitments, identifying potential clients to closing a deal, following up leads to end-to-end client servicing, Gayatri has had her hand in every matter that mattered.
And all that she did and still does, she does with élan.
Before I rattle away the names of all those giant corporates that Gayatri worked with in the past, her achievements during her term with them and the like, let me say with great pride that Gayatri's sole driving force in returning to work, was her husband; someone who never ceased to push her towards her second career before she got complacent in her career break. And to support this, he'd constantly keep her abreast of current work trends, and even encourage her to make space for low salaried roles to start with, only so that she could get back in the game.
In fact, her husband (and son) accompanied her on her first round of interview for JobsForHer. And while she sat in one coffee shop with Neha, they sat in another across the street.
We doff our hats to the spirit of such men, as they consciously or otherwise, support our cause.
Belonging to a family that would often relocate owing to her father's defense background, Gayatri was well accustomed to change. After completing her education between Tiruchy & Hyderabad, she moved to Chennai to look for a job, while staying with her uncle.
She landed her first job with Slash Support in the field of Tech Support. One and a half years later, Gayatri felt the need to spend time with family since she'd been away a while now. So she moved back to Hyderabad to live with them.
At the time, the newly launched Tata Sky was on the lookout for someone for Sales Support. Gayatri grabbed the opportunity as it was an extension of what she'd been doing previously.
In the months ahead, Gayatri settled in well, made many new friends and also utilized this time to get to know the city.

One and half years later, she found an opportunity with Monster in the field of Client Servicing, where she was involved with customer support and retention. Apart from the work experience, her 3 years with them taught her life's most wished-upon lessons – patience and perseverance.
And she's mighty thankful (to date), that she had a chance to cultivate them.
Soon, it was time to shift focus to the personal front. Gayatri and her family moved to Chennai to find her a suitable match. And in no time, they did.
At the time, she was working in the capacity of a Recruitment & Talent Acquisition Specialist with Everon Education, which she continued with, post the wedding.
In time, Gayatri conceived. But due to certain complications with the pregnancy, she was advised bed rest. And so, she stepped away from a thriving career, to nurture the life of her young one.
Soon after her son was born, the family relocated to Bangalore for her husband's new job role.
By the time their son was 1 year and 3 months, Gayatri's husband was literally breathing down her neck to find her place in the workforce again.
After she'd settled her toddler into daycare, Gayatri was lucky to find an opportunity next door, with Sutra HR. She'd been with them all of 3 months when Neha first called her.
And the rest, my dear readers, is as we already know it…
With Gayatri, we embark on the 3rd year of our thus far rollercoaster-ride of enabling women across India to start, restart and rise in their careers. And, we want YOU to spread the word that the face of the Indian economy is shape-shifting into one that is infinitely more recognizable – a gender-equal one.
START, RESTART and RISE in your career through us HERE, today, and tell other women to do the same!
Although Gayatri Prasanna is a graduate of Microbiology, she found her interests inclined towards the fields of HR, Recruitment, Sales & Client Servicing. She has previously worked with Slash Support, Tata Sky, Monster, Everon Education & Sutra HR respectively. Gayatri is currently also pursuing an MBA (through correspondence) in Human Resource Management. She is married and an upbeat mommy to a 3-year-old.
About the Writer:
Kaajal Ahuja is a commerce graduate, who worked in the field of Customer Support first at HDFC Bank, and then at Dell International. During her 11-year career break, she spent four years volunteering as a Teacher at a government-run educational institution and also ran her own enterprise – 'Hey Gorgeous' – alongside, for 8 years. It was during her break that she discovered her love for writing, and is now back, working part-time as a Senior Content Writer at JobsForHer. She is married and is an upbeat mommy to a 13-year-old.