It's Your Time To Shine!
Kaajal Ahuja
in
Back to Work, Restarter Stories
|
29 Sep 2016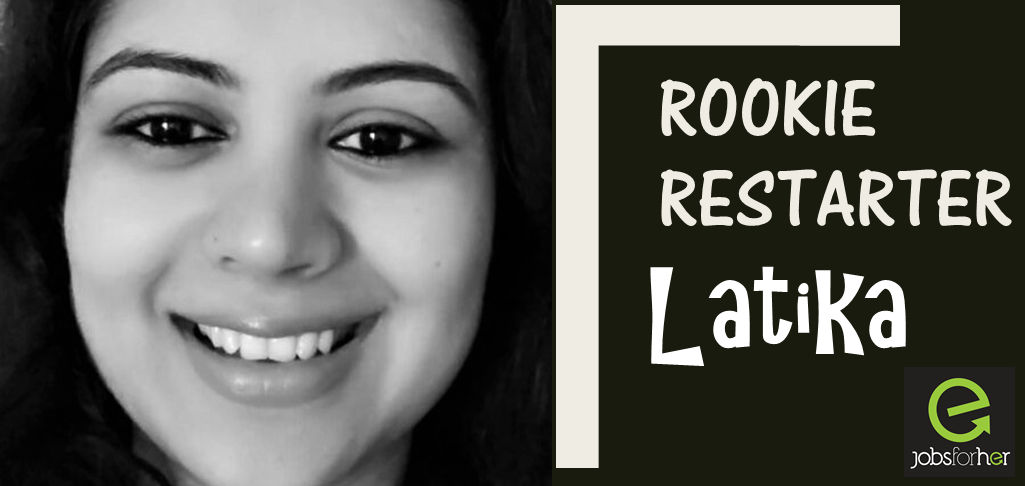 Latika Raman and I must've exchanged over 20 emails, simply to settle on a time convenient to both! But her patience and willingness to accommodate the changes each time is something that stayed with me…
She seemed in no hurry or need to gain fame through her story across our channels. In fact, Latika's voice only conveyed that she already IS where she'd always want to be! A place that she would trade for none other; amidst all that mattered to her… her daughter, husband, career and family.
Here's a glimpse of the dialogue between us…
1. So we finally get a hold of each other, Latika! Please tell us a little about yourself, and how your professional journey began…
(Laughs) Yes Kaajal, we finally speak! Well, originally from Gurgaon, I'm an English Literature graduate who, believe it or not, wasn't sure about what she wanted to do post her college/masters! In 2007, when I started job hunting, I got a call from CEB Global for an interview for a Web Associate role. Back then, I had absolutely no knowledge of web platforms or tools and was quite sure I would not be selected; but I did assure the hiring manager that if given a chance, I would learn all that's required in no time at all!
And that's what I did when I bagged the job! I learned practically everything, ON THE JOB, which was a challenge then, but now when I look back, I'm proud of that phase of my life!
I quickly moved up in the team to become a Web Specialist, and after 2 years, I began working as a Web Content Analyst. That role was the first of its kind in the company and was specifically designed for ME! I was with CEB Global for five years before my husband found a job in Bangalore because of which we moved in 2013.
2. That is amazing! And when & how did you meet your husband, if I may ask?
(Chuckling) The first time I saw him was at a tutorial center in Delhi where I was training for the CAT exams. He was then my teacher! But nothing really happened at the time. It was only when we reconnected online in 2008 that we hit it off. He was completing his MBA from IIM-C at the time, after which he took up a job posting in Gurgaon. In 2010, when we knew there was no going back, we tied the knot!
3.Wow! Just shows that you both WERE destined to be together! What course did YOUR career take after you relocated to Bangalore?
I was fortunate to find an opportunity with Cisco in the capacity of a Business Analyst in 2013. Luckily for me, when I conceived in 2014, my team was structured in a way that I had to work from home most of the time, and this turned out to be a blessing!
A month before my due date, I put down my papers. Somehow, I always knew that I will be with my baby for a year at least, so quitting seemed like a better option than taking a long leave. Also, my husband was going to the US for a project, so I decided to accompany him. In April 2015, we moved to Providence, Rhode Island for 6 months.
4. Did you'll then return to India after 6 months?
Yes, we did! I had in fact begun warming up to the thought of a career restart. After a few weeks, when my daughter was around 13 months old, my husband and I mutually felt that I was ready to go back to work. I began
applying to companies. Since I had the backing of a name like Cisco on my resume, there were a good number of interview calls that came in and a couple of decent offers as well; but I had to let go of all those simply because of their timings. I wasn't ready to stay away from my little one for a stretch of 8-9 hours!
During this time, my husband recommended JobsForHer.After signing up on the website, I received a call from Helen Isaar of Pennylane Social. As I wasn't sure if I'd do justice to the role in question, with a heavy heart I turned down the offer.Shortly after, Kiran, Helen's husband got in touch with me for a Work-From-Home role in Content Marketing, for his company Tydy! And that was it! I couldn't have asked for anything better! My daughter was 17 months old by then. We were surprised at how she accepted the change with the least amount of fuss! We also got our respective parents to come over to help make the transition easier for her and us.
5. So now tell us about what can't be seen from the outside… your challenges...
I think the biggest challenge was to find a job that made me happy, but at the same time allowed me to take care of my family, too. Getting back to work HAS BEEN a positive change for everyone in the family, but there is a
schedule we have in place for every member including our helpers like the cook, maid, and the nanny to keep that change positive.
I'm delighted to be stepping out of the home, earning again, finding time to talk to my husband in the car, and learning from a wonderful set of co-workers. But I have to mention that people at Tydy have been a huge support in terms of helping me create a work-life balance, which is so critical when you have such a young child.
I am not required to be at the office every day, and I can decide which day and what hours of that day I want to spend at the office! On other days, I just work from home, because of which I get to spend a whole lot of time with my daughter.
6. Our restarter stories are read by several women who themselves wait with bated breath for a career restart. Would you like to say something to them?
I think what worked for me and also can for every woman, is to not let a career break affect your CONFIDENCE.
Women take a break to raise a child or to take care of a family member or may take a sabbatical to think about what they want to do next. If you took a break for any of these reasons, then you should be PROUD that you took this decision for the people you love!
On the job front, I feel this can be an opportunity to not only restart, but also redesign your career. Start afresh, look for roles that excite you, and find employers that understand your role in the house, and are willing to offer you some flexibility. Take this break as an opportunity to learn new skills, and do something different so that it's a break that you would love to talk about.
Moreover, don't be bothered about the 'time gap' - 6 months, a year, 5 years or more!
Everyone can and should be able to go back to work when they want to and are ready to. Don't be apologetic about it. Try not to rush and accept any role that comes along only because you want to start working again as soon as possible.
It WILL take some time for you to get back to your previous pace at work, and there will be many hard days where you will feel like you cannot manage both (a house and a job), but just hang in there. THIS TOO SHALL PASS!


Latika is our #Rookie Restarter!
While nurturing her 2 year old baby girl at home, SHE HAS FOUND HER WAY BACK through the many big and small stumbling blocks in her way. And this, because her eyes were steadfastly set on returning to path that she once left behind.
If you share Latika's passion to restart, then come find your calling with us HERE.
Tell us What Kind of a Restarter Are You?
#RestarterRevolution
Latika Raman is currently working as the Marketing Lead at Tydy. She has previously worked with Cisco Systems and CEB Global respectively. She has completed her B.A. & M.A in English.She is married and a doting mother to a 2-year-old.
Whether you are just starting out, already working or want to restart your career, visit our site, browse our bank of part-time, full-time, work-from-home, and freelance positions in a wide array of women-friendly companies! Create your profile, upload your resume and start job-hunting today!
About the Writer:
Kaajal Ahuja is a commerce graduate, who worked in the field of Customer Support first at HDFC Bank, and then at Dell International. During her 11-year career break, she spent four years volunteering as a Teacher at a government-run educational institution and also ran her own enterprise – 'Hey Gorgeous' – alongside, for 8 years. It was during her break that she discovered her love for writing, and is now back, working part-time as a Senior Content Writer at JobsForHer. She is married and is an upbeat mommy to a 13-year-old.