In the End, Love will Keep us Alive!
Ujwala Thirumurthy
in
Weekend Reads
|
04 Nov 2017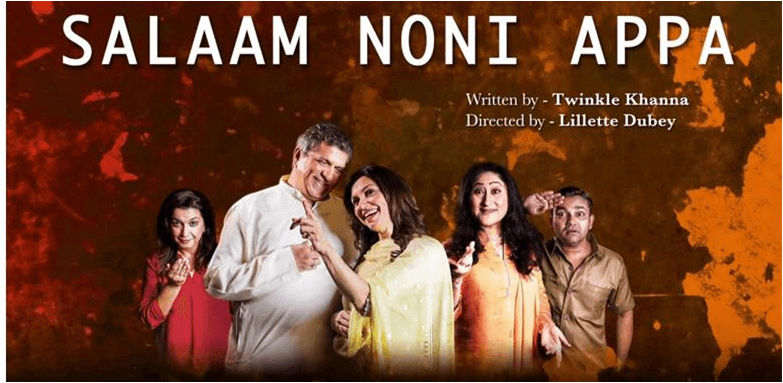 "A real theatrical experience shakes the calm of the senses, liberates the compressed unconscious".
~ Antonin Artaud, Writer, Director.
"Salaam, Noni Appa" was one such experience.
A true reflection of society and culture, the play which premiered in Bangalore last week is an adaptation of a short story from actor-turned-author Twinkle Khanna's second book, "The Legend of Lakshmi Prasad".
Set in the background of the rich Aga Khani culture, the play celebrates feminism and the freedom to make one's life choices minus the regret!
It gives you the goosebumps, it makes you cry, it sends you into peals of laughter, it awakens the romantic in you, but most importantly it makes you realize that love is all-pervading and the unconditional support from family and friends is what keeps us going.
If you are on a career break looking for support, we're here to provide you with all that and MORE. SIGN UP HERE NOW!
Directed by theatre person and actor Lilette Dubey and performed to perfection by a cast that has wowed us on screen, this 90-minute play is a heartwarming tale of two sisters, the protagonists, who seek comfort in each other in the "winter of their lives".
Their brilliant portrayal of two opposite-natured people instantly transports you to a surreal yet believable world you wish you were a part of. Their contrasting characters bring in humour and pepper the play with just the right amount of drama.
The Plot
The plot revolves around Noni (Lillete Dubey), and Binnie (Jayati Bhatia) whose worlds after marriage, children, and widowhood come together as they share a laugh, have a shoulder to cry on and talk about everything under the sun – from discussing how to reduce flatulence and acidity to finding inner peace.
Upbeat, vivacious, and loud, Binnie sprinkles hope, laughter, and love in every moment she spends with her elder sister (referred throughout the play as Noni Appa) who is, in contrast, a sophisticated woman with a strong sense of self and commands respect wherever she goes.
My favorite Binnie moment is when she explains why women should never worry about their age.
"Age is just a number, but depends on who's asking", she says much to Noni's bewilderment.
Worried about not landing a job because it's too late? Our inspiring restarter stories will help you regain your confidence to get back on track.
Binnie, who plays matchmaker to Noni's daughter Mallika (Meher Dar) is supremely entertaining as she goes over one NRI boy after another trying to find the perfect match for her niece. She is also constantly looking for exciting things to do with her sister, the latest one up her sleeve being Yoga.
The Yogi
Along comes Yoga Master Anandji (Darshan Jariwala) in the next act. A comedy of errors ensues as he sets his two new pupils on the path of meditation. Binnie's unapologetic nature shines through with the clever use of Hindi for maximum impact, while Anandji's classic comebacks are top-notch.
"You're performing the kapalbhati (or breath of fire) like a buffalo suffering an asthmatic attack", he jokes much to Binnie's horror.
"Are you calling me a buffalo"?
"No, I'm saying you might have asthma!"
The fact that Noni Appa uses a hearing aid provides for some lighthearted moments throughout the play, like the time she falls asleep during meditation because she's unable to hear the instructions of the yoga master.
The Twist
Gradually, a subtle, untold romance develops between Noni and Anandji, a married man who is a few years younger than her.
Having realized what she has gotten herself into, you find Noni who has lived all her life as a woman epitomizing elegance and poise, at a crossroads. She must now choose between companionship and respectability.
"I don't want that man entering this house. Promise me, you will not let him enter this house again", she tells Binnie fearing what society will say about her unethical behavior.
You feel for Noni. You're left wondering what she will eventually choose. What follows is a classic case of self-realization and acceptance.
There's Something for Everyone
In every act of the play, you sit up, take notice and relate to each incident and emotional rollercoaster the characters go through.
In its entirety, the narrative technique is brilliant and makes for a gripping piece of drama.
Short stories always make a great read over a cup of tea in the evening. But turn a story into a play and you have an evening that will live on in your memory, forever.
"Salaam, Noni Appa", brings together two powerful women for the first time - one with her sensitive writing and the other with her brilliant direction - turning a work of art into a masterpiece on stage.
Twinkle Khanna is proof that it's never too late to start doing something you love. You just have to be confident.
And we're here to help YOU regain your foothold in the workforce.
Whether you are just starting out, already working or want to restart your career, visit our site, browse our bank of reskilling courses, part-time, full-time, work-from-home, and freelance positions in 4000+ women-friendly companies! Create your profile, upload your resume and start job-hunting today!