How we Partnered with People & Management for a Round Table Series on HR
Priya Desai
in
Events
|
12 Aug 2017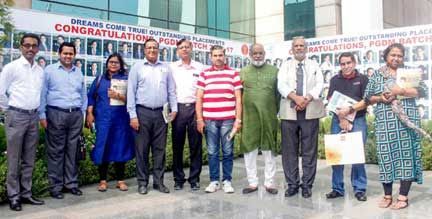 JobsForHer was the outreach partner for People & Management's series of Round Table Discussions, held on 1st and 2nd of August 2017 in Delhi and Ghaziabad. The round tables were hosted by Asia-Pacific Institute of Management and Jaipuria School of Business, and covered four diverse topics primarily focussing on:
Human resource management issues in relation to digitisation and HR technology;

Sharing and exchanging of best practices for employee engagement

Debating Health and Wellness together with the insurance component

Advocating executive education and continuous learning processes
Both forums attracted about 30 delegates plus students who put forth their views to approach 21st century business challenges through planning and strategic execution.
The first round table commenced with a general round of introduction of all the delegates and moderators. The groups elaborated on the implications for employers with regards to managing the different expectations of employees.
Priyanshu Singh, Managing Director & Country Manager, Adecco Group India moderated the session on HR Technology. After sharing his thoughts with other delegates, he summed up that technology can never pose a threat to HR jobs. Instead, it acts as an enabler for creating more job opportunities. Taken in context of recent challenges, he suggested, "Our problems are simple but we make them complicated. At the end of the day it will build up and we will give up on solving them."
The group discussing Employee Engagement was led by Anyuta Dhir, Director Human Resources, Veolia India. She said, "Like it or not, people have opinions and whether they (employees and organisation) want to express them through social media platforms, as a means of employee engagement, is their choice. I believe that CSR activities bring out the best in employees as they actively participate in different philanthropic events. Thus, HR can play a major role in implementing effective employee engagement activities."
Deepak Bharara, CHRO, Lanco Infratech Limited, headed the session on Health Wellness and Insurance. According to him, 59% of employees admit that wellness programmes have a positive effect but unfortunately just 19% who devote time to these activities. In a multi-generational workforce, millennials spend 22 hours a week on their cellphones, and only 9 hours/week on exercise. It is easy to preach but difficult to follow. Thus, real participation in, and the sustainability of initiatives like employee wellness programmes, remains a challenge.
Prof (Dr P.) S Chauhan, Officiating Director, Asia-Pacific Institute of Management, took charge of Executive Education. Mr. Chauhan stated that while imparting training HR personnel should have a proper understanding of the type of people attending such programmes. Moreover, it should be based on real-life examples, and theories should be taught only when necessary.
A highlight of the two day Round Table sessions in both venues was a two-fold presentation by guest presenter Kim Franzen from The Change Express. Her presentation were engaging, and brought focus to the discussions being tabled.
Kim showcased the India HR Vision 2022, explaining how vision is the backbone for strategic development but change is an inevitable part of this process. Aligning with Kim's vision, the delegates also shared their vision for India which would enable growth in the where investment is long overdue.
The second part of Kim Franzen's presentation was on The Theory of Change Management. Kim demonstrated through a vibrant story line, that the process of change is inevitable, and must be accepted and used as a challenge to stimulate our abilities when handling changing situations.
On the second day of the Round Table, the session on HR Technology was moderated by Sunanda Rao, Business Head-Human Resources, Connect HR. Ms. Sunanda explained that the HR space has changed over the years, and automation in HR has made the work easy but has not rendered HR executives obsolete. In fact, it has given HR managers the opportunity to work on other areas of concern that were earlier neglected.
Sunil Srivastava, Mentor - HR, Get Visit App, gave his views on Health, Wellness and Insurance, saying that the health of employees is usually not managed efficiently by organisations. He adds that this particular segment is at its nascent stage in the country and it will evolve in the near future.
The session on Employee Engagement led by Debi Prasad Das, Member of Board, Growth Founder & Chief Mentor, Talocity Infosolutions Pvt Ltd., stressed on development and well-being of the workforce being the basis for Employee Engagement. Mr. Das added, "If you are committed to the employee development then he/she will be equally earnest in working towards achieving your organisational goals."
Executive Education, moderated by Vijay Sethi, DGM-Human Resources, Tata Housing advocated that "Continuous learning is not merely the learning of facts, it also involves training to adapt to the changing environment". He added that organisations falter in implementing the process due to lack of employee engagement.
All in all, this was an insightful series of discussions for HR, and we are proud to have partnered with People & Management on this fantastic initiative!