How the Country Head of Campaigns at Change.org Sees Change (as a Woman)
Neha
in
Working Women
|
30 Mar 2016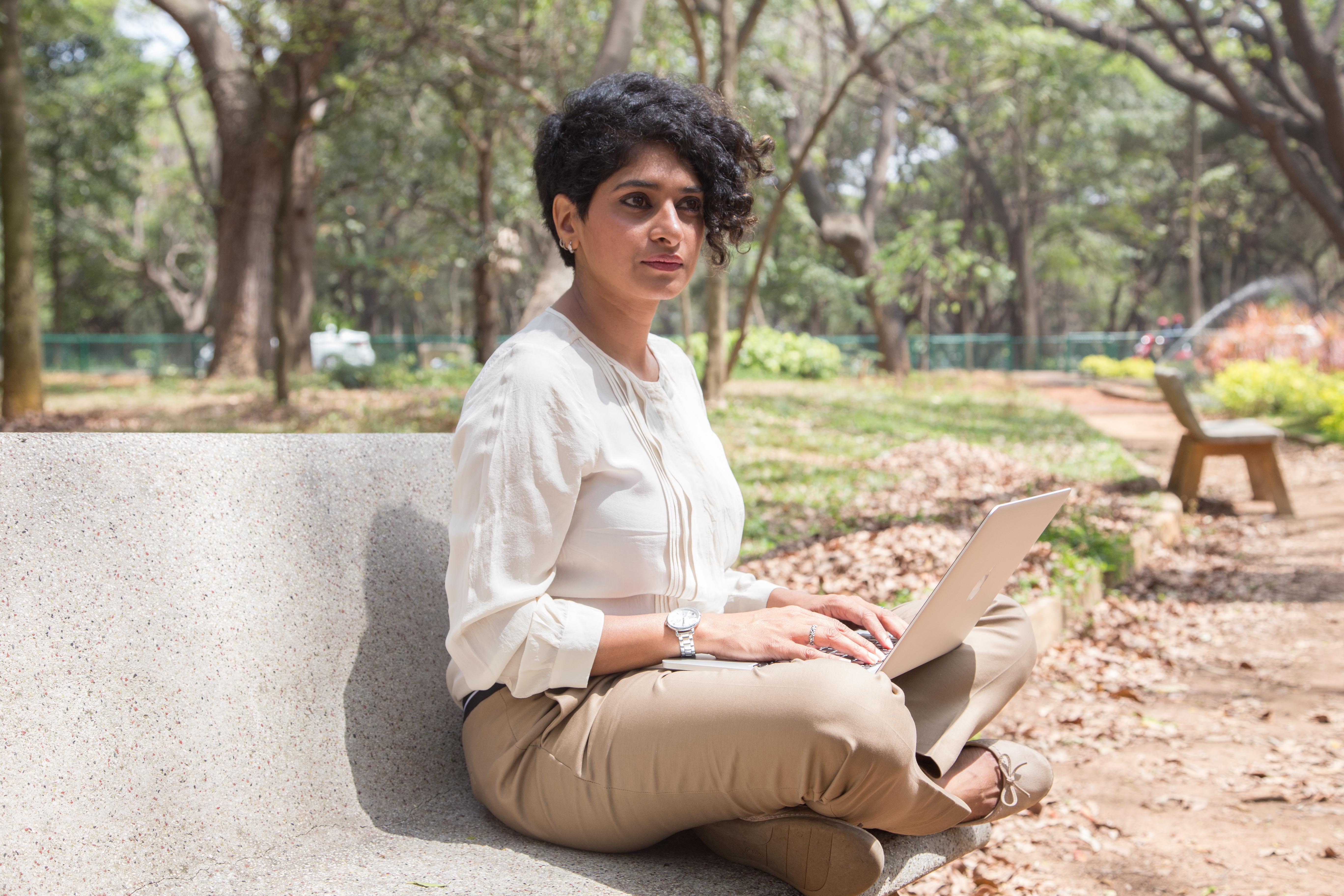 Preethi Herman magnetizes a room. It is impossible not to be drawn to her quietly electric presence and then want to remain in it. While her fiery passion never wanes, her way is gentle, her communication direct, honest, and realistic. The Country Lead & Head of Campaigns for Change.org, she is the perfect combination of pragmatic business-person and sensitive change-maker.
She has also been an integral part of "1 Billion Rising" in India – the biggest mass action to end violence against women in human history, which began as a call to action based on the staggering statistic that 1 in 3 women on the planet will be beaten or raped during her lifetime. With the world population at 7 billion, this adds up to more than ONE BILLION WOMEN AND GIRLS.[1]
Preethi Herman is moxie manifested and her enthusiasm for advancing the position of women in India is contagious.
Here is what we spoke about:
Preethi took a short(ish) planned break in her career and has deep empathy for other women whose breaks were longer and/or who didn't have it easy when returning to work. While hers wasn't for a new marriage, or to raise kids, she works with enough disempowered women to know that the struggle is real and that the emotional, mental, and physical toll of returning to work and trying to balance varied, oftentimes head-on-colliding lives, is undeniable.
However, she has unflappable faith in the mental, emotional, and physical strength of women.
On women returning to the workforce and struggling to keep up with changing pace, accelerated management tracks, and fitting in with team members during and after work-hours, she says,
"You cannot address a woman's problem with a man's language. A man is not EXPECTED to do as much as a woman is inside the home. The amount of work that is required to be done inside the house, or with one's children, is in itself a full-time, unpaid (monetarily) job. Therefore, we have to rethink HOW we are bringing them back to work."
Change.org is less than 5 years old in India, born of the need to fuel and channel the rage that people feel at their inability to change what's wrong with our government, our society, and our cities. The world on Facebook already wants to activate change. Given that one third of the Change.org users have been part of a winning campaign that get started on the portal every day hour and minute (142,653,639 people taking action, and counting!).
They see about 2000 campaigns a month, and a lot of them are started by mothers. Their data has shown them that even though men are more active on the site, it is the women's campaigns that are more successful. What this tells them is that women are better storytellers and tell their stories with more passion. After an incident of child molestation at a local school, one Bangalore mum got the State government to issue guidelines for schools to ensure safety of children with regard to child abuse in just 7 days!
Her secret to achieving success is being ambitious and acting on it. After a break one's self-esteem takes a kicking, but once you start, independence is a high. She believes in constantly role-modelling for other women, because only when you see that it is possible in others can you believe in yourself. This is a huge reason why she is a part of 1 Billion Rising. To show women who fail, and then RISE after it. We are always dealing with a question of privilege when it comes to women's issues – at home and outside of it. Who holds the privilege in the situation? What happens when you are dealing with NO support?
"In our country, women aren't very forthcoming, verbally or otherwise, with their feelings, fears, traumas, or struggles, to someone in management, even someone assigned as a mentor. Organizing and facilitating peer support groups is of paramount importance keeping one's female workforce happy and motivated."
Her work with women in the Zila and Gram Panchayat settings illustrated this consummately. After training them and then getting them hired for the posts, the women would quit. When they did a basic survey, the answers that came back were: I feel so alone. I am tired of fighting. These women were dealing with challenging, and often violent backlashes from the men in their communities for crossing the boundaries that they had.
They realized then that they needed to create peer-to-peer support groups for these women, to give them physical, mental, and emotional backing, from others around them. Women who are dealing with an irate husband won't talk to their mentor about it. They'll talk to another woman about it, as a friend. It was a question of solution and scale, which when they did, took care of the issue.
"I pursue excellence. I vouch for myself and my team in that endeavour."
Durga, the Director of Communications at Change.org chimed in at this point with her past experience as a woman in a not-oft female-dominated field in India – TV journalism. It was a 24/7 job and the women of her family just could not understand why she hadn't pursued a bank or a government job, instead – one that had cushy hours and reasonable pay.
Her mother still doesn't get it.
Her father, interestingly, was her sole champion then and her husband took on that mantle of support after she married.
It is important for me to have my own identity, and if it wasn't for my dad and now my husband, I wouldn't have had the courage to pursue it.
However, both Preethi and Durga were explicit in their rationale of this. Durga's father, like many Indian men of his generation, had more exposure to the world and its possibilities for both men and women, than did her mother. Her mother's opposition was born out of a fear for her daughter – and unfounded aside, her fear is understandable to most of us. This is why it is so important to be the change and pursue the dream, in spite of the odds.
Preethi's advice: Women are constantly told not to do stuff – don't listen to that. DO STUFF. Challenge the norm!
[1] http://www.onebillionrising.org/about/campaign/one-billion-rising/
JobsForHer met Preethi Herman & Durga Nandini of Change.org at the recently concluded SURGE conference in Bangalore.