How I Knew Sapient was Serious about Bringing Women Back to Work
Neha Bagaria
in
Founder's Blog, Women-friendly Companies
|
22 Mar 2017

When I met the Head of Employer Branding, India, of Sapient in Delhi last year, I knew Sapient was different.
At JobsForHer, we meet several companies every month and we see a wide range of attitudes and mindsets toward women on a career break. At one extreme there are companies that have no problems proclaiming that they do not want to hire women in general, women on a break most certainly not; one even told us that they don't want to hire mothers! And then, on the other extreme are companies that are working closely with us to understand how they can cater to the unique needs of women returnees so that they can make their workplaces returnee-friendly and welcome women back to work.
| Read More about 7 Ridiculous Statements Made to Us by Dinosaur Companies...
When I met them, it became apparent that Sapient is a company that stands out on the most returnee-friendly side of this spectrum. Because Sapient is committed to making second careers a success. This is not a checkbox for diversity, this is not CSR, this is a well thought-out, formulated, and carefully executed program – and all especially for women who have taken a break in their careers and are now ready to join the workforce again. Women like I once was, what many of the women on my team once were, what you are now.
Which is why you find features like:
1) Hiring women on FULL-TIME payroll, not as interns (which is typical of returnee programs), and
2) Focusing on their ramp-up time & integration by linking each woman to a workplace sponsor for 6 whole months
| Browse Sapient's Jobs on our portal...
Because, Sapient understands the immense potential your talent pool possesses – women who are experienced, qualified, capable, ready to prove themselves again, settled, mature, and available to join companies immediately.
At the same time, they understand that when you come off of a career break you may be nervous about jumping straight back in - the teams at Sapient have been sensitized to this and true teamwork is what will set SPRING apart. Your sponsor is there to guide you, help shape your work for the company, and SPONSOR you for credit, for an escalation in your career, for whatever it is you need in the workplace to have equal opportunity to prove yourself through your work.
| Read More about Day 1 of My Career Restart and What it Taught Me about Time Management...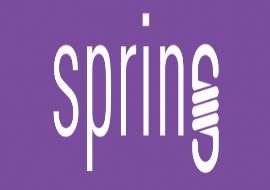 Which is why JobsForHer is proud to be a part of this journey with Sapient as they launch their brand-new flagship Women Returnee Program program SPRING; one that we hope will set new precedents of how returnee programs should be executed across India!
Through SPRING, Sapient will enable women professionals who have taken a hiatus to return to the workforce, giving them flexibility and opportunity to recreate their niche in the professional world. The launch was under the umbrella of International Women's Day theme of the year - #BeBoldForChange.
"SPRING" aims to create a diversity balance within the organization by offering a springboard to women returnees to re-start their career in technology.
Watch a little bit of their launch from International Women's Day this year, when I was there to be a part of it!
If you feel that you're ready to return to work and haven't been sure if you could or should yet, sign up for SPRING and figure it out on your own terms!