HerRising Career Fair — a Platform That Opens Doors to Opportunities for the Future
Kaajal A
in
Career Development, Women-friendly Companies, Events
|
22 Aug 2019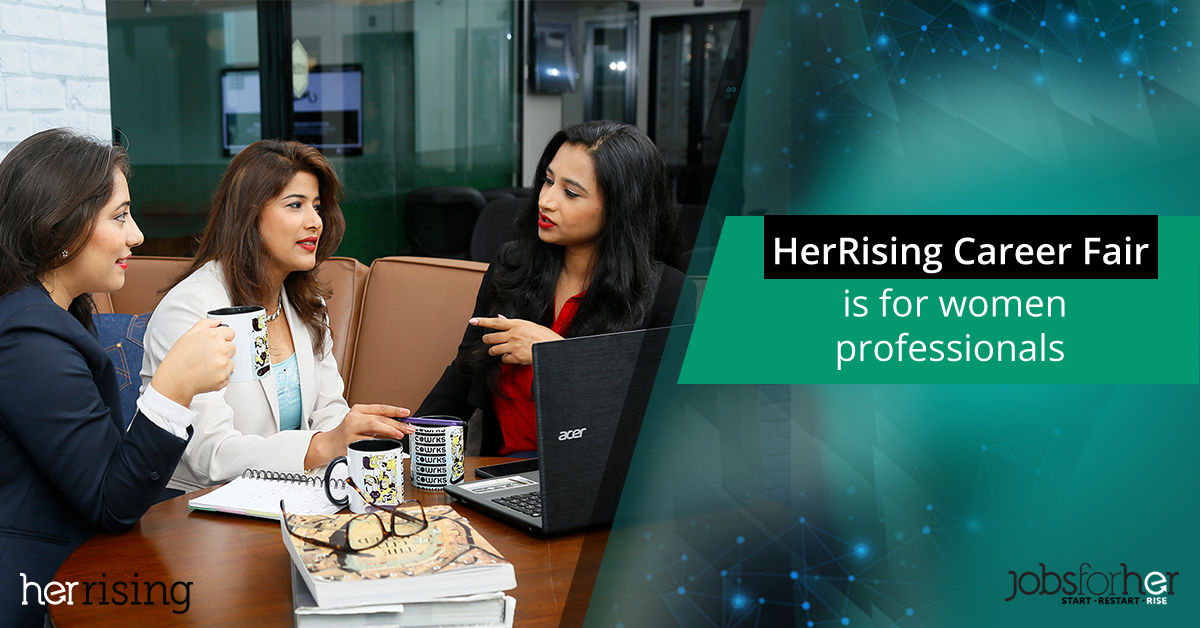 In an endeavour to constantly better our service to women in the working world, JobsForHer has taken last year's RestartHer and turned it into HerRising!
HerRising is a promise made by JobsForHer to ALL WOMEN — a promise to make this offline event bigger and better to help women across career levels build their professional future!
RestartHer 2018
RestartHer 2018 took place in Mumbai, Gurgaon and Bangalore, with informative company booths at the Career Fair, eye-opening workshops and a captivating experience zone of Difficult Conversations.
And, of course, we didn't do it alone…
Over 30+ companies, like

Accenture

,

Mondelez

,

Biocon

,

Aditya Birla Group

,

Maersk and GSC

sponsored and partnered with us

Over 40+ companies sent us speakers, inspiring women to return to work by sharing how the working world is prepping for their return and enabling women who are on the cusp of taking breaks to do so mindfully and purposefully

Over 25+ organisations hosted workshops with expert trainers
… and finally, mentors, heading departments like HR, Talent Acquisition, Software Development, Global Operations, Automation Solutions, L&D, Communications, and Data Intelligence, stepped out of their offices to sit at tables with women professionals, giving them personalised guidance in their career restart journeys.
All of this and more made RestartHer 2018 the perfect place to be for women ready to restart and rise in their careers.
So, how is JobsForHer going to beat that this year? By revamping RestartHer to HerRising!
HerRising — a Launchpad for Your Career
Last year, RestartHer helped more than 9,000 women explore their options to get back to work. This year, HerRising will be held on September 7 in Bangalore, to enable 'all women' to accelerate their careers!
Women across their career journeys, who are looking to START, RESTART and RISE in their careers, can reap the benefits of the Career Fair, Conference, Mentorship and even get recognised by receiving Awards in various categories at HerRising!
Companies at HerRising
The following companies join us in helping make your career a success through HerRising!
Gold Sponsors:

Biocon, Great Learning

Silver Sponsors:

Akamai, Amadeus

Exhibitors:

Airbus, CanaraHSBC,

Capgemini

, Cargill, CITI, Hewlett Packard Enterprise, JDA, NextGen, Northern Trust, SPJIMR, OVHCloud,

Uniphore Software Systems,

Edumilestones, Flinto Learning Solution, FloCareer, SahiCareer
...and many more, so register to stay updated!
What the HerRising 2019 Career Fair Has in Store for You
Get ready to meet senior leaders from a wide range of companies, all looking to help you assess the best choices for your professional journey!
Attend the Career Fair if you wish to…
Connect with employers

: Explore your opportunities with human resource representatives of companies

Stay up-to-date with industry trends

: Stay ahead of the race by engaging with the corporate world at HerRising

Meet career experts:

Resume experts and course providers are on hand to help you figure out your next steps

Apply for job openings:

Stand out among other applicants when you apply to your choice of jobs at top companies and start-ups at the HerRising Career Fair

Network with women professionals:

Your career journey is no longer lonely when you meet other women just like you
When you send in a resume, your future is just a piece of paper in a pile of other applications. But by attending the HerRising Career Fair, you put a face on that application. You can introduce yourself to potential employers and create a great first impression which can only increase your chances of getting the job.
So, grab this opportunity JobsForHer brings to you and attend the HerRising Career Fair!